Whether you are just a hardcore college football fan, Recruiting fan, NFL draft fan, or just want to get a fantasy edge, a WAR ROOM membership is a must.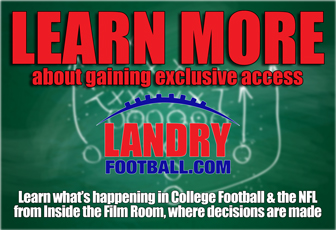 Want to know what's really going on inside the Walls of COLLEGE FOOTBALL programs? Find out all the latest INSIDE news, notes, analysis, strategy and internal team discussions taking place around the country.
GET THE LATEST SCOOP ON DRAFT PROSPECTS, TRANSFERS AND SIGNINGS AREOUND CFB AS WELL AS RECRUITING.
Become the smartest and most informed person in the room and get a leg up on your Fantasy Football opponents by joining Chris Landry inside the WAR ROOM.
By joining today, you get a 50% discount on the first month by using the code = LandryFootball. To get 25% off for a year, use the code = WarRoom.
—USC suspended K Matt Boermeester indefinitely while the university investigates a code of conduct issue. No further details of that alleged incident are available. The university is investigating a code of conduct issue with Matt Boermeester," the school said in a statement. "While this student code of conduct issue is being investigated, the student will not be representing the university as a member of its athletic team."
—Alabama sophomore DE Isaiah Buggs could compete for playing time early on with the Tide. At 6-foot-4, 280 pounds, Buggs is already physically ready to make the transition so if he can pick up the mental aspect of playing at Alabama, he will have every opportunity to be an immediate impact player. The 6-foot-5, 290-pounder committed to Alabama in December and is already on campus as an early enrollee. Buggs ranked as the TOP JUCO prospect in the 2017 class.
—Tennessee freshman RB Ty Chandler can work inside and outside for the Vols and his speed can complement what's already on the roster.Chandler is a freshman to watch for potential early import in 2017, as both Jalen Hurd and Alvin Kamara are no longer in the picture, leaving a vacuum to fill. He was a TOP 100 level prospect in the 2017 class. He possesses a lovely blend of balance and explosivity.
—The last time Georgia was hit with a draft-less year was back in those halcyon days of 1992. Their 25-year streak might be about to come to an end. C Brandon Klubanow, T Greg Pyke and CB Quincy Mauger are the Bulldogs' three most draftable prospects, but all three come with question marks and I question whether any of that trio will find NFL homes in the draft. This would all be a moot point if Nick Chubb or Sony Michel had decided to try their hands at draft glory, but those two dynamic running backs will be back at it for Georgia HC Kirby Smart next season.
TO GET THE REMAINING INSIDE SCOOP FROM AROUND COLLEGE FOOTBALL, JOIN THE WAR ROOM TODAY