We've broken down the tape all season and offer you unit by unit scouting reports and grades for each player on the team indicating needs of help and impending free agents.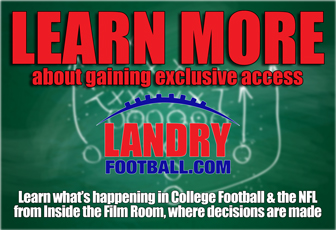 We give you a free season recap and for our WAR ROOM members, a complete NFL Pro Personnel Scouting Report on each position and player, including season grades.
===================
WASHINGTON REDSKINS
===================
INSIDE SLANT
Redskins' offseason begins with free-agent issues
The Washington Redskins had one major goal for the 2016 season: Reach the playoffs for a second consecutive year.
If that sounds modest, it shouldn't. It hasn't happened since 1991-92 – a stretch that included the franchise's most recent Super Bowl title. But after Sunday's 19-10 home loss to the rival New York Giants, the Redskins were left devastated by how close they came.
A winning record (8-7-1) was little consolation for a team that won the NFC East last season and has a large contingent of pending free agents, including quarterback Kirk Cousins and wide receivers DeSean Jackson and Pierre Garcon.
"There's a lot of areas we need to improve on and get better at," Washington coach Jay Gruden said. "Statistically, I believe you always get what you deserve in pro football and quite frankly when you have a terrible red-zone percentage on offense, terrible third-down percentage on defense and terrible red-zone percentage on defense throughout the season, you're probably going to be standing up here out of the playoffs when the season is over."
Those free agents are the big offseason decisions for general manager Scot McCloughan, who has invested in the offense during his first two years, but done little to help the defensive side of the ball save for last spring's Josh Norman signing.
It starts with Cousins, who would earn about $23.9 million on a second franchise tag. That's a lot of cash to spend on one position and Washington's front office still appears hesitant to commit long term to Cousins unless it can get a significant discount.
Whether or not Garcon or Jackson return is up in the air, too. Both expressed interest in seeing what the open market had to offer while still saying they've enjoyed their time in Washington. Garcon signed before the 2012 season and Jackson came aboard in 2014.
The entire offensive line is under contract as is star tight end Jordan Reed. The Redskins chose to go with undrafted rookie running back Rob Kelley in the second half of the season. McCloughan shows little inclination to pay a big name at that spot.
But clear upgrades are needed at both safety positions, where the Redskins chose to use three converted cornerbacks this season, and on the defensive line. Chris Baker is the top priority there with 9.5 sacks the past two seasons playing inside and out. But it's unclear if Washington will make a push to re-sign the 29-year-old.
NOTES, QUOTES
–The Redskins' defensive struggles went a long way in preventing the club from reaching the postseason.
The Redskins addressed the team's shortcomings on Thursday by firing defensive coordinator Joe Barry and assistants Robb Akey, Mike Clark and Perry Fewell.
Akey coached the defensive line and Fewell the defensive backs. Clark was the strength and conditioning coach.
Barry, 46, was in his second year as defensive coordinator in Washington (8-7-1), which saw its 28th-ranked defense taken to task in late-season losses to the Dallas Cowboys, Arizona Cardinals and Carolina Panthers. The Redskins yielded at least 140 yards on the ground in each of the three losses.
They didn't fare much better in a 19-10 loss to the New York Giants in the season finale. The Giants' 29th-ranked rushing offense erupted for 161 yards on 40 carries to eliminate the Redskins from postseason contention.
Barry previously held one other defensive coordinator position, spending two years with the Detroit Lions. Barry was fired along with the rest of his staff in 2008 after the Lions went 0-16.
–A baffling bout of tendonitis in his left Achilles cost Redskins wide receiver Josh Doctson almost his entire rookie season.
Washington's first-round draft pick in 2016 – No. 22 overall after a brilliant college career at TCU – hopes to begin running again later this month. But that doesn't lessen the frustration of a season spent more often with specialist and team trainers than practices with his teammates. Doctson missed almost all of OTAs and didn't participate in minicamp or training camp. He caught two passes in two games and went on injured reserve on Oct. 21.
"Just meetings with no answers," Doctson said on Monday.
The Redskins are equally as frustrated and just hoping more rest allows Doctson to heal.
"This is a unique deal. I can't even guess for what's going on with his Achilles, I really can't," Gruden said. "And I think it's both of them. But the trainers are with him. I'm sure he has his own trainers (and) his own doctors, we have got doctors. Hopefully he can ramp it up, like you say, here in the next couple weeks and start running and moving, because he's going to be a big part of our plans next year if he's healthy."
STRATEGY AND PERSONNEL
COACHING CHANGES
–Won't return: OC Sean McVay (Rams head coach); DC Joe Barry; DL coach Robb Akey; DB coach Perry Fewell; strength and conditioning coach Mike Clark.
ENCLOSED FOR OUR WAR ROOM MEMBERS ARE POSITION UNIT ANALYSIS AS WELL AS SEASON GRADES FOR EACH PLAYER.
Become the smartest and most informed person in the room by getting NFL Pro Personnel style Scouting Reports and Grades from INSIDE THE FILM ROOM from veteran NFL Coaches and Scouts.
By joining today, you get a 50% discount on the first month by using the code = LandryFootball. To get 25% off for a year, use the code = WarRoom.
ENCLOSED IS THE NFL PLAYER GRADING SYSTEM USED BY NFL TEAMS AND SEE HOW PLAYERS GRADED OUT FOR THE SEASON AS THEY ENTER THE OFFSEASON EVALUATION PERIOD FOLLOWED BY FREE AGENCY AND THE DRAFT.
(BLUE) = BLUE players are the top line players in the league. BLUE Players make the plays that are the difference in close games. They have Superior talent and consistently make big plays.
(RED) = RED players win for you. They have starter type production in the league. The Top line REDS are usually BLUE in either the running or passing game but fall short in the other. RED players are impact players and start on contending teams.
(PURPLE) = PURPLE players are players that you can win with even if they are not players that can win for you. They are usually RED in some areas and can match up with some REDS but overall fall short of REDS. PURPLES are very good players. They are solid starters who will usually get the job done in at least some areas. The Pro Personnel scouting axiom is to not play anyone below a PURPLE.
(GREEN) = GREENS are young players with upside potential. While you may not be able to currently play them much, it is due to inexperience and not physical or intangible traits. You cannot to play too many GREENS unless you are in a rebuilding year or out of playoff contention.
The above 3 rating areas are the minimum of what a club must have to win. Any Player below purple must be upgraded or the club does not match up at that position creating a mismatch advantage for their opponents.
(ORANGE) = An ORANGE player is one with backup ability and/or production only. They do not match up versus the REDS and are dominated by the BLUES. An ORANGE should make your squad only if they are a RED or BLUE special teamer. Otherwise, you must replace your ORANGES.
(YELLOW) = A YELLOW player is one who lacks the ability and skills to contribute even as a backup OR someone who has serious medical or character issues. In any of these cases, these players are not worth developing.
INJURED PLAYER (GRAY) = A injured player is designated by a GRAY coloring or circling as even though he currently is not producing, he must be kept alive based on previous ability and skill level and anticipated return of health.
***When you see a players name Multi-colored, this denotes a combination grade.**