We provide you with an overview of this past week's performance with a look ahead to this week. For our LandryFootball.com members, we provide you detailed FILM ROOM analysis, including unit by unit evaluations as well as a look at how draft prospects are progressing.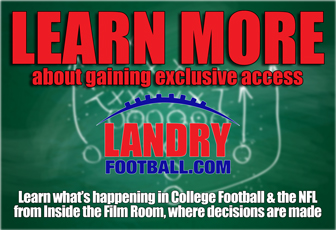 Utah coach Kyle Whittingham admitted that his 23rd-ranked team's failure to get receiver Darren Carrington II more involved from the start last week helped lead to the Utes' downfall against Stanford.
The Cardinal won 23-20 after not allowing Carrington, an All-Pac-12 candidate, a reception in the first half. He was targeted only once by backup quarterback Troy Williams.
Carrington, a graduate transfer from Oregon, showed how much of an impact player he can be by finishing with seven catches for 99 yards.
"Stanford played a lot of man coverage and leaned the safety over to Darren's side," Whittingham said. "You could see the safety was very conscious of where Darren was aligned, but he still had a big game.
"Seven catches and nearly 100 yards … so still had a significant impact on the game. We should have put him in better positions in the first half to get him the ball more."
Utah, 4-1 overall and 1-1 in the Pac-12, and travels to Los Angeles this week to face No. 13 USC (5-1, 3-1) in an important Southern Division showdown on Saturday.
Getting the ball to Carrington early and often is critical against a stingy USC defense that has more interceptions (nine) than touchdown passes allowed (eight). Carrington's involvement from the get-go could open avenues for other receivers and loosen the defense against the run.
The most significant question: Who will be the quarterback throwing Carrington and the other receivers the ball? Starting quarterback Tyler Huntley, one of the top dual-threat quarterbacks in the Pac-12, may return from a shoulder injury that has kept him out most of the last two weeks.
"Tyler's status is still up in the air, but if he is not able, then we will make sure we give Troy Williams and (third-stringer) Cooper Bateman a shot and see who comes away with it," Whittingham said during his weekly press conference on Monday.
Williams, who lost his starting role from last season because of accuracy issues in fall camp, completed 20 of 39 pass attempts for 238 yards and two interceptions last week.
He was sacked twice.
"The protection wasn't great," Whittingham said. "We had a lot of people in Troy's face. But some of the pockets were clean and we didn't really need to flush, so there was a combination of things that led to an average or below average night throwing the football.
"We had some guys open that we missed on occasion or we had missed throws. But like I said, you just have to coach them better and get better this week."
HERE IS THE DETAILED FILM ROOM ANALYSIS FOR OUR LANDRYFOOTBALL.COM MEMBERS.
You need to be logged into LandryFootball.com to see or hear this premium content. Please
Login
to access.
If you aren't a member, you can register below.