We provide you with an overview of this past week's performance with a look ahead to this week. For our LandryFootball.com members, we provide you detailed FILM ROOM analysis, including unit by unit evaluations as well as a look at how draft prospects are progressing.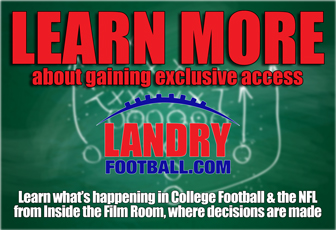 A 30-27 loss on Sept. 29 at Washington State may have complicated No. 13-ranked USC's path to a Pac-12 Conference championship — but not by much.
Following a 38-10 rout of Oregon State, head coach Clay Helton reiterated the USC (5-1, 3-1) remains in control of its conference fate, particularly with nothing but inter-divisional Pac-12 games remaining. The first is one of the most high-profile, with the Trojans hosting Utah (4-1, 1-1) on Saturday at Los Angeles Memorial Coliseum.
Utah has been in contention for the Pac-12 South divisional title each of the previous three seasons, and was the No. 2 pick behind USC in the preseason media poll.
The Utes have played a pivotal role in recent USC history. Trojans quarterback Sam Darnold made his first career start at Utah a season ago, where the Utes went on a successful touchdown drive in the final minutes to win, 31-27.
Before the loss at Washington State, it marked USC's only defeat with Darnold starting behind center. The Trojans won 13 straight from that point. USC also began its current, 13-game home winning streak at Utah's expense in October 2015.
With Utah marking the first of five Pac-12 South matchups for the Trojans, the Oct. 14 affair is critical to keeping USC in the position of controlling its own destiny. For the Utes, the trip to USC borders on make-or-break territory one week after a home loss to Stanford.
Central to Saturday's outcome: turnovers. Utah used a plus-two turnover differential in last season's matchup to get the better of USC. The Utes come in ranked No. 7 nationally in turnovers generated this season with 14. Meanwhile, giveaways have plagued USC in recent weeks. The Trojans coughed up possession three times on offense against Oregon State, and once on special teams with a muffed punt.
The three offensive turnovers were the result of two Darnold fumbles and an interception — his ninth of the season, matching his 2016 total.
Despite the interceptions, Helton was encouraged with Darnold's performance.
"(Darnold) made some unbelievable throws in that game," Helton said following the Oregon State win. "Some of the better ones he's made all year."
As good as Utah has been creating turnovers, USC is one of just six teams with more takeaways on the season with 15.
Cornerback Jack Jones intercepted Oregon State quarterback Darell Garretson, Jones' fourth pick of the season.
"You want to push yourself. You want to hear your name with the best of them. It makes you go harder," said Jones, who before the season told reporters he set a goal of winning the Heisman Trophy.
Jones has carved out a vital role in the USC defense, and against Utah, he will have an opportunity to contend with one of the Pac-12's best: wide receiver Darren Carrington.
Slowing Carrington, who comes in averaging 116.8 yards receiving per game, may well decide USC's fate against Utah — and its destiny in the Pac-12 South race.
HERE IS THE DETAILED FILM ROOM ANALYSIS FOR OUR LANDRYFOOTBALL.COM MEMBERS.
You need to be logged into LandryFootball.com to see or hear this premium content. Please
Login
to access.
If you aren't a member, you can register below.