We provide you with an overview of this past week's performance with a look ahead to this week. For our LandryFootball.com members, we provide you detailed FILM ROOM analysis, including unit by unit evaluations as well as a look at how draft prospects are progressing.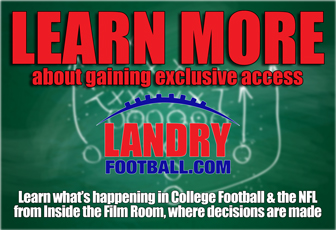 UCLA went into its bye week with a critical win, holding off Pac-12 South counterpart Colorado, 27-23, and avoiding a sub-.500 record before the break.
The Bruins (3-2, 1-1 Pac-12 Conference) endured a mid-season losing streak in 2016, which doomed them to a 4-8 finish. Head coach Jim Mora said following the Sept. 23 loss at Stanford that this UCLA team was different, due in large part to having quarterback Josh Rosen healthy.
"Through two weeks of tough losses, they have gotten closer," Mora said of his team after the Colorado win. "That is what has to happen when you're going through adversity. It was reflected in the way that these guys came to work, to their practices and meetings every day. The energy that they had, the way they talked to each other, it all reflected in their attitude and their ability to still have fun, yet work hard. Tonight was a culmination of that."
UCLA has room to build, particularly with a week off providing opportunity for an injury-plagued roster to get healthy. The Bruins should have their most complete lineup since the season opener in tact when they visit Arizona (3-2, 1-1), a divisional opponent riding a positive wave of its own.
The Wildcats outlasted Colorado in a 45-42 shootout on Oct. 7, paced by a record-setting performance from back-up quarterback Khalil Tate. Tate set a new Football Bowl Subdivision quarterback milestone with 327 yards rushing on just 14 carries.
UCLA has never lost to Arizona since Mora became Bruins head coach in 2012. The Oct. 14 matchup in Arizona Stadium should put the five-game winning streak to the test on two fronts. The Bruins enter winless away from the Rose Bowl this season, and with 284.2 yards yielded per game, UCLA has the nation's second-most porous run defense.
Conversely, Arizona comes in tops in the Pac-12 and fourth nationally with 321.8 rushing yards per game. Tate's outburst at Colorado made him the only Wildcat averaging more than 100 yards per game, but three others — running backs Nick Wilson and J.J. Taylor, and season-long starting quarterback Brandon Dawkins — average between 51.6 and 71.6 yards per game.
UCLA's nation-leading passing offense, which averages 435.8 yards per game, may have to outduel the multifaceted rushing attack on which Arizona head coach Rich Rodriguez's team relies.
HERE IS THE DETAILED FILM ROOM ANALYSIS FOR OUR LANDRYFOOTBALL.COM MEMBERS.
You need to be logged into LandryFootball.com to see or hear this premium content. Please
Login
to access.
If you aren't a member, you can register below.