Find out all the latest from the Summer Recruiting Camps and the latest visits and leanings from the top RECRUITING PROSPECTS in the Country.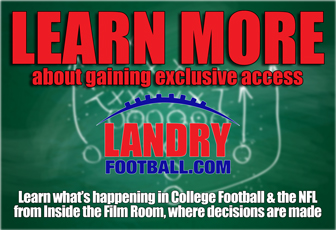 NFL Teams and Major College Football Programs are members of LandryFootball.com, you can be also.
By joining today, you get a special 50% discount for a year by using the code = Preseason. Get the best bargain out there for the lowest price available BEFORE the season begins.
AND, Please be sure to check back during the day as we update Film Room Observations and offer the latest scoop from college coaches around the country……
FOR OUR LandryFootball.com MEMBERS, HERE IS THE LATEST FROM AROUND THE COLLEGE FOOTBALL PROGRAMS