GET THE LATEST SCOOP, FILM ROOM NUGGETS AND WORKOUT INFO ON RECRUITING PROSPECTS.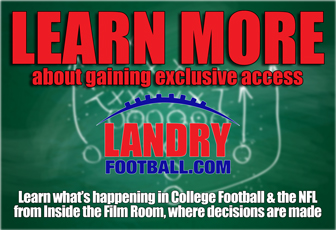 Want to know what's really going on inside the Walls of COLLEGE FOOTBALL PROGRAMS WAR ROOM'S ? Find out all the latest INSIDE news, notes, analysis, strategy and internal team discussions taking place around the country from the guy NFL teams and College Programs turn to as a coaching and scouting consultant.
By joining today, you get a 50% discount on the first month by using the code = LandryFootball. To get 25% off for a year, use the code = WarRoom.
CHECK BACK THROUGHOUT THE DAY FOR UPDATES
THIS WEEK'S VERBAL COMMINTMENTS THIS PAST WEEK IN COLLEGE FOOTBALL:
ACC
Duke: OT Casey Holman (6-4, 280),
Florida State: 2019 DT Tru Thompson (6-0, 315)
Wake Forest: OT Mike Edwards (6-6, 305),
Big 12
Baylor: OT Ylijaah Hall (6-5, 253),
Oklahoma: S Patrick Fields (6-0, 190),
TCU: OG Esteban Avila (6-4, 300),
Big Ten
Northwestern: TE-Y Charlie Mangieri (6-4, 220),
OG Charlie Schmidt (6-3, 270),
PAC-12
UCLA: S Jhevon Hill (6-2, 178),
SEC
Auburn: OG Jalil Irvin (No. 200 in TOP Jr300; 6-3, 273)
Independents / Group of 5
Texas State: OG Alex Costilla (6-3, 305)
TO GET THE INSIDE SCOOP & SCOUTING ANALYSIS ON THE RECRUITING TRAIL, JOIN LandryFootball.com TODAY
—TCU has had a big week in the DFW area. Following guard/center prospect Esteban Avila's Tuesday commitment to the Horned Frogs, Gary Patterson and staff won big on Saturday securing a verbal from TOP Junior 300 safety and teammate of Avila, Atanza Vongor.
After winning some key area battles in the 2017 cycle including TOP 300s Jalen Reagor, Shawn Robinson and Omar Manning, TCU has come on strong in 2018 with Avila and nationally recruited Vongor, who picked TCU over Texas and Baylor. The head-to-head win over new hires Tom Herman and Matt Rhule is significant for Patterson. Every chance the Horned Frogs get to show they can recruit toe-to-toe with the flagship program in Texas grabs attention of younger area recruits.
Vongor, No. 195 in the rankings, is a well-built, physically advanced safety prospect with a nice blend of size, athleticism and play making. At 6-foot-1 and 200-pounds, Vongor is quicker than fast with the ability to defend one-on-one in space, as well as quickly close with burst on the ball in the air. He can be a heavy hitter in the run game, but is most impressive with his instinctive angles he takes to the ball.
He all three of his finalists recently and had a feel for the new staffs in Austin and Waco to compare to TCU. The stability of the TCU staff, especially defensive-minded head coach Gary Patterson, was big in Vongor's decision-making process. Finding an environment that he feels a vibe with very close to home was another key factor.
Should the Longhorns have a big season on the field Herman's first season, Texas could grab momentum back in the state, and the attention of Vongor.
The State of Texas has a number of defensive backs remaining on the board with the Lone Star State being loaded at both corner and safety in 2018. Versatile TOP Jr. 300 D'Shawn Jamison sits atop the board, along with Under Armour All-America Game selection B.J. Foster at safety.
—The 2018 class of West coast quarterbacks appear to be something special.
California is loaded at the top, with Matt Corral, the nation's No. 25 overall prospect, Cameron Rising (No. 106 overall), Tanner McKee (No. 142), Jack Tuttle (No. 265), Adrian Martinez and Brevin White. Elsewhere in the west, Jacob Sirmon (No. 16), Dorian Thompson-Robinson (No. 107), Cammon Cooper (No. 286) and Colson Yankoff (No. 295) mean double-digit quarterbacks from the region are already among the most sought-after recruits in the country.
—It is reminiscent of the 2015 class, when six of the top 15 California prospects were quarterbacks and 10 West region quarterbacks were listed in the final TOP 300. A few of those signal-callers — namely Sam Darnold, Josh Rosen and Jake Browning — could potentially dominate college football headlines this season and into awards season and the 2018 NFL Draft.
—The Pac-12 makes a point to own California and West region recruiting, and the conference has done well so far with this group. Corral made an early commitment to USC, Tuttle pledged to Utah, Martinez committed to Cal and Sirmon is headed to Washington. Of the group listed, only Rising — to Oklahoma — is heading somewhere other than the Pac-12 at this point. But the SEC. in particular, is looking to make things difficult for the Pac-12 in terms of keeping all the quarterbacks at home. —Alabama has offered Corral, McKee, Tuttle, Sirmon and Thompson-Robinson.
—Thompson-Robinson will take a long look at UCLA, which is in desperate need of an elite quarterback in this class to potentially replace Rosen as early as the 2018 season. The Bruins also offered Corral, Sirmon, Rising and McKee. Thompson-Robinson is receiving heavy interest from Oregon and Michigan, as well as many other programs. Arizona, Arizona State, Oregon, Oregon State and Washington State are also still looking for quarterback commitments in this class and could pull from the local crop.
—Over the last three recruiting cycles, Miami has finished with the 23rd, 19th and 12th-ranked classes. But if the start to the Hurricanes' 2018 class is any indication, Miami could very well end up with a top three class.
The Hurricanes, led by IMG Academy and TOP Junior 300 wide receiver Brian Hightower, have 13 commitments including an impressive 10 ranked inside the TOP Junior 300. For comparison sake, Miami signed 10 TOP 300 members in the 2016 and 2017 classes and only six in the 2015 class.
The 10 ranked commitments lead the country with Notre Dame and Penn State next in line with eight a piece.
Head coach Mark Richt has also placed an emphasis on locking down the talent-rich South Florida area. The Hurricanes lost out on a few South Florida prospects, notably Chris Henderson and Brian Edwards, down the stretch in the 2017 recruiting cycle to Florida, but Richt and staff are making the area a high priority for the 2018 class.
While Florida signed 10 prospects from South Florida in the 2017 recruiting class, the Gators have only one commitment from South Florida this cycle. Florida State has two commitments from the area, but Miami already has nine commitments from either Dade or Broward counties — six of which are ranked in the TOP 300.
Along with Hightower, the Hurricanes also have a commitment from TOP 300 quarterback Artur Sitkowski, a New Jersey native who recently transferred in to IMG.
Sitkowski, the 118th-ranked player, said he wanted to be a part of the Hurricane's program because of what he believes Richt is building in Coral Gables.
—Auburn got a big verbal within the last week with the commitment of TOP Junior 300 offensive lineman Jalil Irvin. The one-time Michigan verbal joins Joey Gatewood and Shaun Shivers in the class with as many as 17 or 18 spots remaining in Gus Malzahn's 2018 class.
Auburn's three high school commitments hail from Georgia and Florida, the two most important states outside the home state for maximizing recruiting capability on an annual basis.
Irvin is a powerful 6-foot-3, 275-pound guard prospect with a quick first and second step. He flashes the ability to work quickly to the second level. While he needs to add considerable strength to excel consistently at the next level, he packs a strong initial punch and has the body quickness to mirror in pass-protection with the reactive quickness to quickly adjust to twists and stunts.
—Just like U.Miami, Notre Dame is off to a great recruiting start for the class of 2018.
As it currently stands, Notre Dame has eight TOP 300 commitments in the 2018 class, second only to Miami which has 10. That number is surprising for those on the outside considering the Irish are coming off of a 4-8 season and a plethora of coaching changes that included the offensive and defensive coordinators.
QB Phil Jurkovec is the No. 5 ranked pocket passer in this class and one of the many elite prospects who has committed to Notre Dame and stayed committed. Jurkovec and running back Markese Stepp both committed before last season and both stuck it out through the tough season.
The Irish were able to reel in TOP 300 defensive back Kalon Gervin out of Detroit. There is a feeling amongst the staff that there was a chance for him to contribute early on in South Bend.
Notre Dame has built enough momentum while the committed prospects have bought in and spread the word for the coaches. And the staff has been aggressive in finding the right prospects who fit Notre Dame's culture and history. Finding the group of prospects who fit what Notre Dame requires academically and athletically and getting them to commit early has all helped build this excellent class for the Irish.
—Northwestern added three key commitments this past week as well. TOP 250 defensive end Devin O'Rourke is the headliner and has the frame and attitude to be a leader and star on the team. Pat Fitzgerald's program also added two tight ends, with Charlie Mangieri and Brian Kaiser coming on board as hybrid fullback tight/end "superbacks." The most intriguing of the two is Kaiser, who is 6-foot-7 and could cause some matchup problems.