Want to know what's really going on inside the Walls of COLLEGE FOOTBALL programs? as well as school NFL Pro Days. Find out all the latest INSIDE news, notes, analysis, strategy and internal team discussions taking place around the country on teams, the recruiting scene as well as schools draft prospects.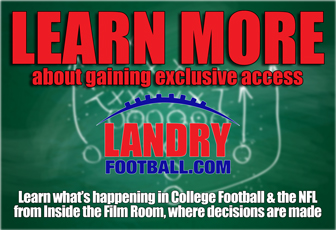 By joining today, you get a 50% discount on the first month by using the code = LandryFootball. To get 25% off for a year, use the code = WarRoom.
THE LATEST COLLEGE NEWS OF THE DAY
—UCLA WR Kenneth Walker ran the 40-yard dash in 4.32 seconds during Tuesday's pro day.
Sizzling time for Walker, who did not receive an invitation to the NFL Scouting Combine. This past season, the 5-foot-9, 180-pounder caught 22 passes for 365 yards and four touchdowns. He also has some potential as a return man. Walker will likely have to fight his way onto a roster via undrafted free agency.
—Alabama HC Nick Saban indicated that sophomore RB B.J. Emmons (foot) will be limited in spring practice. Emmons has undergone two surgical procedures on his foot since the beginning of November, with the most recent coming in mid-February. The 6-foot, 206-pounder picked his way to 173 yards on 35 totes of the rock this past season. Just when he might be fully healthy is not yet known, but a timetable for his return could clarify as the spring unfolds.
—UCLA CB Fabian Moreau strained his pectoral during the bench press on pro day.
Due to the pectoral injury, Vanderdoes did not take part in positional drills on Tuesday. The 6-foot, 206-pounder is currently being reevaluated. It doesn't sound like this is a serious injury, but it is certainly something to keep an eye on with the draft just over a month distant. Vanderdoes could potentially rise as high as Day 1. If he can't find himself an NFL home in the first round, he figures to find one early on Day 2.
—Texas redshirt sophomore QB Matthew Merrick is stepping away from the football team to focus on academics for the time being. This is not to say that Merrick is completely done with football at Texas. According to the school, he will reevaluate his playing future at an unspecified point down the road. Rivals ranked the 6-foot-2, 197-pound dual-threat gunslinger as a three-star recruit for the 2015 cycle. After taking a freshman redshirt in 2015, he did not attempt a pass this past season.
—UCLA DL Eddie Vanderdoes checked in at 6-foot-3, 305 pounds and needs to lose some weight or he may not regain the same skills prior to his injury. Vanderdoes missed the vast bulk of the 2015 season after tearing his ACL. He returned in 2016 to log 27 tackles and 1.5 sacks. For context's sake, he registered 50 tackles (5.5 for loss) and two sacks during a healthy 2014 campaign. At optimum weight and health, he can be Ravens DL Timmy Jernigan.
—Alabama HC Nick Saban indicated that redshirt junior RB Bo Scarbrough (leg) will be limited in spring practice. No huge surprise there. Scarbrough broke a bone in his right leg during the National Championship Game against Clemson in January and is still healing up from that injury. With B.J. Emmons (foot) also expected to be limited this spring, Joshua Jacobs, Damien Harris and already-enrolled five-star frosh Najee Harris figure to split the bulk of reps with the first-team offense for the time being.
—On Film grade work, Notre Dame QB DeShone Kizer posted a passer rating of 154.7 when using play action in 2016. That play-action passer rating of 154.7 was tops in the country. Shiny. However, that mark takes a terrifying drop to 85.5 — 62nd in the country — when Kizer was not involved in play action. Legitimate questions as to his pro-readiness have emerged during the draft process, including those of accuracy on the outside and mental makeup. The natural instincts for the position and pure arm talent are there if he can land in the right system, with the right coach.
—In addition to going through defensive line and linebackers drills on pro day, Eastern Michigan DE Pat O'Connor also took part in tight end drills. It isn't quite clear how seriously O'Connor is being considered as an offensive player by the NFL, but at the very least, he is giving interested teams another potential aspect of his game to consider. The 6-foot-4, 277-pounder logged pro day results of 17 bench press reps, a 31.5-inch vertical leap and a broad jump of 9-foot-6. He will actually be taking part in Michigan's pro day on Friday, too. In Ann Arbor, he will wrap up his testing with the 40-yard dash, shuttle runs and three-cone drill. This past season, O'Connor registered 42 tackles (15.0 for loss), 8.5 sacks and a strong five fumbles forced.
—According to the police report relating to Michigan CB Jourdan Lewis' misdemeanor domestic assault charge, the corner grabbed his girlfriend by the hair and put his hand around her throat.
Per the police report, the argument that precipitated last Wednesday's charge against Lewis was over bills that he shared with his live-in girlfriend. That argument became physical, with Lewis allegedly grabbing her neck and holding her down for "about three seconds." The report goes on to note that when asked if Lewis had grabbed the woman's throat he stated that he may have grabbed it while trying to get her off him but had no intentions to hurt her. Lewis stated at no time was he trying to assault her, he was trying to leave." It should be noted that authorities did not note any visible marks on Lewis' girlfriend's neck when they arrived on scene. The corner has plead not guilty to the charge being levied against him and is next scheduled to appear in court on April 12. Whether this charge is enough to push him to Day 3 remains to be seen.
—Minnesota has reinstated five players who had been indefinitely suspended for their roles in an alleged September sexual assault. The five who have been reinstated are QB Mark Williams, S Antonine Winfield Jr., RB Kobe McCrary, CB Antonio Shenault and QB Seth Green. They will be eligible to participate in spring practice. Two other players had their punishments upheld in CB KiAnte Harden (expulsion) and RB Carlton Djam (one-year suspension). The three remaining players in this case — all of whom had been recommended for expulsion — have transferred.
—Iowa CB Desmond King is a Logan Ryan type player who is a smart tackler who excels when the play is in front of him. King has missed a tackle once every 16.0 attempted over the past three years in college, while Ryan missed one every 20.3 attempted since arriving in the NFL.
Tackling prowess aside, the 5-foot-10, 201-pound King has deficiencies in man-to-man coverage. Multiple teams are reportedly viewing King as a safety, rather than a corner.
—Oklahoma DL Charles Walker has quickness and strength but then will just disappear during games at time. Walker has enough flashes on tape that intrigue teams. The 6-foot-2, 310-pounder could potentially land as a late Day 2/early Day 3 selection.
—North Carolina RB T.J. Logan looked terrific in ball-carrying drills during pro day on Tuesday. Logan displayed quick feet and a smooth change of direction, adding that the 5-foot-9, 196-pounder also caught the ball very well. During Combine drills, Logan came away with the fastest 40-yard dash time of any running back in Indianapolis, acing the sprint in 4.37 seconds.
—Toledo DL Treyvon Hester (shoulder) will work out for scouts on April 13.
Hester underwent surgery to repair a torn labrum in early December and as a result, has not been able to take part in the draft process to date. Barring setback, he should be back to full health before the start of training camps this summer.
—Iowa sophomore QB Nathan Stanley is the clear favorite" to start in 2017. Iowa is looking to replace outgoing QB C.J. Beathard. The Hawkeyes could have redshirted Stanley last season, but instead opted not to burn that and rather let the 6-foot-5, 212-pounder compete with the first- and second-team offense in practice as Beathard's backup. Stanley was a three-star recruit for the 2016 cycle. While La Gesse sees Stanley as the front-runner, here, HC Kirk Ferentz is playing his cards close to his vest, saying, "We're not sure who that is going to be right now. We'll let the guys compete at that position." In addition to Stanley, redshirt sophomore Drew Cook and redshirt junior Tyler Wiegers will also be in the mix, here.
—Clemson DT Carlos Watkins is talented but must become more consistent to realize his potential. The 6-foot-3, 309-pounder only tested on the bench at the Combine due to a hamstring injury (25 reps).
—Georgia coaches are excited about the early offseason development of sophomore QB Jacob Eason. His physical gifts are unquestioned. While the 6-foot-5, 235-pounder's physical tools are readily apparent, there is still work to be done on the mental side of the game. Pre-snap reads were an issue as is usual for a young player. When defenses became more complicated, it led to slow reaction times during his freshman season in 2016. The former stud recruit threw for 2,430 yards (55.1% completions) with a 16/8 TD/INT ratio. Incoming five-star QB Jacob Fromm is another young Bulldog QB to keep a watch out for down the road.
—NC State DB Josh Jones looked terrific during drills on pro day and is rising in some teams's eyes. I have him with a mid second round grade but will likely go slightly higher in the second. The 6-foot-1, 220-pounder has drawn particular interest from the Chargers and the Patriots.
—Auburn redshirt sophomore QB Tyler Queen will transfer. This is a logical enough transfer, as the starting quarterback battle for the Tigers will be coming down to Jarrett Stidham and Sean White (with Stidham our favorite to win the job). Queen's relatively brief career at Auburn was marred by a pair of surgeries. He underwent one on his right elbow in September of 2015 and another on his right (throwing) shoulder in April of 2016. A three-star recruit in the 2015 class, the 6-foot-2, 230-pound Queen will have to sit out the 2017 season should he transfer to another FBS program.
—Western Kentucky redshirt senior RB Leon Allen (knee) has received medical clearance to participate in spring practice. Allen was awarded a sixth season of eligibility courtesy of a medical redshirt in early March of 2016. He missed almost the entirety of the 2015 campaign due to a knee injury and did not play in 2016 as he continued his rehab. During a healthy 2014 season, the 6-foot, 235-pounder rushed for 1,542 yards (5.7 YPC) and 13 touchdowns while catching 51 passes for 476 yards and three additional scores. It is too early at this juncture to determine just how he will fit into Western Kentucky's plans in 2017. If he can survive spring practice with no health setbacks, that would be a good first step.
—Washington CB Sidney Jones underwent a successful surgery to repair his torn Achilles on Tuesday. Jones, who tore his left Achilles on Washington's pro day a week ago Saturday, had his procedure performed by Dr. Robert Anderson. The Washington standout subsequently tweeted that he was told that he would "for sure be playing this season.
—Iowa State redshirt senior QB Joel Lanning is transitioning to linebacker this spring.
Not only is Lanning making the shift to linebacker, it looks like he is line to start there during the coming season. Said LB coach Tyson Veidt, "He's the No. 1 mike linebacker for us right now. [He's] doing a great job there running with the ones. It's certainly his job to lose." The 6-foot-2, 232-pounder started 12 games at quarterback over the last two seasons. This past season, he threw for 1,290 yards with a 9/3 TD/INT ratio while rushing for 518 yards and an additional 11 scores. With Lanning on the move to the defensive side, redshirt junior Jacob Park will likely start at quarterback for Iowa State during the coming campaign.
—Wyoming TE Jacob Hollister will make an NFL roster next year. Hollister is incredibly athletic but needs to improve his blocking. Hollister posted a career-best 32-515-7 line last year.
—The Cleveland Browns, New York Jets, San Francisco 49ers and Kansas City Chiefs have all scheduled private workouts with North Carolina QB Mitchell Trubisky. We'd already heard about Cleveland's private workout, news that broke in conjunction with the report that head coach Hue Jackson and GM Sashi Brown had skipped UNC's pro day on Tuesday. The Browns, 49ers and Jets all have dire quarterback needs, while some have speculated that the Chiefs could take a quarterback in Round 1 as Alex Smith's eventual heir.
—UCF sophomore WR Tristan Payton and redshirt freshman CB Nevelle Clarke were suspended for a minimum of six games for failed drug tests. The NCAA administered those tests prior to the Cure Bowl against Arkansas State. Both players tested positive for marijuana. "We hold our athletes to the highest standard and they're going to have consequences if they don't live up to that standard," Knights head coach Scott Frost said in a statement. "We're going to do everything we can for those two young men and hopefully they learn the lesson." Payton caught 12 passes for 132 yards and a touchdown last year. Clarke was expected to start at corner this fall.
—Louisville redshirt senior CB Shaq Wiggins will transfer as a graduate.
Wiggins gave no reason for his surprising decision. This will be his second transfer after the former top recruit orifinally transferred to Louisville from Georgia. As a graduate, he's immediate eligibility to play for another FBS program. He is slight but tenacious.
—Wyoming redshirt junior QB Josh Allen is a QB to watch for next year's draft. He has the
size, release, arm strength and athleticism to make plays with his legs or arm.
He might have been in the second round mix this year had he come out.
—Western Oregon TE Andrey Avgi met with the Miami Dolphins on Thursday night.
Avgi played basketball all four years at Western Oregon (and football for two). As such, you know he's big and athletic. He measured into his pro day event at 6-foot-5 and 263 pounds. Avgi leapt 35.5 inches in the vertical and 10-foot-2 in the broad. He clocked a 40 of 4.77s.
—San Jose State DE/OLB Isaiah Irving shows some impressive pass rush ability and can bend off the edge with speed and is relentless chasing down the quarterback. He was effective out of a three-point stance as well as standing over tackle. Irvin was an honorable mention All-Mountain West pick last season after ranking third in the Mountain West in sacks per game (0.58). Irving has size deficiencies and must impress on special teams this summer, yet I could see someone taking a liking to him as a designated pass rusher.
—UNLV S Troy Hawthorne looks like a missile the way he streaks to the plays and lays it on the line defending the run. He's a little one-dimensional as a downhill, run-defending safety, but if he does well on special teams Hawthorne will have a chance at a roster spot. The 6-foot-3, 215-pound Hawthorne, a converted quarterback, went from practice team player to one of the Rebels' best defenders after the shift.
—Washington WR John Ross will visit the Cleveland Browns and Baltimore Ravens next month.
The Philadelphia Eagles also hosted Ross for a visit last week, just prior to the prospect's right shoulder surgery. Baltimore and Cleveland could both use help at receiver.
—Virginia Tech WR Isaiah Ford has good height and great athleticism, but he needs to improve his strength as he tends to get shoved around by physical corners. He also has to prove he can be effective when facing zone coverage. He has the height and speed to be a deep-ball menace in the right scheme, but he has a little lower floor than some Day 2 receiver prospects in this draft. Ford caught 79 passes for 1,094 yards and seven touchdowns last season to earn second-team All-ACC honors.
—ECU P Worth Gregory is scheduled to visit the Vikings. Gregory also has private workouts scheduled for the Miami Dolphins and Jacksonville Jaguars. We rarely see a team use one of their 30 in-house visits on a punter.
—Oklahoma RB Joe Mixon visited the Raiders on Monday. Mixon previously visited the Broncos and the Bengals. More teams will host the talented running back, and an even larger number will visit Oklahoma's campus. Mixon was not invited to the NFL Combine, so these meetings will be important in gauging a team's comfort with Mixon on a personal level.
—Western Michigan WR Corey Davis visited the Eagles on Friday. Davis is still recovering from a minor ankle surgery, which kept him out of the school's pro day. As of now it is unknown if Davis will work out prior to the draft. Davis is a highly productive receiver who can dominate after the catch and put every route on tape for evaluators to see. He is out top-ranked receiver.
—Florida CB Teez Tabor went through a private workout for the Saints and Cardinals on Monday.
Florida's pro day is scheduled for March 28, and Tabor might participate more than other Combine corners in the hopes of improving his results. Tabor offers 32-plus inch arms, understanding of zone coverage and an aggressive mentality when attacking the run.