Whether you are just a hardcore college football fan, Recruiting fan, NFL draft fan, or just want to get a fantasy edge, a WAR ROOM membership is a must.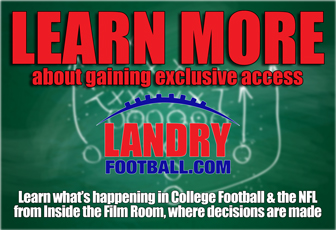 Want to know what's really going on inside the Walls of COLLEGE FOOTBALL programs? Find out all the latest INSIDE news, notes, analysis, strategy and internal team discussions taking place around the country.
GET THE LATEST SCOOP ON DRAFT PROSPECTS, TRANSFERS AND SIGNINGS AREOUND CFB AS WELL AS RECRUITING.
Become the smartest and most informed person in the room and get a leg up on your Fantasy Football opponents by joining Chris Landry inside the WAR ROOM.
By joining today, you get a 50% discount on the first month by using the code = LandryFootball. To get 25% off for a year, use the code = WarRoom.
—Former Clemson sophomore T Jake Fruhmorgen visited LSU on Monday.
Fruhmorgen will sit out next season if he chooses the Tigers, or any other FBS program. If that's the case, he'd be eligible in 2018 as a fourth-year junior. The 6-foot-5, 290-pounder started eight games last year for Clemson. Fruhmorgen was a top 100 overall recruit in the 2015 class.
—Mississippi signed three-star JUCO DE Markel Winters.
Winters originally signed with East Carolina in 2014 as a three-star recruit before skipping down to the JUCO ranks. He Possesses good height and length and has added needed good bulk since HS with frame that can still be developed further. He can refine to be more efficient, but active with hands as pass rusher and also flashes ability to generate pressure with power rush. Winters has the bad habit of being slow off the line, something Ole Miss coaches will surely work with him on.
TO GET THE REMAINING INSIDE SCOOP FROM AROUND COLLEGE FOOTBALL, JOIN THE WAR ROOM TODAY