Whether you are just a hardcore college football fan, Recruiting fan, NFL draft fan, or just want to get a fantasy edge, a WAR ROOM membership is a must.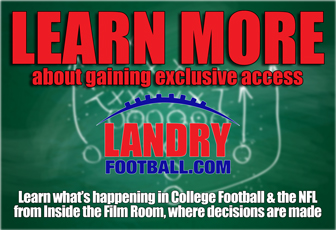 Want to know what's really going on inside the Walls of COLLEGE FOOTBALL programs? Find out all the latest INSIDE news, notes, analysis, strategy and internal team discussions taking place around the country.
GET THE LATEST SCOOP AND FILM ROOM NUGGETS ON DRAFT PROSPECTS, COLLEGE PLAYERS, AS WELL AS RECRUITING.
Become the smartest and most informed person in the room and get a leg up on your Fantasy Football opponents by joining Chris Landry inside the WAR ROOM.
By joining today, you get a 50% discount on the first month by using the code = LandryFootball. To get 25% off for a year, use the code = WarRoom.

CHECK BACK THROUGHOUT THE DAY FOR UPDATES
—Iowa hired North Dakota State OC Tim Polasek to serve as offensive line coach. Said Hawkeyes HC Kirk Ferentz in a statement, "Tim has been involved in programs that have won at a very high level, earning a reputation as a great teacher, and as an individual who has established great relationships with his co-workers and players." Over the course of two separate jaunts with North Dakota State, Polasek spent a combined 10 years on that FCS sideline.
—Washington State junior WR Kaleb Fossum is transferring to Nevada.
Fossum indicated that he is transferring to Nevada for monetary reasons. He initially walked on at Washington State prior to the 2015 campaign. The 5-foot-10, 187-pounder's main contribution to the Cougars came in the return game. This past season, Fossum racked up 155 yards on 17 punt returns. His 9.1 YPR average was good for fourth in the Pac-12. In his shining moment for the 2016 campaign, he raced 75 yards for a punt-return touchdown against Cal in mid-November.
—Michigan State director of college advancement and performance Curtis Blackwell has been suspended with pay. Michigan State issued indefinite suspensions to a trio of players and a staff member for their role in an alleged sexual assault earlier this month. While the three players in question have not yet been named, the program confirmed that Blackwell is the suspended staff member in question. He has been with the Spartans since 2013.
—Utah S Jason Thompson was on hand for the Seattle Regional Combine.
Regional combines allow players not invited to the NFL Scouting Combine proper to attempt to make their testing marks. Thompson's numbers from the event are not publicly available as of yet, but the 6-foot-2, 208-pounder is likely going to have to try for his NFL dreams via undrafted free agency. The quarterback-turned-safety did not record any significant statistical production over the past two seasons.
—Pitt has hired former FAU HC Charlie Partridge to serve as DL coach.
Partridge managed a trio of 3-9 campaigns with FAU. This past 3-9 stinker was enough to cost him his job at the end of November. Prior to taking on the Owls' head-coaching gig, he served as Arkansas' defensive coordinator in 2013. He also previously served on Pitt's coaching staff from 2003-2007. "Charlie's familiarity with Pitt is a major asset and the fact that he has experience as a head coach will benefit our entire staff," said HC Pat Narduzzi in a statement. "His reputation as a strong recruiter is highly deserved and will serve us well all across the ACC footprint, including Pittsburgh."
—Approval of Colorado HC Mike MacIntyre's extension is being delayed until April. MacIntyre was reportedly awarded a $16.25 million contract extension through the 2021 season earlier this offseason. For the time being, the university is holding off on officially approving it. The hold up, here, comes as Colorado investigates the domestic violence allegations levied against former secondary coach Joe Tumpkin by an ex-girlfriend. Tumpkin resigned last month. Both MacIntyre and AD Rick George were aware of the allegations as of mid-December, but Tumpkin was still allowed to coach in the Alamo Bowl against Oklahoma State on December 29. The Board of Regents is now expected to review MacIntyre's extension in April, after they have looked into MacIntyre's handling of Tumpkin's situation. An outside consultant could potentially be brought in to assist the university. MacIntyre's current contract is set to expire after the 2018 season.
TO GET THE REMAINING INSIDE SCOOP FROM AROUND COLLEGE FOOTBALL, JOIN THE WAR ROOM TODAY