Find out all the latest from the College Football Scene as Spring practice is in full swing.
Find out all the latest as well as FILM ROOM nuggets.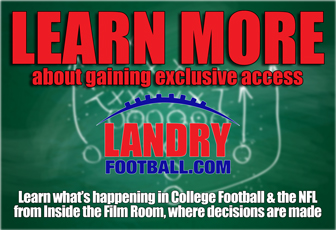 NFL Teams and Major College Football Programs are members of LandryFootball.com, you can be also.
By joining today, you get a 50% discount on the first month by using the code = LandryFootball. To get 25% off for a year, use the code = WarRoom
TODAY'S LATEST NEWS & NOTES FROM COLLEGE FOOTBALL —–CHECK BACK THROUGHOUT THE DAY FOR UPDATES
—Texas A&M edge rusher Myles Garrett is visiting the Jacksonville Jaguars this week.
Sitting at No. 4, Jacksonville has no realistic chance at actually drafting Garrett unless they opted to pay Cleveland a king's ransom for the No. 1 pick. And even then the Browns might say no and just rock/roll with Garrett as a foundational piece of the franchise. The 6-foot-4, 272-pounder is also set to visit with the 49ers (No. 2) and Bears (No. 3). We would be floored if Garrett went to anybody other than the Browns.
—Rutgers redshirt freshman WR Ahmir Mitchell tore his ACL during practice this weekend.
The injury was apparently suffered on a non-contact play. The hope here is that Mitchell, a Michigan transfer who sat out the 2016 season due to NCAA regulations, will be able to take the field at some point during the 2017 campaign. That is far from a given, though, and there is no timetable for the 6-foot-3, 206-pounder's return at this early juncture. His availability for the coming campaign should receive more clarity as he spends the summer recovering. Mitchell was a four-star recruit for the 2016 cycle.
—Ohio State CB Marshon Lattimore visited the Titans on Tuesday.
The Titans own the Nos. 5 and 18 picks in the first round. They'll have to use the first of those to secure Lattimore — if he's even on the board at that point.
—Ohio State RB/WR Curtis Samuel visited the Buccaneers recently and is visiting the Vikings on Tuesday. A versatile offensive weapon without a clean positional fit, Samuel has been comped to everyone from Darren Sproles to Jalin Marshall to Percy Harvin to Randall Cobb. For a team that sees him as a fit, they'll want to pull the trigger on Day 2, probably by the middle of Round 2. He makes sense on the Vikings, a team that wants to draft another runner but that also needs another playmaker at receiver.
—The San Diego Chargers privately worked out Youngstown State RB Jody Webb. The 5-foot-8, 186-pound Webb is coming off a dynamic collegiate career at the FCS level in which he wracked up 5,247 all-purpose yards. He ran the 40-yard dash in 4.39 seconds at his pro day workout last month, adding 15 reps on the bench. Webb also had a broad jump of 9-foot-2, a 30-inch vertical, a 4.24 short shuttle, a 6.97 three-cone drill and an 11.59s 60-yard shuttle. Webb's vision, agility and quickness to produce as a ball carrier and pass catcher out of the backfield could make him a third-down back at the next level.
—Maryland CB Will Likely (ACL) attended the Ravens' local prospect workout on Monday.
The 5-foot-7, 171-pounder may not get drafted due to a combination of his small stature and the ACL he tore in October. Likely said last month that NFL teams have only talked with him about kick returning and cornerback, not about moving to slot wideout. Special teams will likely be his ticket onto a roster. Likely averaged 25.7 yards per kick return and 13.1 yards per punt return in college.
—UConn WR Noel Thomas will attend the local prospect days of both the Jets and Giants this week. Thomas broke out last season with a school record 100 receptions for 1,179 yards and three touchdowns. He also rushed for 60 yards on 13 attempts. Those numbers are extremely impressive considering the toothless offense he played for, but temper your NFL expectations. Thomas has pretty good NFL size, but his route running is poor allowing defensive backs to jump his routes far too often. Thomas' issues getting off of press coverage is a concern and he'll likely have to try and make the league as a big slot receiver.
—Miami TE David Njoku worked out for the Panthers on Tuesday. There's a little smoke to this one, as Carolina previously hosted Njoku for an official pre-Draft visit. The Panthers would like to add a tight end to give Cam Newton another big target, potentially run more 12 personnel, and identify Greg Olsen's long-term replacement. The Panthers own the No. 8 pick. Njoku will likely go in the top-20.
—Ohio State S Malik Hooker visited the Bears on Tuesday. Chicago and Hooker would only presumably be a match if the Bears were to trade slightly down the board from No. 3. They wouldn't want to move too far, though, as Hooker is a top-10 possibility. He visited Cleveland — owners of the No. 12 pick (and also the No. 1 pick) — on Friday.
—Ole Miss QB Chad Kelly told reporters on Monday that he has a "couple" pre-Draft visits scheduled with NFL teams. Kelly cut his pro day throwing session short because he re-aggravated a sprained wrist he suffered in training. He's no sure thing to get drafted.
—The Green Bay Packers worked out Air Force DE/OLB Ryan Watson. In college, Watson played both linebacker and defensive end. The 6-foot-3, 249-pounder was a first-team all-conference pick after leading the Mountain West in sacks (.90 per game) with nine last season. He'll likely be available late on Day 3.
—Youngstown State RB Martin Ruiz will work out for the Buccaneers next week.
Ruiz was a first-team Missouri Valley pick last season after exceeding the 1,000-yard mark for a third consecutive year. Unfortunately, he's a bit limited athletically (4.65s forty) for a back of his size (5-foot-9, 205), and comes with off-field concerns after being charged with carrying a concealed weapon and improper handling in December.
—The list of 18 draft prospects that the Cowboys will host for official visits this week, including USC CB Adoree' Jackson and Ohio State CB Gareon Conley. Of the 18, 17 are defensive players. The only offensive player on the list is USC WR JuJu Smith-Schuster. The other defenders known to be visiting Dallas this week are Tennessee DE Derek Barnett, Michigan DE Taco Charlton, Washington CB Kevin King, UConn DB Obi Melifonwu, UCLA CB Fabian Moreau, Clemson CB Cordrea Tankersley, Louisiana Tech S Xavier Woods, Oregon State CB Treston DeCoud, Florida CB Teez Tabor, Colorado CB Chidobe Awuzie, Colorado S Tedric Thompson, Ohio DE Tarell Basham, UCLA DE Takk McKinley, Florida CB Quincy Wilson and Villanova DE Tanoh Kpassagnon.
—The Ravens will host Youngstown EDGE Derek Rivers for a visit this week. Rivers is one of our favorite prospects in the draft and has a chance of being a first round pick. Yes, he is exiting the FCS level, but Rivers has big time skills.
—Western Michigan WR Corey Davis is visiting the Browns on Tuesday. This is just the second reported visit for Davis thus far in the process, a wide receiver many believe is the top prospect at his position. Davis is recovering from minor ankle surgery and might not workout for teams prior to the draft. He previously visited the Eagles.
—NC State S Josh Jones is scheduled to visit the Vikings on Tuesday. The Browns, Steelers and Bears loom as well.
—Louisiana Tech S Xavier Woods is visiting the Cowboys this week. Woods is a hard hitter who was used in a variety of different alignments. The Cowboys are in need of a starting safety.
—Ohio State CB Marshon Lattimore visited the Bears on Monday, according to Ian Rapoport.
Lattimore is absolutely in play for the No. 3 overall pick. The Ohio State corner starred for one season for the Buckeyes, so sample size question might be realistic, but it was a very good season. Lattimore missed the 2014 season due to surgery and then dealt with hamstring issues in the past. With Myles Garrett locked into the first pick, Solomon Thomas and Lattimore are likely the next two picks in some order.
—Alabama LB Reuben Foster visited the Cardinals on Monday. Foster is recovering from shoulder surgery, but his agent Malki Kawa says he is close to full range of motion. The Cardinals certainly need inside linebacker help. The team brought Karlos Dansby back and still have Deone Bucannon, although Bucannon does not shine in every phase of the game. Foster is competing with Haason Reddick for the first linebacker off the board.
TO GET THE INSIDE CHATTER as well as FILM ROOM NUGGETS, JOIN LandryFootball.com today.