Here is the latest NFL NEWS as well as FILM ROOM NUGGETS from around the league in today's NFL Notebook. All the latest offseason player news and rumors from within the walls of the NFL teams.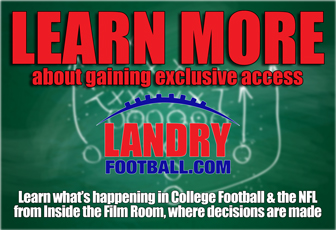 Here is your chance to get your information from someone who NFL teams turn to as a scouting and coaching consultant.
Whether you are just a hardcore fan or just want to get a fantasy edge, a WAR ROOM membership is a must.
Have your own NFL Scouting Department for less than a magazine subscription.
By joining today, you get a 50% discount on the first month by using the code = LandryFootball. To get 25% off for a year, use the code = WarRoom
PLEASE CHECK THROUGHOUT THE DAY FOR UPDATES
—Bills re-signed LB Ramon Humber. Humber is a core special team, appearing in all 16 2016 contests. He turns 30 in August.
—It appears as though Julius Peppers appears to be done in Green Bay.
Peppers has still not announced if he will continue playing in 2017, but it sounds like he will not be back with the Packers either way. The veteran has been linked with the Panthers, who selected him with the No. 2 overall pick in 2002, and should get some interest as a situational pass rusher on the open market. The 37-year-old recorded 7.5 sacks last season and has at least seven sacks in all but one of his 15 seasons in the NFL.
—Dolphins waived CB Ifo Ekpre-Olomu. A top prospect in the 2015 Draft, Ekpre-Olomu has not recovered since suffering a horrific knee injury his final year in college. He fell to the sixth round in the draft, redshirted as a rookie, and was eventually waived by the Browns. The Dolphins claimed him last April, but he suffered another ACL tear in training camp. It is possible his career is over.
—New Chargers coach Anthony Lynn believes he can get more out of Melvin Gordon. "He did a hell of a job from his rookie year to his sophomore year," Lynn said. "And I told him we can take this to another level. We're going to do some things running-wise that I can think can help him." It is the second time since being hired Lynn has said he can help Gordon get to the next level. Gordon found the end zone 12 times in just 13 games as a sophomore, but he was still limited to 3.9 yards per carry. If Lynn can help improve his efficiency on the ground, the sky is the limit for Gordon's fantasy stock.
TO GET THE REMAINING INSIDE SCOOP FROM AROUND THE NFL, JOIN THE WAR ROOM TODAY