Whether you are just a hardcore college football fan, Recruiting fan, NFL draft fan, or just want to get a fantasy edge, a WAR ROOM membership is a must.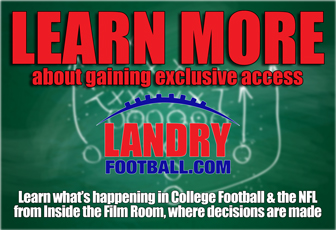 Want to know what's really going on inside the Walls of COLLEGE FOOTBALL programs? Find out all the latest INSIDE news, notes, analysis, strategy and internal team discussions taking place around the country.
GET THE LATEST SCOOP ON DRAFT PROSPECTS, TRANSFERS AND SIGNINGS AREOUND CFB AS WELL AS RECRUITING.
Become the smartest and most informed person in the room and get a leg up on your Fantasy Football opponents by joining Chris Landry inside the WAR ROOM.
By joining today, you get a 50% discount on the first month by using the code = LandryFootball. To get 25% off for a year, use the code = WarRoom.
CHECK BACK THROUGHOUT THE DAY FOR UPDATES
—UCLA signed four-star 2017 C Kanan Ray.
A native of Chatsworth, California, Ray initially committed to his home state Bruins last March. The 6-foot-4, 275-pounder is a tackle prospect, but may be better off at center with potential as a guard. He displays good effort and looks to work to stay with blocks and overall displays a physical nature in his play.
—Uncommitted four-star 2018 G Marquan McCall received an offer from Wisconsin.
McCall took a visit to Wisconsin near the end of January and received an offer from the Badgers a short time later. The 6-foot-3, 223-pounder has potential as both an offensive lineman and defensive lineman, Wisconsin is looking at him as a guard.
—Stanford DL Solomon Thomas might end up getting pegged as an early down defensive end who moves inside to defensive tackle on passing downs.
Solomon is not big enough for inside and he's not as long as you like on the outside but is a disruptive playmaker who is a make it guy as a pro.
—South Carolina HC Will Muschamp supports a rule change to the handling of redshirts. During the AFCA (American Football Coaches Association) convention in January, a rule change was proposed that would allow players to play up to four games in a given season while still retaining four years of eligibility. After four games played, the player would not be eligible for a redshirt in that campaign. Said Muschamp, "A lot of times, early in the year especially, you don't know how a young man is going to continue to develop and I think that is a good rule."
—Uncommitted four-star 2018 LB Solomon Tuliaupupu indicated that he is interested in Alabama, Michigan and Ohio State. Tuliaupupu is also intrigued by UCLA and UCLA. Those two California programs would suit the Santa Ana native should he opt to stick in state. The 6-foot-3, 210-pounder plays with a unique amount of recklessness and ferocity on the football field.

TO GET THE REMAINING INSIDE SCOOP FROM AROUND COLLEGE FOOTBALL, JOIN THE WAR ROOM TODAY