Whether you are just a hardcore college football fan, Recruiting fan, NFL draft fan, or just want to get a fantasy edge, a WAR ROOM membership is a must.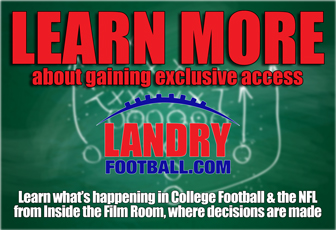 Want to know what's really going on inside the Walls of COLLEGE FOOTBALL programs? Find out all the latest INSIDE news, notes, analysis, strategy and internal team discussions taking place around the country.
GET THE LATEST SCOOP AND FILM ROOM NUGGETS ON DRAFT PROSPECTS, COLLEGE PLAYERS, AS WELL AS RECRUITING.
Become the smartest and most informed person in the room and get a leg up on your Fantasy Football opponents by joining Chris Landry inside the WAR ROOM.
By joining today, you get a 50% discount on the first month by using the code = LandryFootball. To get 25% off for a year, use the code = WarRoom.
CHECK BACK THROUGHOUT THE DAY FOR UPDATES
—Stanford hired former UC Davis HC Ron Gould to serve as RB coach.
Gould served as head coach at UC Davis from 2013-2016. He was fired in November. USC was also reportedly hot on his trail as they look to shore up their own coaching staff, but while he did ultimately grab a job in the Pac-12, it wasn't with the Trojans. Now joining Stanford HC David Shaw's staff, Gould replaces Lance Taylor, who took a WR coach position with the Carolina Panthers. In a statement, Shaw said, "Ron is a great teacher. He brings an impressive resume of working with and developing some outstanding players."
—West Virginia WR Shelton Gibson is moving up draft boards.
Gibson should run the 40 in the 4.3s at the combine, a development which would only enhance his draft stock. The 5-foot-11, 188-pounder is a pure burner who can pop the lid off of coverages.
—Wyoming RB Brian Hill has been running recent 40s in the low 4.4s at around 220 pounds. If true, this will help Hill differentiate himself from a loaded group of second- and third-tier backs. The 6-foot-1, 220-pounder rushed for 1,860 yards and 22 touchdowns during a monster final season on campus.
—Wake Forest OLB Marquel Lee (foot) expects to participate in the NFL Combine. Lee missed the Shrine Game with a foot injury with irritation of foot muscles that kept him off the St. Petersburg field.
—Former Notre Dame S Max Redfield wasn't invited to the NFL Combine.
NFL scouts stamped Redfield as a potential first-round pick entering this past season. Things went downhill from there, as Notre Dame dismissed Redfield in late August following an arrest on marijuana and gun charges.
—The NCAA granted USF redshirt senior RB Darius Tice's (ankle) medical hardship waiver request. Tice is eligible to play in 2017, in what will be his final season of eligibility. He qualified for the waiver by suffering a season-ending ankle injury in a Week 4 loss to Florida State. Tice has rushed for 874 yards and five touchdowns on 193 carries over the past four seasons. He'll be in the mix for much more workload in 2017 with Marlon Mack off to the NFL.
—Baylor RB Shock Linwood was not invited to the NFL Scouting Combine.
Linwood was an underappreciated college back over the past few seasons. He left Baylor as the school's career record holder for rushing yards and rushing touchdowns. Unfortunately, Linwood wasn't able to build on monster sophomore (1,252 yards) and junior (1,329 yards) seasons in 2016, as he was suspended by interim coach Jim Grobe and phased out of the Bears' offense at various times. Linwood skipped Baylor's bowl game to prepare for the NFL Draft, a questionable decision considering the year he was coming off.
TO GET THE REMAINING INSIDE SCOOP FROM AROUND COLLEGE FOOTBALL, JOIN THE WAR ROOM TODAY