Want to know what's really going on inside the Walls of NFL Organizations or College Football Programs ? Find out all the latest INSIDE news, notes, strategy and internal team discussions.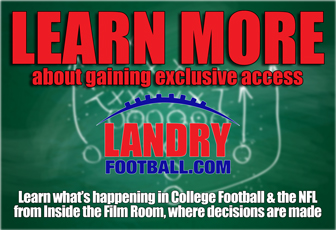 Have your own NFL Scouting Department for less than a yearly magazine subscription. By joining today, you get a 50% discount on the first month by using the code = LandryFootball. To get 25% off for a year, use the code = WarRoom
Become the smartest and most informed person in the room and get a leg up on your Fantasy Football opponents by joining Chris Landry inside the WAR ROOM.
Atlanta Falcons team officials have confirmed that Alabama offensive coordinator Steve Sarkisian has agreed to join them as their new offensive coordinator.
Sarkisian will replace Kyle Shanahan, who left after two seasons in the position to become the head coach of the San Francisco 49ers.
Sarkisian was named the Crimson Tide's offensive coordinator and quarterbacks coach in December after spending time on the staff as an offensive analyst. He took over for Lane Kiffin, who left before the national championship loss to Clemson to assume his duties as head coach of Florida Atlantic.
Sarkisian was fired in the middle of his second season at USC after troubles with his alcoholism. He also coached for five seasons at Washington and compiled a 46–35 record as head coach.
Being involved in lots of coaching searches, head coaches are always on the look out for prospective coaches due to the amount of regular changes that occur at both the college and NFL levels.
From Alabama's end, this does not come as a surprise to head coach Nick Saban. It was a major reason he promoted Mike Locksley to co-OC recently. I know that he has vetted a number if internal and external options as he does for all positions on his staff.
Having worked with Saban, he keeps a file on potential coaching/staff candidates at each position, something that is done by many coaches and football executives at the college and pro level. This will be the third offensive coordinator in the calendar year (2017) for Saban and Alabama.
Once Lane Kiffin accepted the Florida Atlantic job, he became tougher to restrain as he knew he was out the door and in his mind, didn't need Saban any longer.
This led to some problems in their playoff game preparations against U. Washington. It was after that game, Saban decided to move on from Kiffin and insert Sarkasian into the Championship Game as play caller.
Sarkasian is a much different personality than Kiffin but they think alike as offensive coaches and are close personally. Both are more comfortable with a more easy going encouraging style (think Pete Carroll) as opposed to the more hard edged Nick Saban.
Of course, the opportunity to resurrect their coaching careers were more than worth it for both Kiffin and Sarkasian. But, knowing all three, I never felt that these matches would work for the long term. Dealing with the more laid back–sometimes lacking in fine details style of Kiffin and Sarkasian, was not ideal for Saban.
I have had several coaching friends inquire about potential problems brewing with Sarkasian and Alabama over the past several weeks. While I don't believe that Saban would have dismissed Sarkasian after signing day, Sarkasian's control over the offense was beginning to be marginalized.
This is when the internal talks of Sarkasian moving on began to take full force. He visited the Falcons training camp after being dismissed by USC and hit it off with head coach Dan Quinn. The mutual friend is Seahawks coach Pete Carroll.
As talks progressed for Sark, Saban began the process of getting his bases covered offensively. This led to the naming of Mike Locksley as co-coordinator last month.
To answer the Elephant in the room question (sorry, I couldn't resist), I can tell you that Nick Saban would love to pursue some ideas that a Chip Kelly would offer, but I'm not convinced that hiring him as OC would fit either. Kelly is close with Bill Belichick and I see him using this year as a consultant role for someone at the NFL level or perhaps help consult in a few varied roles around the college and NFL game.
Former Oregon coach Mark Helfrich is definitely interested in joining the Alabama staff in the right position but it remains to be seen if that is a fit for Saban at this time.
Texans offensive coordinator George Godsey is another former Belichick disciple who would be a good fit and has worked well with OL coach Brent Key. Godsey and the Texans parted ways last month.
