We provide you with an overview of this past week's performance with a look ahead to this week. For our LandryFootball.com members, we provide you detailed FILM ROOM analysis including evaluations of all units.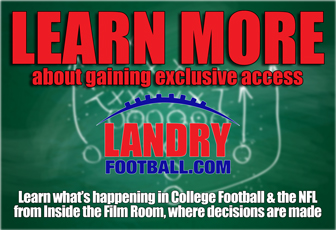 The Tampa Bay Buccaneers did a lot of good things in their 19-14 loss to the New England Patriots Thursday night. In many ways, they played well enough to win. But they couldn't make field goals, and in the end, that was the difference in the game.
Kicker Nick Folk has now missed seven kicks in four games this season – five field goals and two extra points. He missed three field goals Thursday, including two in the fourth quarter from 49 and 31 yards.
"When we decided on Nick as our kicker – I told you guys this many times – whoever our guys are, I've got total confidence in them," head coach Dirk Koetter said. "I think Nick was kicking very well up until a week ago. He had a rough day against the Giants, he came back the one day we kicked in practice last week, he kicked very, very well and we had no reason to think Nick wasn't going to kick well last night. That first one right before the half, the 56-yarder or whatever it was, it was pretty windy down there. I actually thought long and hard, in the few seconds you have to think about it, (about) throwing for the end zone instead of trying the kick, but Nick actually had made a 56-yarder in practice earlier in the week.
"That's a bonus if you get that kick. We got a couple penalties to even get a chance at that kick. But there were a couple there that you're expecting him to make. When I say we're disappointed today at opportunities that we missed, that's at a lot of different positions and that's certainly one."
Folk was placed on injured reserve Monday and replaced by Patrick Murray.
Bucs quarterback Jameis Winston and the offense did not take advantage of their opportunities Thursday night against the NFL's worst pass defense and one that had allowed 32 points per game. Winston was erratic early and had 109 yards passing entering the fourth quarter. He finished with 334 yards passing and a touchdown with no interceptions.
But the Bucs did some nice things on defense. They sacked Tom Brady three times, forced a fumble and intercepted him once.
"The main thing I would just say is, my own personal opinion today is just one of disappointment because we lost the game on the scoreboard and that's what counts, but we did a lot of good stuff in the game," Koetter said. "We competed hard, we won the turnover battle. When you win the turnover battle two to nothing you're about 90 percent that you're going to win the game. There's things that we have to do different. We didn't take advantage when we got those two turnovers. We left plenty of points out there. Our defense played good enough to win. Our offensive line played good. We just didn't execute good enough. Fourteen points – however you get your points, 14's not going to be enough and it wasn't last night."
Koetter said he thought Winston played pretty well overall and was victimized by drops, including two by tight end Cameron Brate.
"Spectacular at times, and (he) made some incredibly good throws, some pinpoint throws under tough conditions," Koetter said of Winston. "And also, again, depending on who's counting, there's somewhere between six and eight drops in there, eight on a high end. It's always a little bit debatable on what's a drop. There's some that were obvious drops. Cam Brate had a couple balls that we've seen Cam catch many times before and last night a couple of those you're expecting him to make. Then there were some other times when Jameis, you would have liked to see him get through his progressions a little bit quicker. It's a continual progression. I keep looking up there – you look up at the scoreboard and I think at the end of the third quarter they had 300-and-something yards and we had 180."
The Bucs actually wound up having a 409-406 advantage in total yards.
"Now, plays and yards don't score points," Koetter said. "We have an explosive team, we had a bunch of explosives in the fourth quarter, we had nine for the game, but we also missed a couple that could have possibly turned the game around. We talk to the guys all the time about (how) a handful of plays make or break every game and you don't know when they're coming, and that was the same in this game. So even though we did a lot of good things, especially on defense, we didn't do enough to get the win. It's disappointing more than anything else because we did do so many good things and we did have opportunities."
The Bucs will have the mini-break that comes with the Thursday night game and return to practice Tuesday. At 2-2, they travel to Arizona, where they lost 40-7 a year ago.
"At the end of this first-quarter point in the season for us, the first four games, we're one game off the division (lead)," Koetter said. "We're going to have to do some work because we've got some games coming up on the road, but we've done OK on the road in the past. I'm really happy with how the guys competed. I thought the guys after a tough loss were good in the locker room. They were good in the team meeting just now. We also have to understand we're not playing at full strength; we're going to be getting some good players back on defense. We just have to put it all together on offense for four quarters and we haven't been able to do that consistently enough. That obviously starts with me."
HERE IS THE DETAILED FILM ROOM ANALYSIS FOR OUR LANDRYFOOTBALL.COM MEMBERS. SEE HOW EACH UNIT GRADED OUT.
You need to be logged into LandryFootball.com to see or hear this premium content. Please
Login
to access.
If you aren't a member, you can register below.