Want to know what's really going on inside the Walls of COLLEGE FOOTBALL programs? as well as school NFL Pro Days. Find out all the latest INSIDE news, notes, analysis, strategy and internal team discussions taking place around the country on teams, the recruiting scene as well as schools draft prospects.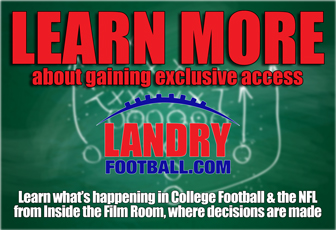 By joining today, you get a 50% discount on the first month by using the code = LandryFootball. To get 25% off for a year, use the code = WarRoom.
THE LATEST COLLEGE NEWS OF THE DAY
—The Giants will host Arizona State WR Tim White for a visit. During his pro day work, White turned in a few noteworthy numbers, including a 4.52-second 40-yard dash, a 38.5-inch vertical jump and a 10-foot-10 broad jump. In addition to his prowess as a slot receiver, White is a legitimate weapon in the return game. The Giants could use a dose of that, particularly on punt returns. Last season, Dwayne Harris averaged just 5.9 YPR with a long of 17 yards. That mark of 5.9 yards per punt return ranked as the second worst in the NFL. If White hears his name called at the draft, it would likely come near the end of Day 3.
—Northwestern LB Anthony Walker can run but he's not a great athlete. I think he'll be a much better player if he plays around 230. Walker checked into the Combine measuring out at 6-foot-1, 238 pounds. He has been compared by some to Dolphins LB Kiko Alonso but at best will be a decent started in the laegue.
—Alabama freshman RB Najee Harris might player sooner than anyone expected. He is extremely talented–fast and strong and is very mature for his age. However, Bo Scarbrough, Damien Harris, B.J. Emmons and Joshua Jacobs are ahead of him going in and will have to show that he can all the assignments like a vet before cracking the lineup.
—One side note on the Clemson pro day is an obvious fact that Mike Williams has a long ways to go as a route runner. Like most spreads system receivers they know only a couple of routes on the route tree. He ran mostly slants and go routes at Clemson.
—UCLA CB Fabian Moreau is growing on people and with a high second round grade, don'tb e surprised if he goes late in round one.
—Wisconsin edge rusher T.J. Watt may need to get bigger but he is plenty strong. I can see him standing or playing base end for a 4-3 team. He's going to keep getting better. Watt rocked it at both the Combine and on pro day. During the former athletic tests in Indianapolis, the 6-foot-4, 252-pound Wisconsin product was among the top performers at his position in the vertical leap (36 inches), broad jump (128 inches), three-cone drill (6.79 seconds), 20-yard shuttle (4.13 seconds) and 60-yard shuttle (11.20 seconds). And on pro day, he displayed a smooth, fluid reverse when stimulating pass coverage. He met with the Steelers on pro day.
—Oregon State HC Gary Andersen declined to name a starting quarterback following Saturday's spring game. "I truly believe we have three quarterbacks who can manage the football game in the Pac-12. It comes down to who can make special plays. We'll continue to evaluate them," said Andersen. The three quarterbacks in question, here, are JUCO transfer Jake Luton, redshirt junior Marcus McMaryion and redshirt senior QB Darell Garrettson. Looks like we will have to wait until August camp before we have an answer as to who will lead the Beavers into battle for the 2017 season.
—At Clemson's pro day. QB Deshaun Watson has tried to rectify upper-body throwing tendencies.
Watson has shortened his stride and is firing his hips first, which allows his arm to become the elastic band in the equation, rather than the driving force resulting in the ball coming off his hand with better trajectory and more velocity. While Watson sometimes reverted back to poor habits with his mechanics during pro day work, it's an encouraging sign that the quarterback has devoted so much time to refining his technique.
—Oregon State CB Devin Chappell met with the Dolphins at his pro day. Chappell did not receive an invitation to the NFL Scouting Combine, but during pro day festivities, the 6-foot, 201-pounder ran the 40-yard dash in 4.61 seconds and the short shuttle in 4.32 seconds while logging jumps of 35 inches (vertical) and 9-foot-8 (broad). He was a busy little bee this past season, registering a hearty 75 tackles (6.0 for loss), an interception and seven passes defended in 12 games. He will likely have to find his way as an undrafted free agent unless a team takes a flier on him late on Day 3.
—Cal QB Davis Webb has enough between the ears to unlearn some of his bad habits and start to get things right. He could be another Nick Foles if he has time to develop. His biggest issue in inexperience in seeing the field leading to poor decisions and being late with the ball.
—Oregon State CB Treston Decoud's best NFL fit might come at safety. Decoud is a much better football player than athlete. He's a solid cornerback but the lack of pure speed, both in the forty and on film, makes me believe he's better off inside at safety. On the speed front, the 6-foot-2, 206-pounder logged a relatively uninspiring 4.62 seconds in the 40-yard dash at the Combine. He bettered that in his pro day work, coming in at 4.55 seconds.
—Oregon State senior WR Jordan Villamin (knee) exited Saturday's spring game due to an undisclosed injury. Villamin was already being limited in spring practice due to a knee injury. Whether his being lifted in the first half of Saturday's contest related to a reaggravation of that prior ailment is unknown at this juncture. Villamin is coming off a 2016 season in which he caught 21 passes for 253 yards and a touchdown across eight games played.
—Syracuse will hire former Wyoming DC Steve Stanard to an unspecified post. Stanard had been with Wyoming for the past three seasons, but the program opted not to retain him in late December. The Cowboys allowed a touch under 35 points a game this past season, hence his dismissal. While it is not yet known exactly what role he might play on Syracuse HC Dino Babers' staff, Mink notes that Stanard has experience coaching linebackers and defensive backs.
—Wake Forest graduate DB Josh Okonye transferred to Purdue.
Okonye did not start a game during his time with the Demon Deacons, but he did appear in 37 games over the course of his career. This past season, the 6-foot, 200-pounder recorded 36 tackles and three passes defended in 10 contests. As a graduate transfer, he will be eligible to play immediately with his new Boilermaker crew.
—Georgia has self-reported three minor rules violations to the NCAA.
We are talking very minor stuff, here. The violations occurred during the 2016 season. One consisted of former DL coach Tracy Rocker — who has since been fired — making an unauthorized phone call to a recruit. Another saw a non-coaching staff member make a call to a high school coach in relation to a recruit's eligibility. Such calls are only allowed to be made by head coaches and assistant coaches. The final violation is just silliness, as it consisted of a recruit's guest (on a visit) taking a picture of the Georgia team and subsequently sharing it online. As photos such as these are not allowed to be shared with the media, boom, another violation. None of this amounts to much of anything.
—Michigan CB Channing Stribling will meet with the Saints prior to his pro day and has an additional meeting set up with the Panthers. Michigan will be holding its pro day this coming Friday. Stribling will chat with the Saints before his workouts. As for his meeting with the Panthers, that is set for April 7. The 6-foot-1, 188-pound corner during the 2016 season registered 29 tackles (3.0 for loss) while picking off four passes over the course of 12 games played.