Whether you are just a hardcore college football fan, Recruiting fan, NFL draft fan, or just want to get a fantasy edge, a WAR ROOM membership is a must.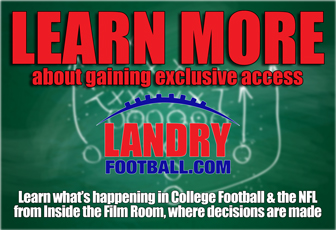 Want to know what's really going on inside the Walls of COLLEGE FOOTBALL programs? Find out all the latest INSIDE news, notes, analysis, strategy and internal team discussions taking place around the country.
GET THE LATEST SCOOP AND FILM ROOM NUGGETS ON DRAFT PROSPECTS, COLLEGE PLAYERS, AS WELL AS RECRUITING.
Become the smartest and most informed person in the room and get a leg up on your Fantasy Football opponents by joining Chris Landry inside the WAR ROOM.
By joining today, you get a 50% discount on the first month by using the code = LandryFootball. To get 25% off for a year, use the code = WarRoom.
CHECK BACK THROUGHOUT THE DAY FOR UPDATES
—Alabama DL Jonathan Allen was named the winner of the Lombardi Award.
Since 1970, the Lombardi had traditionally been awarded to the best offensive or defensive lineman in the country. The criteria changed this year, opening the award up to all-comers. No matter for Allen, who simply beat out everybody. "I was just in shock. Whenever you receive an award of this magnitude, it's obviously a blessing," said the 6-foot-3, 291-pounder. He can add the Lombardi to a long list of other awards earned in 2016, including the Nagurski Trophy, the Chuck Bednarik and the Ted Hendricks Award. This past season (including the Tide's Playoff run), Allen registered 69 tackles (16.0 for loss), 10.5 sacks and three forced fumbles.
—Former Kansas State QB Collin Klein will join the Wildcats' staff as an assistant coach. Not only did Klein play quarterback under HC Bill Sneider, he was previously on Kansas State's staff from 2014-2015. At the time, he served as assistant director of recruiting, defensive quality control coach and graduate assistant. He then moved on to Northern Illinois for the 2016 campaign. With the Huskies, he acted as QB coach. During his playing career, Klein finished third in Heisman voting behind Johnny Manziel and Manti T'eo in 2012.
—Uncommitted three-star 2018 RB Keyondre White indicated that FAU is currently leading for his pledge. The 5-foot-10, 205-pounder is a hard-nosed tailback who has also received offers from Buffalo, Bowling Green, Syracuse and Louisville.
—Pitt QB Nathan Peterman is an intriguing prospect because of his experience in a pro-style offense at Pitt. His offense is average but he has a nice feel for defenses combined with good toughness and poise. He will translate mentally quicker than most QB's in this draft, even with his physical limitations.
—Florida freshman TE Kemore Gamble is already drawing comparisons to Jordan Reed. Gamble possesses superior receiving and route-running skills. The 6-foot-4, 216-pounder is a matchup nightmare in the red zone and can line up wide. Florida has plenty of receiving talent at this point. If they can develop a quarterback, the seeds of an interesting offense have already been planted.
TO GET THE REMAINING INSIDE SCOOP FROM AROUND COLLEGE FOOTBALL, JOIN THE WAR ROOM TODAY