We provide you with an overview of this past week's performance with a look ahead to this week. For our LandryFootball.com members, we provide you detailed FILM ROOM analysis, including unit by unit evaluations as well as a look at how draft prospects are progressing.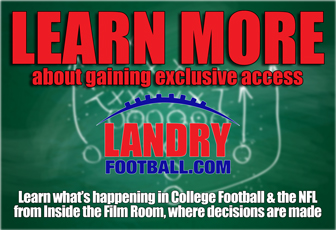 Bryce Love, the Stanford football team's star running back, had statistically speaking, his least productive game of the season last week at Utah.
But it was probably the Cardinal's most important victory of the season.
Stanford nipped No. 20 Utah 23-20 in Salt Lake City, and Love, a junior, ran for a season-low 152 yards. He was still dynamic.
Love reeled off a 68-yard touchdown run and averaged 7.5 yards per carry as Stanford (4-2, 3-1 Pac-12) outlasted Utah (4-1, 1-1).
Love still leads the nation with 1,240 rushing yards. Stanford launched back into the AP Top 25, at No. 23.
Stanford will try to keep the Love train rolling this week, in search of its third consecutive victory, facing Oregon (4-2, 1-2) at 8 p.m. Satuday at Stanford Stadium.
Stanford coach David Shaw lauded the size and professional potential of the Utes' defense, but had a feeling Love would still get his yards.
"You look at their personnel and it's like an NFL defense," Shaw said. "Big guys all over the place. They can all hit. They can all tackle. We knew with enough opportunities Bryce Love was going to break one or two of them out and he did that."
Love's epic first half of the season has garnered national praise, as he's produced over 150 rushing yards every week.
Quietly, though, Stanford linebacker Peter Kalambayi has been one of the most prolific pass rushers in the country. Kalambayi leads the nation with nine sacks. That will be pivotal as Stanford tries to remain in the Pac-12 North race with Washington and Washington State.
Seven of those sacks came against San Diego State in a loss, but Kalambayi added another against Utah. Kalambayi and defensive tackle Harrison Phillips will miss the first half of the Oregon game due to a targeting suspension.
On the back end of the defense, junior safety Eric Reid has been a nightmare for opposing quarterbacks. Reid grabbed an interception for a third consecutive game against Utah, and has four picks in the past three games.
Oregon was once known for its up-tempo spread offense under former coach Chip Kelly. First-year coach Willie Taggart has brought with him more balance and a passion for running the football.
The Ducks just suffered a rough 33-10 home loss to No. 11 Washington State, and tailback Royce Freeman was held in check with 12 carries for 62 yards.
Oregon may present a matchup problem for Stanford, as it stops the run well but just allowed 282 passing yards and three touchdowns to the Cougars.
The Cardinal passing game protected the ball well against Utah, with no interceptions, but neither quarterback (Keller Chryst or K.J. Costello) threw a touchdown pass.
That is not a significant concern with Love running the ball out of the backfield.
"We're really big on grinding it out for however long it takes and we just need one opportunity to make something happen," Love said. "You're going to have days where things aren't going to open up. You're not going to have 300 yards rushing or 260 or stuff like that."
HERE IS THE DETAILED FILM ROOM ANALYSIS FOR OUR LANDRYFOOTBALL.COM MEMBERS.
You need to be logged into LandryFootball.com to see or hear this premium content. Please
Login
to access.
If you aren't a member, you can register below.