Want to know what's really going on inside the Walls of COLLEGE FOOTBALL programs? as well as school NFL Pro Days. Find out all the latest INSIDE news, notes, analysis, strategy and internal team discussions taking place around the country on teams, the recruiting scene as well as schools draft prospects.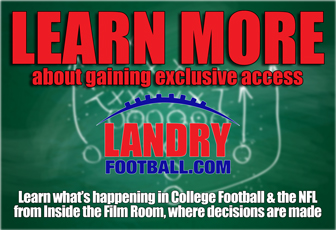 By joining today, you get a 50% discount on the first month by using the code = LandryFootball. To get 25% off for a year, use the code = WarRoom.
THE LATEST COLLEGE NEWS OF THE DAY
—The Jets met with Oregon State WR Victor Bolden on pro day. The Jets see Bolden as a potential immediate contributor in the return game. Among his pro day results, he notched a 40-yard dash time of 4.53 seconds and a three-cone drill time of 6.69 seconds. Those were slight improvements over his times at the NFL Scouting Combine. While he is a better player than his collegiate statistics would indicate — Bolden was unable to surpass 550 receiving yards in either of the past two campaigns — a late selection on Day 3 is the best he can realistically hope for come the draft.
—Oklahoma WR Dede Westbrook is a slower version of Texans WR Will Fuller. Fuller's football speed was off the charts and would get his separation on speed alone but I think Westbrook is helped out a little bit by the offense Oklahoma runs. Even if he doesn't have the lightning speed of Fuller, speed is most definitely Westbrook's game. On pro day, he ran the 40-yard dash in a scintillating 4.34 seconds. However, he also struggled in agility drills. That lack of quickness, coupled with horrible interviews at the Combine, could hurt him.
—UNC RB Elijah Hood has some Stevan Ridley in him. Like Ridley, Hood is a better downhill runner who is capable of being a productive back while taking what is given by his run-blocking. He had good work in 2015 campaign, where he scampered his way to 1,463 yards, but saw a lack of speed and agility on tape in 2016. At least part of that may be due to injuries, including a concussion. Hood's vision is one of his best assets and his experience running in multiple schemes will help him be a contributor at the next level, but ultimately does not look like a lead back in the NFL.
—The Browns, Vikings and Chiefs have all privately worked out Arizona State K Zane Gonzalez.
Gonzalez, the Lou Groza Award recipient this past season, figures to be the first kicker off the board at the draft. He could potentially hear his name called late on Day 2 or early on Day 3. During the 2016 campaign, he made 23-of-25 kicks.
—Buffalo's pro day was a real good day for unheralded tight end Mason Schreck.
Schreck's 40-yard dash time of 4.70 seconds on pro day wasn't exactly a light-the-world-on-fire time like the one that Ole Miss TE Evan Engram registered at the Combine, but it came in faster than scouts expected. A tenth of a second faster than expected, according to Pauline. In addition, he also turned in 18 reps on the bench press, notched a vertical jump of 34.5 inches and registered a mark of 9-foot-8 in the broad jump. This past season, Schreck logged a 59-651-4 receiving line in 12 games played. All three numbers on that line represented career bests for the sleeper prospect.
—Purdue has expelled three unnamed players following an investigation into an alleged sexual assault. Four players were implicated in a possible sexual assault back in October. The players were allowed to continue taking classes, but removed from the team. While no charges have been filed in that case, Purdue's Administrative Board has further investigated the matter and decided on expulsions for three of the four in question. This according to Mario Massillamany, who represents the accusers in the case. In a statement, Purdue said that federal privacy laws prevent them from commenting on their investigation.
—USC T Chad Wheeler might end up as a starting OG at some point. He is coming off some injuries and I worry about his 6-foot-7, 306-pounder's frame and core strength inside and don't like his feet outside.
—Western Michigan OL Taylor Moton has the strength and athletic ability to succeed in any scheme. Moton's best NFL fit will come at guard. There are some concerns as can improve his pass protection against skilled rushers, but a move to guard can protect him in that regard.
The Bengals and Panthers both reportedly spent a fair amount of time talking with Moton on pro day.
—Wisconsin RB Corey Clement looked exceptional catching the ball on pro day.
Clement did what he needed to do in drills. He also had one of the more eye-popping turnarounds from a Combine 40 (4.68 seconds) to a pro day 40 (4.54 seconds) that we have seen during the evaluating process. That speedier time probably won't be enough to silence questions about the Wisconsin back's athleticism, though. Clement may fluidity, decisiveness, and vision needed to become a dependable, productive starting running back in the NFL.
—Clemson RB Wayne Gallman recorded 40-yard dash times of 4.56 and 4.57 seconds on pro day.
Gallman clipped a little time off his 4.60-second run through the 40 at the Combine.
The 6-foot, 215-pounder met with two Panthers scouts. Carolina has been linked to multiple backs in this draft. Gallman might begin his NFL career as part of a rotation.
—Wisconsin edge rusher T.J. Watt displayed a smooth, fluid backpedal and easy hip turn and looked natural moving in reverse when simulating pass coverage. HE could be a more explosive Clay Matthews.
—Western Michigan WR Michael Henry looked very good catching the ball on pro day.
A sleeper who took a back seat to Corey Davis the past two seasons. Henry was fast and showed natural hands throughout the morning. Working in Davis' shadow this past season, Henry logged a receiving line of 63-779-4. His game is that of a possession receiver. He could potentially garner some interest late on Day 3.
—LSU CB Tre'Davious White may not be a trained killer but he sure has outstanding covers skills. He would struggle in some sub packages due to his lack of physicality but he could be an Adam Jones type cover guy.
—Southern Miss redshirt freshman LB JaCorey Morris has left the team.
The exact circumstance here remains to be seen — we aren't quite sure why Morris has left — but this is a tough loss for the Golden Eagles. The 6-foot-3, 220-pounder was a three-star prospect out of high school and Southern Miss' top recruit in the 2016 cycle. HC Jay Hopson said that he won't be with the squad for the 2017 campaign which could perhaps signal that he might be back next winter.
—BYU RB Jamaal Williams hasn't been a special teams guy but he better start as he is not very dynamic as a runner so he needs to carve out a niche for himself as a physical backup who can go cover on kickoffs. Williams was unable to impress at the NFL Scouting Combine, testing in the 7th percentile with results including a 4.59-second 40-yard dash, a 30-inch vertical jump and a 7.25-second run through the three-cone drill.
—Clemson received a verbal commitment from four-star 2018 DE Justin Mascoll.
A TOP 20 overall player, the 6-foot-4, 210-pounder opted for Clemson over Alabama, Florida State and Georgia. He is a smart, instinctive player who quickly locates the ball, one who is strong at the point of attack and flashes the ability to quickly shed.
—Tulane senior K Andrew DiRocco has left the team.
It isn't clear yet whether DiRocco has simply decided to step away from football or whether he will pursue a graduate transfer. During his time at Tulane, he made 27-of-41 boots. His career long kick was good from 48 yards out. Randy Harvey, Zachary Block and Merek Glover will be competing to take over for DiRocco for the 2017 season.