Whether you are just a hardcore college football fan, Recruiting fan, NFL draft fan, or just want to get a fantasy edge, a WAR ROOM membership is a must.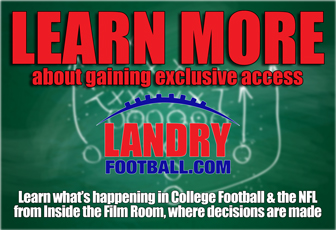 Want to know what's really going on inside the Walls of COLLEGE FOOTBALL programs? Find out all the latest INSIDE news, notes, analysis, strategy and internal team discussions taking place around the country.
GET THE LATEST SCOOP AND FILM ROOM NUGGETS ON DRAFT PROSPECTS, COLLEGE PLAYERS, AS WELL AS RECRUITING.
Become the smartest and most informed person in the room and get a leg up on your Fantasy Football opponents by joining Chris Landry inside the WAR ROOM.
By joining today, you get a 50% discount on the first month by using the code = LandryFootball. To get 25% off for a year, use the code = WarRoom.
CHECK BACK THROUGHOUT THE DAY FOR UPDATES
—Michigan graduate WR Freddy Canteen transferred to Notre Dame.
Canteen will have two years of eligibility remaining and will be able to play immediately in 2017 as a graduate transfer. That is, if Canteen is healthy enough to play. The 6-foot-1, 185-pounder missed the 2016 season after undergoing shoulder surgery. In his two healthy seasons with the Wolverines, he caught a combined six passes for 22 yards and a touchdown.
—Tennessee freshman WR Josh Palmer may be raw but he is really talented.
Palmer originally hails from Canada. He played his high school ball at the highly regarded football factory at St. Thomas Aquinas (Florida). Syracuse almost had the wideout in their grasp, but lost a longtime commitment from him in January. The 6-foot-2, 190-pounder is better than his ranking and does a nice job of extending well away from his frame and doesn't let the ball into his pads often.
—Uncommitted three-star 2018 WR Andre Hunt indicated that he is supremely intrigued by USC. Both UCLA and USC have tossed offers at the Lawndale, California, native, but it is the Trojans who are out in front in Hunt's mind. He grew up a fan of the USC program. The 6-foot, 175-pounder plans on attending camps at both schools and tentatively is hoping to make offseason trips to Arizona State, Michigan, Notre Dame and Oregon.
TO GET THE REMAINING INSIDE SCOOP FROM AROUND COLLEGE FOOTBALL, JOIN THE WAR ROOM TODAY