Whether you are just a hardcore college football fan, Recruiting fan, NFL draft fan, or just want to get a fantasy edge, a WAR ROOM membership is a must.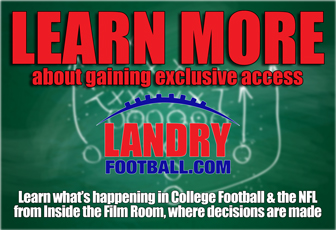 Want to know what's really going on inside the Walls of COLLEGE FOOTBALL programs? Find out all the latest INSIDE news, notes, analysis, strategy and internal team discussions taking place around the country.
Become the smartest and most informed person in the room and get a leg up on your Fantasy Football opponents by joining Chris Landry inside the WAR ROOM.
By joining today, you get a 50% discount on the first month by using the code = LandryFootball. To get 25% off for a year, use the code = WarRoom.
–—Miami freshman WR Mike Harley is one of the quickest, most dynamic players in this class. He has the speed capable of turning short completions into big gains, and may help out returning kicks. He is listed at just 5–foot–10, 153 pounds and will need to put on playing weight, but his speed should make him a factor for the Hurricanes sooner than not.
–—I was impressed with San Diego State CB Damontae Kazee's footwork, movement in reverse and secure tackling during the Senior Bowl week.
Kazee opened some eyes via his Senior Bowl work, but while the corner has been stamped as a possible third–round pick, teams are concerned about his speed and don't expect Kazee to run faster than the high 4.5's at the combine. Kazee has been running in the vicinity of 4.53 seconds when electronically timed and closer to 4.45 seconds on stopwatch–timed runs.
–—I'm intrigued by Oklahoma State freshman WR LC Greenwood's potential in the Cowboys' offense. Along with incoming freshman wideouts Cedarian Lamb and Charleston Rambo, who sided with Oklahoma, I see them as potential standout wide receivers in the Big 12 for the coming years. The 6-foot-3, 203-pounder has great length.
To get the remainder of this article and more inside news around the College Football game, join the WAR ROOM.