We take a look at the most pressing team needs, best fits for their picks as well as a list of players they have visited with. We also take a look at how they have drafted in the past five years. Go inside their draft room and get a feel for what they are thinking heading into the draft.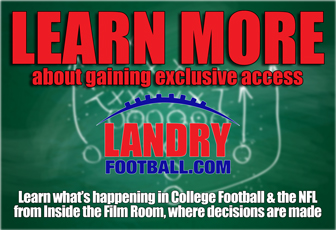 If you are not yet a member of LandryFootball.com, see what you are missing. We take you inside the FILM ROOM and give you the perspective of a veteran NFL COACH & SCOUT.
Get REAL information from a Veteran NFL Scout that NFL teams hire as a consultant. It's like having your own NFL Scouting Department for less than a magazine subscription.
NFL Teams and Major College Football Programs are members, you can be also.