Teams are assessing their post draft roster, and making some roster assessments and minor moves. We provide you all the latest from inside team buildings.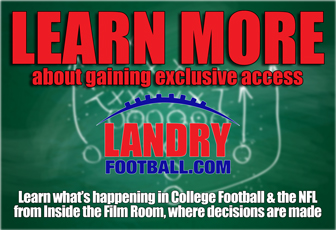 Get REAL information from a Veteran NFL Scout that NFL teams hire as a consultant. It's like having your own NFL Scouting Department for less than a magazine subscription. NFL Teams and Major College Football Programs are members, you can be also.
Here is the latest team by team news recapped. FOR OUR LandryFootball.com MEMBERS, WE OFFER THE LATEST FROM INSIDE THE TEAM'S ORGANIZATIONS.
Arizona Cardinals
The Cardinals tweaked their roster a bit on Wednesday, as they signed linebacker Mikey Bart. . . . To make room for Bart on the roster, they waived/left squad defensive tackle Collin Bevins. . . .
Dallas Cowboys
The team announced the signing of 6-10, 311-pound offensive lineman Dan Skipper out of Arkansas. Skipper, who was a workout player at last week's rookie minicamp, was a big part of the Razorbacks' physical run game. . . . Skipper missed Friday's rookie minicamp session to get a blood condition checked out, but he was cleared and on the field Saturday. Skipper said the club was "just crossing its P's and Q's. . . .
Minnesota Vikings
The Vikings have signed former Bears defensive tackle Will Sutton. . . . To make room for Sutton, the Vikings waived 25-year-old defensive tackle Toby Johnson. Johnson had two tackles in his two games last season. . . . Wide receiver Michael Floyd's home confinement sentence has been transferred to Minnesota, and he will begin practicing next week with the Vikings. . . . While with the Cardinals, Floyd pleaded guilty in February to extreme DUI and spent 24 days in jail for an incident last December in Arizona. He was released March 10, and then began a three-month period of home confinement. . . .
Philadelphia Eagles
The Eagles and LeGarrette Blount agreed to terms on a one-year contract Wednesday morning. Terms of the deal are not yet known. . . .
Seattle Seahawks
The Seahawks have signed sixth-round pick cornerback Mike Tyson, the fifth of the team's 11 draftees now under contract. . . . Tyson gets a four-year deal (the standard for all rookie contracts) worth a total of $2.5 million with a $172,000 signing bonus. He'll get a salary of $508,000 this season if he makes the team with salaries of $598,000, $688,000 and $778,000 the following three years if he makes the team (numbers via OvertheCap.com). . . .
Tampa Bay Buccaneers
Former Purdue defensive end Evan Panfil was the only tryout player to earn a free-agent contract from Bucs rookie minicamp. . . . Panfil still faces long odds to make the Bucs' final 53-man roster — they're likely to keep five or six ends, with Will Gholston, Robert Ayers and Noah Spence having three spots locked up. . . .
Washington Redskins
Jay Gruden said that, from what he has heard, outside linebacker Junior Galette should be able to join the team by the end of July. . . . "He's running and lifting, all that stuff right now," Gruden said. "We'll probably keep him out of the team stuff for OTAs but hopefully he'll be full go at training camp. . . . Safety DeAngelo Hall is also rehabbing. Hall tore his ACL last September, and the Redskins have taken a patient approach with him. . . .
Buffalo Bills
Brandon Beane on Wednesday announced the hiring of Malik Boyd as the team's director of pro personnel, hiring him away from the Arizona Cardinals, where he had worked for the last 12 years. . . .
Cincinnati Bengals
The Bengals today announced the signing of fourth-round pick Josh Malone, a wide receiver from the University of Tennessee, to a four-year contract. . . . The three Bengals draft picks who are still unsigned are running back Joe Mixon (second round), defensive end Jordan Willis (third round) and center/guard J.J. Dielman (fifth round). . . .
Cleveland Browns
The crushing weight of legal woes was lifted off Caleb Brantley's shoulders Wednesday when the state attorney's office in Gainesville, Fla., announced a misdemeanor battery complaint against the Browns rookie defensive tackle had been dismissed. . . . As a result, the Browns will afford Brantley an extended opportunity to prove that they made a wise gamble April 29 when they drafted him in the sixth round (No. 185 overall) amid allegations he punched a woman in the face 16 days earlier. . . . The Browns signed seventh-round draft pick Zane Gonzalez to his four-year rookie contract Wednesday. . . .
Houston Texans
Longtime NFL personnel man Jimmy Raye III is expected to replace Brian Gaine as the Texans' director of player personnel. . . . Raye spent the last four years as vice president of football operations at Indianapolis and wasn't retained by new Colts general manager Chris Ballard. . . . The Indianapolis Colts signed running back Marlon Mack on Wednesday. . . .
Jacksonville Jaguars
The Jaguars signed first-round draft pick Leonard Fournette to a four-year rookie contract on Wednesday that's valued at $27.1 million. . . . Fournette, the fourth overall pick in the NFL Draft, also received a $17.8 million signing bonus that is fully guaranteed. He is expected to be the Jaguars' workhorse tailback in their run-oriented offense this upcoming season. . . .
Kansas City Chiefs
The Chiefs have hired Tim Terry away from Green Bay to be their director of pro personnel, a source confirmed to The Star on Wednesday. . . . Terry, 42, will replace Will Lewis, who served in the role the last four seasons. . . .
Los Angeles Chargers
The Chargers signed safety Rayshawn Jenkins, drafted in the fourth round at No. 113 overall. An All-ACC honorable mention at Miami, Jenkins will most likely start his career as a backup to strong safety Jahleel Addae, who re-signed with the team in March on a four-year, $22.5 million contract. . . . The Chargers waived undrafted rookie offensive tackle Mason Zandi. . . .
Pittsburgh Steelers
JuJu Smith-Schuster, the 62nd overall pick from USC, agreed to a four-year contract. He is the fifth of the Steelers' eight draft picks to sign. . . . Also, Nick Schuessler, the backup to two-time Heisman Trophy finalist DeShaun Watson at Clemson, was waived to make room for quarterback Bart Houston of Wisconsin. The Steelers also brought back wide receiver Canaan Severin and waived linebacker Akil Blount, son of Hall of Fame cornerback Mel Blount. . . . . . .
NFL Daily Transactions
CLV 5/17 Jason McCourty CB Free Agent Signing
TB 5/17 Jacquies Smith DE Asked to Re-Sign
PIT 5/17 Akil Blount LB Waived, No Recall
NE 5/17 Rob Housler TE Terminated, Vested Veteran, Failed Physical
MIN 5/17 Toby Johnson DT Waived, No Recall
Hear is the latest INSIDE SCOOP for our LandryFootball.com members.