Teams are assessing their post draft roster, and making some roster assessments and minor moves. We provide you all the latest from inside team buildings.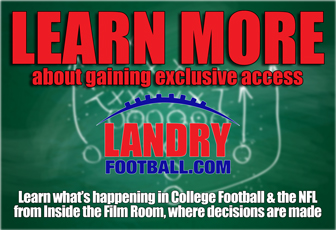 Get REAL information from a Veteran NFL Scout that NFL teams hire as a consultant. It's like having your own NFL Scouting Department for less than a magazine subscription. NFL Teams and Major College Football Programs are members, you can be also.
Here is the latest team by team news recapped. FOR OUR LandryFootball.com MEMBERS, WE OFFER THE LATEST FROM INSIDE THE TEAM'S ORGANIZATIONS.
Arizona Cardinals
Haason Reddick found himself starting at inside linebacker alongside veteran Karlos Dansby because the regular starter, Deone Bucannon, won't be participating in organized team activities after recently undergoing ankle surgery. . . . Bucannon missed the final three games of last season with the ankle problem, but the Cardinals thought it would heal without surgery. . . . That wasn't the case, and Bucannon might not be in the lineup when the Cardinals open the season against the Lions in Detroit on Sept. 10, Arians acknowledged. . . . The Cardinals have hired former Pro Bowl running back Terry Allen as the second Bidwill Fellowship Coach. Allen will work with the Cardinals running backs for the next two seasons. . . .
Los Angeles Rams
The Rams claimed center Austin Blythe off waivers from Indianapolis. . . . Blythe, released by the Colts, presumably will contend for a backup job with the Rams, who in March signed John Sullivan to be their starter. . . . The Rams on Tuesday also signed undrafted defensive back Dominique Hatfield and waived linebacker Folarin Orimolade. . . .
New Orleans Saints
Clarity arrived Tuesday on the NFL Transactions report, which reflects the Saints officially signed Justin Thomas as a defensive back. . . . Thomas, who is listed as 5-foot-11 and 185 pounds on Georgia Tech's website, will make the transition from offense to defense. . . . Thomas joins running back Trey Edmunds, offensive linemen Khalif Barnes, guard Drew Iddings and tight end Clay Harbor as players who were invited to the Saints' three-day rookie minicamp on a tryout basis to sign a contract. . . .
Seattle Seahawks
Seattle general manager John Schneider had made contact with Colin Kaepernick's representatives on Friday. . . . One source confirmed to the Times that the two sides are talking and that if a signing were to happen it would likely occur in the next few weeks. Tampa Bay Buccaneers
Washington Redskins
The Redskins signed linebacker Nico Marley, grandson of iconic reggae singer-songwriter Bob Marley, the team announced Tuesday. . . . Marley, 5-8 and 200 pounds, had been given a tryout at rookie minicamp, which was held at the Redskins facilities in Ashburn over the weekend. . . . The Redskins signed two other tryout players, tight end Manasseh Garner and cornerback Tevin Homer, on Monday. They waived linebacker Khairi Fortt and tight end Wes Saxton and released cornerback Tharold Simon, which left a spot open for Marley. . . .
Cincinnati Bengals
Bengals cornerback Adam Jones pleaded guilty Tuesday to obstructing official business as part of a plea deal resulting from his Jan. 3 arrest. . . . As part of the deal, Hamilton County Court Judge Dwayne Mallory dropped the two other misdemeanors for assault and disorderly conduct. Hamilton County Prosecutor Joe Deters previously dropped a felony charge of harassment with a bodily substance, which resulted from Jones allegedly spitting on a nurse at the county intake after officers arrested the cornerback outside a Cincinnati hotel a little more than 24 hours after the final game of the Bengals season. . . . Jones later entered alcohol and anger management programs and apologized for his actions in a statement from his lawyer. . . .
Cleveland Browns
The Browns and veteran cornerback Jason McCourty agreed to a two-year contract on Tuesday, his agent, Andy Simms, confirmed. . . . Simms declined to disclose the financial terms, but McCourty two-year deal is worth $6 million, including $2 million guaranteed. . . .
Houston Texans
The Texans added some reinforcements for their offensive line Tuesday, signing veteran offensive tackle Breno Giacomini. . . . The Texans signed three rookie free agents following their rookie minicamp. That includes former Wisconsin running back Dare Ogunbowale, former Akron cornerback Bryce Jones and former Florida wide receiver Chris Thompson. . . . They released former LSU running back and seventh-round running back Kenny Hilliard, former Central Florida safety T.J. Mutcherson, former Indiana offensive tackle Dimitric Camiel (Westfield) and former Memphis wide receiver Tevin Jones (Clear Creek). . . .
Indianapolis Colts
Clayton Geathers, the Colts' hard-hitting strong safety and one of their few returning starters on defense, is sidelined after surgery to address a late-season neck injury, the team announced Tuesday. . . .
Jacksonville Jaguars
The Jaguars signed fourth-round receiver Dede Westbrook and fifth-round linebacker Blair Brown to four-year contracts Tuesday. . . . Four of the Jaguars' seven-man draft class have signed, leaving only their top three picks – Leonard Fournette, Cam Robinson and Dawaune Smoot – unsigned. . . . Based on the rookie salary system, Westbrook's contract is expected to be worth $3,076,164 and includes a $676,164 signing bonus. His salary cap figure this year will be $634,041. . . . Brown's contract is expected to be worth $2,694,724 with a signing bonus of $294,424 and a first-year cap number of $538,631. . . .
Kansas City Chiefs
The Chiefs claimed linebacker Reshard Cliett off waivers from Tennessee on Tuesday. To make room for him, they released defensive back Jimmy Hall. . . .
Los Angeles Chargers
Cornerback Casey Hayward left practice early with a left ankle injury, though Lynn said it wasn't a big deal. . . . The Chargers signed undrafted free-agent Mitchell Paige and waived linebacker Carlos Fields. Paige tried out for the team during rookie minicamp this past weekend. . . .
Miami Dolphins
The Dolphins announced the signing of fifth-round pick Davon Godchaux, a defensive tackle out of LSU. . . .
New England Patriots
Sebastian Vollmer, who won a pair of Super Bowls during an eight-year career with the Patriots, confirmed Tuesday that his playing days are over. He missed all of last season with hip and shoulder ailments and was released by the Patriots in early March. . . .
New York Jets
The Jets signed fourth-round pick Chad Hansen to a standard four-year deal on Tuesday. . . .
Oakland Raiders
The Raiders' move to Las Vegas in 2020 appears to be back on track after a brief scare over reaching an agreement on a stadium lease. . . . The Raiders and the Las Vegas Stadium Authority wrapped up negotiations today on a lease for the team's events company to use a new $1.9 billion stadium for 30 years. . . . Raiders President Marc Badain said at last week's meeting of the Stadium Authority board that if the lease could not be settled before next week's NFL meetings, the team would delay its move to Las Vegas until the 2021 season. . . . "I think we are done with negotiating, unless the board has something that causes them a concern," board chairman Steve Hill said. . . . Attorneys for the Raiders and the authority were finalizing language in the stadium lease Tuesday morning, Hill said. An updated draft will be sent to board members to review in advance of Thursday's scheduled meeting in hopes they will approve the lease before NFL owners meet Monday and Tuesday in Chicago. . . .
Pittsburgh Steelers
Matt Galambos, a three-year starting inside linebacker at Pitt, and Phazahn Odom, a tight end from Fordham, were signed by the Steelers on Tuesday after tryouts at the team's rookie minicamp last weekend. . . . To make room on the 90-man offseason roster, the Steelers released tight end Ryan Malleck and cornerback Devonte Johnson. . . . The Steelers signed Bart Houston, who started only five games in his career with the Badgers. . . . . . .
NFL Daily Transactions
CAR 5/16 Pearce Slater OT Waived, No Recall
LAC 5/16 Carlos Fields LB Waived, No Recall
PIT 5/16 Ryan Malleck TE Waived, No Recall
PIT 5/16 Devonte Johnson DB Waived, No Recall
KC 5/16 Jimmy Hall DB Waived, No Recall
DAL 5/16 James Morris LB Waived, No Recall
DAL 5/16 Jeremiah George LB Waived, No Recall
Hear is the latest INSIDE SCOOP for our LandryFootball.com members.