Teams are assessing their post draft roster, and making some roster assessments and minor moves. We provide you all the latest from inside team buildings.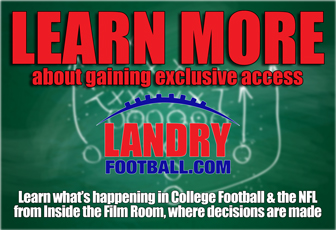 Get REAL information from a Veteran NFL Scout that NFL teams hire as a consultant. It's like having your own NFL Scouting Department for less than a magazine subscription. NFL Teams and Major College Football Programs are members, you can be also.
Here is the latest team by team news recapped. FOR OUR LandryFootball.com MEMBERS, WE OFFER THE LATEST FROM INSIDE THE TEAM'S ORGANIZATIONS.
Arizona Cardinals
On Friday, receiver Larry Clark impressed Cardinals coach Bruce Arians enough to where he mentioned him by name when talking about players who stood out on Day 1 of rookie minicamp. . . ."Larry, from Colorado State-Pueblo, wide receiver — I gotta get his last name yet — but I learned his first name already, so that's a really good thing," he said. . . Apparently Clark, who was in camp on a tryout, did enough over the next two days of practices to warrant being kept around for a while longer, as on Monday the Cardinals announced he had been signed to a contract.
Atlanta Falcons
The Falcons re-signed backup quarterback Matt Simms, who was on the practice squad the past two seasons, and released former University of Georgia track star Garrett Scantling on Monday. . . . After rookie minicamp, the Falcons elected to sign former University of Georgia wide receiver Reggie Davis and defensive lineman Taniela Tupou to the 90-man roster.
Detroit Lions
The Detroit Lions made one roster change after their just completed rookie minicamp. signing offensive tackle Arturo Uzdavinis and releasing lineman Pierce Burton.
Green Bay Packers
Vince Biegel has had a painful start to his career playing for his favorite childhood team. . . .The Green Bay Packers' fourth-round rookie outside linebacker had foot surgery after the team's rookie orientation, a source confirmed to PackersNews.com. Biegel is expected to be ready for training camp, though the Packers could be cautious at the start of camp and wait to put him on the field. . . .It's Biegel's second injury since being drafted last month. He left the field before his first practice concluded with what coach Mike McCarthy described as a "minor" hand injury. Biegel said X-rays on his hand showed no broken bones, but he practiced with a club the next day. . . .His foot was another matter. . . .Biegel's surgery was to repair a Jones fracture. It's the same injury that forced Biegel to miss two games last season as a senior at Wisconsin.
Los Angeles Rams
In the aftermath of last weekend's rookie camp, the Rams made roster moves Monday in preparation for the start of organized team activities next week. . . .Running back De'Mard Llorens and wide receiver Shakeir Ryan, both from Northwestern State, and outside linebacker Teidrick Smith of Mary Hardin-Baylor parlayed tryouts during the rookie camp into free-agent contracts. . . .The Rams waived defensive back Jared Collins from Arkansas and center Anthony McMeans from New Mexico State.
Minnesota Vikings
The Vikings added another offensive lineman to the rebuilding project. . . Freddie Tagaloa, a hulking 6-foot-8-inch guard, will sign a three-year contract after trying out during the Vikings rookie minicamp May 5-7, a league source told the Star Tribune. He's currently the only player to sign a deal after a couple dozen undrafted rookies and veterans were brought in for a tryout earlier this month.
New Orleans Saints
The New Orleans Saints turned over the bottom of their roster Monday, signing five players and cutting five others. . . .Among the additions are offensive lineman Josh LeRibeus, a third-round pick in 2012, and undrafted rookie running back Trey Edmunds (Virginia Tech and Maryland). . . The Saints also made official the previously reported signings of offensive linemen Khalif Barnes and Drew Iddings and tight end Clay Harbor. . . .All five of the signees participated in the Saints' rookie minicamp last weekend on a tryout basis. . . To make room for the new guys, the Saints waived four players — wide receiver Ahmad Fulwood, cornerback Anthony Gaitor, offensive tackle Andrew Lauderdale and guard Clint Van Horn — and terminated the contract of vested veteran safety Shiloh Keo, who re-signed in March on a one-year deal.
New York Giants
The Giants signed their fourth rookie minicamp tryout player on Monday, and he comes with a pretty good nickname: Wide receiver/cornerback Kevin Snead, who ran a 4.22 40 earlier this year and became known as "The Fastest Man in College Football" during his time at Division II Carson-Newman in Jefferson City, Tenn. . . .The Giants waived veteran offensive lineman Martin Wallace, who grew up in New York City, played at Temple and has now been with seven NFL teams, seeing some active roster time with the Browns in 2013 and Buccaneers in 2015.
Philadelphia Eagles
The Eagles waived/injured quarterback Jerod Evans (foot), and signed tackle Victor Salako, from Oklahoma State.
Seattle Seahawks
The Seahawks made two roster moves Monday in the wake of their rookie mini-camp over the weekend, waiving quarterback Skyler Howard and fullback Brandon Cottom and signing fullback Kyle Coleman and receiver Speedy Noil.
Buffalo Bills
As it turns out, Brian Gaine will be coming to work in Buffalo after all. . . .Gaine, who interviewed for the Bills' vacant general manager job only to be passed over in favor of Brandon Beane, was hired by Beane Monday to serve as the team's vice-president of player personnel. . . .The Buffalo Bills liked what they saw from Anthony Harrell and Abner Logan over the weekend. . . .The team announced Monday it has signed the linebackers after they competed in rookie minicamp on a tryout basis. To make room on the 90-man roster, linebacker Junior Sylvestre and safety Jeremy Tyler were released.
Cincinnati Bengals
The Cincinnati Bengals signed five of their draft picks to contracts today. . . .Fourth-round defensive tackle Ryan Glasgow, fifth-round kicker Jake Elliott, sixth-round linebacker Jordan Evans, sixth-round safety Brandon Wilson and seventh-round tight end Mason Schreck all inked four-year deals. . . .They join first-round wide receiver John Ross and fourth-round linebacker Carl Lawson as members of the 2017 draft class who are under contract.
Cleveland Browns
Two tryout players made enough of an impression on Browns brass this weekend to earn contracts from the team. Defensive backs Donte Carey and Najee Murray were signed on Monday, the team announced. . . . The Browns are looking for depth in their defensive backfield after fourth round pick Howard Wilson was lost to a broken kneecap. . . .The Browns released offensive lineman Josh Boutte. Their roster is currently at the maximum 90 players.
Indianapolis Colts
The Colts made several roster moves Monday, including waiving center Austin Blythe. . .Blythe played in eight games and started one for the Colts as a rookie last year. He was a seventh-round draft pick out of Iowa in the 2016 NFL Draft. . . .The team also waived Jerome Lane, Chris Lyles, Christopher Muller and Frankie Williams. Williams was the only one of these players to see action in a game last season. The others were signed as undrafted free agents earlier this month. . . .The Colts also signed fourth-round pick Zach Banner, a tackle out of USC. The team has signed four of its eight 2017 draft picks. . .The team signed free agent Blake Muir and four undrafted free agents (cornerback Danté Blackmon, safety Tyson Graham, wide receiver Al-Damion Riles and tackle Andrew Wylie.) Muir spent time on practice squads with Atlanta and Green Bay last season.
Jacksonville Jaguars
Strong safety Jarrod Harper and defensive tackle Kevin Maurice were the big winners of last weekend's Jaguars rookie camp. . . .Two of the 39 players participating on a tryout basis, Harper and Maurice signed with the Jaguars on Monday. . . .The Jaguars released safety Akeem Davis and defensive tackle Louis Nix. One roster spot remains open.
Kansas City Chiefs
Chiefs director of pro scouting Will Lewis won't return to the team, a source confirmed to The Star on Tuesday, and Trip MacCracken, the team's director of football administration, was not retained by the franchise.
Los Angeles Chargers
Since the Chargers hired Anthony Lynn to be their head coach, he's frequently mentioned a shuffle of the team's interior offensive linemen. . . He wasn't kidding. . . .On Monday, the team released veteran guard Orlando Franklin. Franklin had started all 26 games he appeared in after signing a hefty free-agent deal with the team in 2015. . .He's the third starter on the Chargers' offensive line from a year ago to be released, joining former first-round pick D.J. Fluker and offensive tackle King Dunlap. . .The Chargers spent their second- and third-round draft choices on interior linemen, taking Western Kentucky's Forrest Lamp and Indiana's Dan Feeney. . .The team also signed left tackle Russell Okung in free agency. . .Free agent safety Tre Boston, who agreed to a deal with the Chargers on Friday, will also officially ink his contract Monday, likely meaning he'll be a participant when the Chargers hold their first organized team practice activity (OTA) Tuesday in San Diego.
New York Jets
The Jets signed linebacker JeVaris Jones out of rookie minicamp on Monday, releasing linebacker Austin Calitro.
Pittsburgh Steelers
The Steelers have signed former Pitt linebacker Matt Galambos, according to Galambos' agency Tier 1 Sports Management.
NFL Daily Transactions
Arizona Cardinals Larry Clark signed
Atlanta Falcons Matt Simms signed
Atlanta Falcons Garrett Scantling cut
Baltimore Ravens Aaron Bailey signed
Baltimore Ravens Randy Allen signed
Baltimore Ravens Jaylen Hill signed
Buffalo Bills Anthony Harrell signed
Buffalo Bills Abner Logan signed
Buffalo Bills Junior Sylvestre cut
Buffalo Bills Jeremy Tyler cut
Chicago Bears Eddie Jackson signed/draft choice, Four-year contract (through 2020)
Cincinnati Bengals Ryan Glasgow signed/draft choice, Four-year contract (through 2020)
Cincinnati Bengals Mason Schreck signed/draft choice, Four-year contract (through 2020)
Cincinnati Bengals Brandon Wilson signed/draft choice, Four-year contract (through 2020)
Cincinnati Bengals Jake Elliott signed/draft choice, Four-year contract (through 2020)
Cincinnati Bengals Jordan Evans signed/draft choice, Four-year contract (through 2020)
Cleveland Browns Donte Carey signed
Cleveland Browns Josh Boutte cut
Cleveland Browns Najee Murray signed
Denver Broncos Jamal Carter Sr. signed
Denver Broncos Ken Ekanem signed
Denver Broncos DeMarcus Walker signed/draft choice, Four-year contract (through 2020)
Detroit Lions Arturo Uzdavinis signed from Jaguars
Detroit Lions Pierce Burton cut
Indianapolis Colts Chris Muller cut
Indianapolis Colts Chris Lyles cut
Indianapolis Colts Jerome Lane cut
Indianapolis Colts Frankie Williams cut
Indianapolis Colts Austin Blythe cut
Indianapolis Colts Al-Damion Riles signed
Indianapolis Colts Tyson Graham signed
Indianapolis Colts Dante Blackmon signed
Indianapolis Colts Blake Muir signed from Falcons
Indianapolis Colts Zach Banner signed/draft choice, Four-year contract (through 2020)
Indianapolis Colts Andrew Wylie signed
Jacksonville Jaguars Louis Nix cut
Jacksonville Jaguars Kevin Maurice signed
Jacksonville Jaguars Jarrod Harper signed
Jacksonville Jaguars Akeem Davis cut
Los Angeles Chargers Tre Boston signed from Panthers, One-year contract (through 2017)
Los Angeles Chargers Orlando Franklin cut
Los Angeles Rams Anthony McMeans cut
Los Angeles Rams Jared Collins cut
New Orleans Saints Clint Van Horn cut
New Orleans Saints Andrew Lauderdale cut
New Orleans Saints Anthony Gaitor cut
New Orleans Saints Ahmad Fulwood cut
New Orleans Saints Shiloh Keo cut
New Orleans Saints Khalif Barnes signed
New Orleans Saints Trey Edmunds signed
New Orleans Saints Clay Harbor signed/unrest FA from Lions
New Orleans Saints Drew Iddings signed from Raiders
New Orleans Saints Josh LeRibeus signed from Eagles
New York Giants Trey Robinson signed
New York Giants Martin Wallace cut
New York Giants Kevin Snead signed
New York Giants Nigel Tribune cut
New York Giants Daryl Virgies cut
New York Giants Robert Wheelwright cut
New York Giants Khalid Abdullah signed
New York Giants SaQwan Edwards signed/unrest FA from Raiders
New York Jets Austin Calitro cut
New York Jets Jevaris Jones signed
Oakland Raiders Marcus McWilson signed
Philadelphia Eagles Victor Salako signed
Philadelphia Eagles Jerod Evans cut
Seattle Seahawks Speedy Noil signed
Seattle Seahawks Skyler Howard cut
Seattle Seahawks Kyle Coleman signed
Seattle Seahawks Brandon Cottom cut
Tennessee Titans Jordan Gay signed from Bills
Tennessee Titans Roderick Henderson cut
Tennessee Titans Reshard Cliett cut
Tennessee Titans C.J. Robbins Jr. signed
Tennessee Titans Johnny Ragin III signed
Tennessee Titans Trevon Hartfield signed from Cardinals
Tennessee Titans Jimmy Staten signed from Falcons
Washington Redskins Tharold Simon cut
Washington Redskins Wes Saxton cut
Washington Redskins Tevin Homer signed
Washington Redskins Manasseh Garner signed from Bills
Washington Redskins Khairi Fortt cut
Hear is the latest INSIDE SCOOP for our LandryFootball.com members.