We recap the latest Team news in the NFL while providing LandryFootball.com members some inside scoop from around Team's Draft Rooms. Get REAL information from a Veteran NFL Scout that NFL teams hire as a consultant. It's like having your own NFL Scouting Department for less than a magazine subscription. NFL Teams and Major College Football Programs are members, you can be also.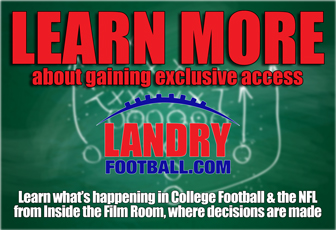 Atlanta Falcons
The Falcons had 100 percent attendance at the start of the first day of their strength and conditioning program on Monday, according to the team. . . Running back Devonta Freeman, who wants a contract extension, was on hand. Also, wide receiver Julio Jones (foot) and Desmond Trufant (pectoral injury) were both present, but will be limited during strength and conditioning program. But are expected to be ready for training camp.
Carolina Panthers
The Carolina Panthers worked out a long-term deal with Pro-Bowl defensive tackle Kawann Short on Monday. . . A source told the Observer that Short's deal is for five years and $80.5 million, meaning he will be a Panther through 2021. . . .$35.5 million was guaranteed fully to Short at signing, and that he will get $40 million in the first two years alongside $45 million in total guarantees. .
Detroit Lions
Cornelius Lucas signed his restricted free agent tender with the Detroit Lions this morning and is taking part in the start of off-season workouts. . . Lucas was one of two restricted free agents the Lions had on their roster entering this off-season. They signed defensive tackle Khyri Thornton to a two-year deal before free agency, and made Lucas a one-year tender offer worth a non-guaranteed $1.797 million.
Minnesota Vikings
Most, if not all, of the Vikings have voluntarily reported to Winter Park today for the start of the team's offseason workout program. But coach Mike Zimmer is not expected to be in the building to oversee things. . . .Zimmer was scheduled to undergo another surgery on his right eye today. It will have been the fifth procedure on that eye in the past six months. If all goes well with this one, Zimmer will have one final procedure, cataracts surgery, in a couple of months, the coach said at the combine.
New Orleans Saints
Edge rusher Hau'oli Kikaha was present at the Saints training facility Monday for the start of the offseason workout program, according to multiple sources familiar with the situation. One source said Kikaha was pulling sleds, among other workouts. . . .Kikha spent the 2016 season on the non-football injury (NFI) list after suffering a torn ACL in his left knee. The tear marked the third for Kikaha going back to college, where he suffered two knee injuries at Washington.
San Francisco 49ers
The 49ers moved a step closer Monday to poaching offensive tackle Garry Gilliam from NFC West rival Seattle. . . .Gilliam signed the 49ers' one-year offer sheet as a restricted free agent, giving the Seahawks five days to match on a $2.2 million deal. They do not plan to match the offer. . .The 49ers, who confirmed the offer sheet, would owe Seattle nothing if they acquire Gilliam, an undrafted free agent out of Penn State when he originally joined the Seahawks in 2014. He visited the 49ers last week and reportedly turned down a multi-year contract offer. Seattle had tendered him a minimum one-year, $1.8 million deal.
Seattle Seahawks
The Seahawks on Monday added another linebacker, this one a familiar name, re-signing Kache Palacio, who played at Washington State University and spent most of last season on Seattle's practice squad. . . .Palacio ended the season on Seattle's Practice Squad/Injured Reserve list. Palacio was not immediately re-signed, as were most of the members of the practice squad, while he recovered from his injury (which was not disclosed). . . .But now healthy, Palacio has been re-signed in time for the beginning of the Seahawks' official off-season program on Tuesday.
Tampa Bay Buccaneers
The Bucs have officially picked up the fifth-year option on Pro Bowl receiver Mike Evans, general manager Jason Licht said Monday, still optimistic that he can lock up Evans with a longterm extension to keep him in Tampa Bay.
Cleveland Browns
The Browns signed running back George Atkinson III and cornerback Marcus Burley. . . The franchise announced the moves Monday after players reported to team headquarters for the start of the voluntary offseason workout program. . . .Atkinson, 24, was an exclusive-rights free agent. Burley, 26, was a restricted free agent.
Houston Texans
Former Texans wide receiver Andre Johnson will sign a one-day contract Wednesday so he can officially retire as a Texan. . .Johnson, a first-round pick in 2003, played his first 12 years with the Texans before leaving after the 2014 season and signing with Indianapolis. He played most of last season with Tennessee. . . .Johnson will participate in a ceremony Wednesday to commemorate the occasion.
Kansas City Chiefs
The pain was all too familiar to Chiefs linebacker Derrick Johnson. About midway through the second quarter of the Raiders' December visit for a Thursday night game at Arrowhead, Johnson's eyes darted seeking out the play. When he made his final decision to break to his right, Johnson crumbled to the turf. . . .Before he sat upright, Johnson unsnapped his chin strap to start removing his helmet in injury surrender. Johnson didn't need to hear the diagnosis. He had ruptured his Achilles tendon before, three years earlier. That was on his right foot. This was on his left. . . .The one consolation, at least Johnson knew the way back. And he's headed in the right direction. . ."I'm at a good spot," Johnson said. . . A good spot to return full-go for training camp. He will continue to rehab through organized team activities, but when the pads go on at camp at Missouri Western in St. Joseph, Johnson expects to use them. . . . Tight end Travis Kelce, who recently underwent shoulder surgery, probably won't do anything until training camp, like Johnson. But Reid said Kelce might participate in lighter drills throughout organized team activities.
Miami Dolphins
Safety Michael Thomas will sign his one-year restricted free agent tender Monday — four days ahead of the NFL deadline, a source tells the Miami Herald. . . .Thomas drew interest from two other teams and had a three-year offer on the table from one of them. But he ultimately knew he'd be back in Miami and decided not to drag out the process. Thomas, who has been with the organization since 2013, wanted to participate in all of the team's offseason program, which begins Monday, and signing the tender ensures he can.
New York Jets
The Jets announced Monday that cornerback Marcus Williams signed his one-year restricted free-agent tender for $2.75 million in 2017. Williams had a solid first season in Todd Bowles' defense before disappointing in 2016. The 5-11, 196-pound cornerback struggled last season for a secondary that sprung leaks virtually every week. . . .The Jets signed former Cowboys cornerback Morris Claiborne to a one-year prove-it deal in the offseason. General manager Mike Maccagnan will almost certainly draft a cornerback in one of the premium rounds (1-3).
Pittsburgh Steelers
Steelers cornerback Ross Cockrell signed his one-year tender and will remain with the Steelers for the 2017 season. . . .Cockrell had been a restricted free agent and will earn $1.79 million on the one-year deal. He had until Friday to sign with another team.
Tennessee Titans
Marcus Mariota strolled to the podium in the auditorium Monday at Saint Thomas Sports Park, nearly four months after surgery to repair his broken right leg and hours after reporting for the Titans' first day of voluntary workouts. . . .The third-year franchise quarterback, who fractured his right fibula in a loss to the Jaguars on Dec. 24, said he expects to be able to run full-speed in two or three weeks. But he remains unsure whether he'll return to the field before training camp in July.
NFL Daily Transactions
Carolina Panthers Kawann Short re-signed, Five-year contract (through 2021)
Carolina Panthers Michael Palardy re-signed/excl. FA, One-year tender (through 2017)
Carolina Panthers Tyler Larsen re-signed/excl. FA, One-year tender (through 2017)
Carolina Panthers Andrew Norwell re-signed/rest FA
Chicago Bears Bryce Callahan re-signed/excl. FA, One-year tender (through 2017)
Cleveland Browns Marcus Burley re-signed/rest FA, One-year tender (through 2017)
Cleveland Browns George Atkinson III re-signed/excl. FA, One-year tender (through 2017)
Detroit Lions T.J. Jones re-signed/excl. FA, One-year tender (through 2017)
Detroit Lions Cornelius Lucas re-signed/rest FA, One-year tender (through 2017)
Detroit Lions Kerry Hyder re-signed/excl. FA, One-year tender (through 2017)
Detroit Lions Brandon Copeland re-signed/excl. FA, One-year tender (through 2017)
Indianapolis Colts Quan Bray re-signed/excl. FA, One-year tender (through 2017)
Indianapolis Colts Erik Swoope re-signed/excl. FA, One-year tender (through 2017)
Jacksonville Jaguars Larry Pinkard signed from Raiders
Jacksonville Jaguars Tommy Bohanon signed from Jets
Kansas City Chiefs Cairo Santos re-signed/rest FA
Miami Dolphins Mike Hull re-signed/excl. FA, One-year tender (through 2017)
Miami Dolphins Anthony Steen re-signed/excl. FA, One-year tender (through 2017)
Miami Dolphins Michael Thomas re-signed/rest FA
New York Jets Julian Stanford re-signed
New York Jets Marcus Williams re-signed/rest FA, One-year tender (through 2017)
Oakland Raiders Gabe Holmes re-signed/excl. FA, One-year tender (through 2017)
Oakland Raiders Denver Kirkland re-signed/excl. FA, One-year tender (through 2017)
Oakland Raiders Seth Roberts re-signed/excl. FA, One-year tender (through 2017)
Oakland Raiders Denico Autry re-signed/rest FA, One-year tender (through 2017)
Pittsburgh Steelers Ross Cockrell re-signed/rest FA, One-year tender (through 2017)
Seattle Seahawks Kache Palacio signed
Tampa Bay Buccaneers Mike Evans team exercises option, Fifth-year option on rookie contract
Tampa Bay Buccaneers Ryan Griffin re-signed/rest FA, One-year tender (through 2017)
Tampa Bay Buccaneers Freddie Martino re-signed/excl. FA, One-year tender (through 2017)
Tampa Bay Buccaneers Adam Humphries re-signed/excl. FA, One-year tender (through 2017)
Tampa Bay Buccaneers Adarius Glanton re-signed/excl. FA, One-year tender (through 2017)
Tampa Bay Buccaneers Jude Adjei-Barimah re-signed/excl. FA, One-year tender (through 2017)
Tampa Bay Buccaneers Cameron Brate re-signed/excl. FA, One-year tender (through 2017)
To get the following INSIDE SCOOP from around the league, join LandryFootball.com today