We provide you with the latest DRAFT SCOOP from around the league. Get REAL information from a Veteran NFL Scout that NFL teams hire as a consultant. It's like having your own NFL Scouting Department for less than a magazine subscription. NFL Teams and Major College Football Programs are members, you can be also.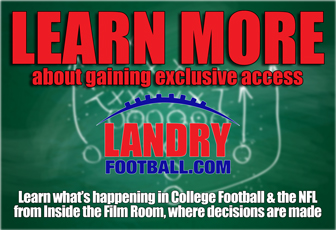 —Michigan S Jabrill Peppers is taking an official visit to the Ravens on Tuesday.
This is the last week that teams can host players for official visits prior to the draft. The Ravens hold pick No. 16, right around the front-line of Peppers' projected range. The Steelers are also hot on the versatile Wolverine, as GM Kevin Colbert would reportedly be thrilled to see Peppers on the board at No. 30.
—Texas A&M edge rusher Myles Garrett admitted to "choking out" an LSU tight end during a game on Thanksgiving night. When asked what was the meanest thing he'd ever done, Garrett responded: "Against LSU my last year, I choked out their tight end two times in a row." The interview responded "That's pretty mean," to which Garrett laughed and said: "He had it coming. He just kept holding me, so I picked him up, put him on his back and then I grabbed his face mask and kept jamming his helmet into the ground. I said, 'I'm setting you straight right now. Don't do illegal holds.
—Wisconsin RB Corey Clement has size, quick feet and burst. He could be the guy if he popped off a few runs in a reserve role and your starter went down. Clement wasn't helped by a poor showing at the NFL Combine, with a vertical jump of 28 1/2 inches and a 40 of 4.68 seconds. He is not fast. He used to be before he got hurt (sports hernia, ankle). He's decent as an in-line runner. He has feet and instincts, but not well-versed in the pass game. He has injury history.
He's just been banged up. He was a promising young player with size and strength. Adequate vision, not great. Expect Clement to hear his name called on Day 3.
—Alabama LB Reuben Foster visited the New York Jets for a pre-draft visit on Monday and will visit the Baltimore Ravens for a pre-draft visit early next week.
Foster has already visited the Jacksonville Jaguars, Kansas City Chiefs, Philadelphia Eagles, Chicago Bears, Detroit Lions, New Orleans Saints and Arizona Cardinals. The Jets pick No. 6 overall while the Ravens own the No. 16 selection. The 6-foot, 229-pound Foster led the Crimson Tide with 115 tackles, 13 TFL and five sacks last season. We've heard conflicting reports regarding the recent medical recheck of Foster's surgically repaired shoulder. Don't be surprised if he requires an additional surgery.
To get the PREMIUM DRAFT SCOOP, join LandryFootball.com today…..