Want to know what's really going on inside the Walls of COLLEGE FOOTBALL programs? Find out all the latest INSIDE news, notes, analysis, strategy and internal team discussions taking place around the country.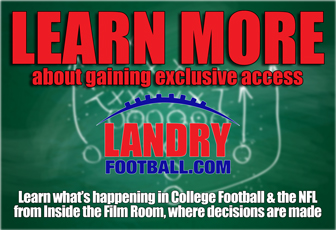 Have your own NFL Scouting Department for less than a yearly magazine subscription. By joining today, you get a 50% discount on the first month by using the code = LandryFootball. To get 25% off for a year, use the code = WarRoom

Several New Orleans Metro area high school football coaches are not happy with LSU head coach Ed Orgeron.
They are not happy with how handled the demotion of running backs coach and New Orleans area recruiter Jabbar Juluke in the aftermath of National Signing Day. Today, it was announced that Juluke will return to Texas Tech as AHC/RB coach.
Juluke was reassigned within the football program on Feb. 2, the day after signing day, after contributing to a nice class especially in the fertile New Orleans area.
Area high school football coaches feel that LSU's first-year head coach took advantage of Juluke through the final weeks of the recruiting cycle only to dismiss him after signing day.
Juluke is the former head coach at Edna Karr (La.) High School, and continued to recruit New Orleans after accepting a position on Louisiana Tech's coaching staff and then for LSU over the past year.
Juluke's questionable departure remains one of several marquee issues that area coaches are concerned about. There has been some discussions by the area coaches about boycotting LSU going forward.
Orgeron has been in contact several of the head coaches in the area as New Orleans is LSU's most fertile recruiting ground within the state of Louisiana.
Orgeron in the process of hiring a new area recruiter. He had been in touch with St. Augustine alum David Johnson, Memphis' wide receivers coach but Johnson is concerned about the growing rift between the area head coaches and LSU.
USC RB coach Tommie Robinson, Orgeron's first choice is expected to be signed on today as well Louisiana Tech RB coach and New Orleans native Mickey Joseph, who will coach WR's.
Orgeron also dismissed receiver coach Dameyune Craig recently after telling some of Craig's players before signing day he was returning. Craig felt that he had a great relationship with Orgeron and felt that he had the backing of new offensive coordinator Matt Canada.
A number of coaches around the country that I have spoken to were surprised that Orgeron decided to move on from Juluke and Craig, two respected coaches and recruiters.
Coach O is obviously looking for something different but for someone who standing in the College game comes from recruiting, he must mend some fences in the Big Easy.