We provide you with an overview of this past week's performance with a look ahead to this week. For our LandryFootball.com members, we provide you detailed FILM ROOM analysis including evaluations of all units.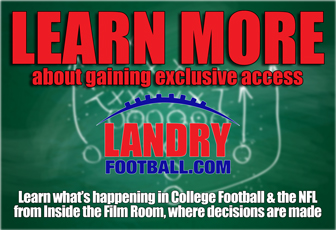 Last Sunday in Foxborough, Cam Newton threw for 316 yards and three touchdowns, finding receivers wide open all over the field, in the Panthers 33-30 upset win over the New England Patriots.
It not only left the Patriots with the NFL's 32nd-ranked pass defense, but the players trying to answer questions about how things were going so horribly wrong on that side of the ball through the first month of the season.
Thursday night in Tampa, Jameis Winston passed for 334 yards, but the Patriots (3-2) were able to grind out the ugly 19-14 win over the Bucs (2-2) thanks in part to a trio of Nick Folk missed field goals.
After the short work week, gone were the questions about communication and concerns about whether a Patriots defense that led the NFL in points allowed a year ago on the way to Super Bowl glory could turn things around this fall.
Instead, players on both sides of the ball in New England praised the defense's work that included much-maligned cornerback Stephon Gilmore matching up with Mike Evans while Malcolm Butler followed DeSean Jackson all over the field.
Forget Winston missing a wide-open Jackson behind Butler for a would-be 68-yard touchdowns. Forget Folk's misses.
For at least one night, allowing 300-plus yards through the air was very much seen as a step in the right direction.
"I would say this week on a short week I thought there were some really good things that came through. I think there were some situational things that were good," Patriots defensive coordinator Matt Patricia said after breaking down the film that included New England holding the Bucs to four of 13 on third-down conversions. "There's certainly a lot to keep pushing and keep improving on and that's really the main focus that we've got to handle. I would say for the most part I thought on the field the guys were really focused into what Tampa Bay does, the players that they go to, the quarterback, how they run their offensive system.
"I thought the preparation from that standpoint was really good. I think from a general standpoint of playing aggressive I think was good. I think the guys put themselves in position getting lined up when you have a week where you may not necessarily get a live practice in that week because of the time crunch. Sometimes the alignments or the adjustments or anything like that it's hard unless you see it live in practice first. I thought they did a real good job of that and just being ready to go. We've certainly got a lot to improve on."
Matching its cornerbacks up against the Bucs certainly slowed Winston and Co. early on. The young passer had just 71 yards passing at halftime and didn't really move the ball consistently until the fourth quarter. And Gilmore, in particular, clearly enjoyed the simplified assignment, even if against one the best young receivers in the game in Evans, who finished with just five catches for 49 yards.
"I think that's when you get the best out of me, when I'm following a guy and studying that guy," Gilmore said afterward. "I was out to prove something."
So were the rest of the Patriots. And though it was merely a baby step toward the type of defense that will be necessary down the road if the team is to strive for its usual lofty goals, for this week it was good enough.
"You can build off this as a defense," safety Devin McCourty said. "You can't build when you're cutting guys loose, so today was obviously a step in the right (direction)."
Something to build off of and something to quiet the critics. And numbers aside, it was a more competitive effort. Head coach Bill Belichick's team showed some fight and improvement in a tough Thursday night spot.
For that, the coach credited his veteran leaders on defense, including captains McCourty and linebacker Dont'a Hightower.
"I thought that High and McCourty really gave us some great leadership defensively and our preparation and having the right attitude to go down and play in the game and what we needed to do," Belichick offered up unsolicited. "It was a short week. I thought they really stepped up from a leadership standpoint in that group and did a great job for us. It's always good to see. I just wanted to recognize it because I think sometimes you just see it play out on the field. Obviously, they're very, very important but there's a lot of things that go into how it all comes together and I thought those two players defensively did a real good job for us this week."
"We're trying to improve every week," Patricia concluded.
New England accomplished that goal, even if only incrementally, in the win in Tampa.
HERE IS THE DETAILED FILM ROOM ANALYSIS FOR OUR LANDRYFOOTBALL.COM MEMBERS. SEE HOW EACH UNIT GRADED OUT.
You need to be logged into LandryFootball.com to see or hear this premium content. Please
Login
to access.
If you aren't a member, you can register below.