It's National College Football Signing day and there no better minute by minute update on all the happenings than LandryFootball.com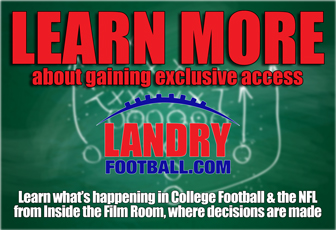 If you want true evaluations of recruiting, you can get it from amateurs or get it from someone who has been a major college recruiting coordinator and NFL Scouting Director and now serves as a scouting/coaching consultant to major college programs and NFL teams.
Have your own NFL & College Scouting Department for less than a yearly magazine subscription. By joining today, you get a 50% discount on the first month by using the code = LandryFootball. To get 25% off for a year, use the code = WarRoom.
PLEASE CHECK BACK ALL DAY FOR UPDATES !!!!!!!!
—Four-star 2017 DE Jarez Parks reportedly committed to Alabama as a grayshirt.
In one of the more bizarre stories from Wednesday, Parks committed to Alabama with a video from Paris, France only to be told that the Tide had signed a full allotment of players. Apparently, the four-star defensive end from Florida then chose to postpone his enrollment until next January to be apart of Alabama's 2018 class instead of taking a full-ride with one of his various other suitors (Tennessee, Florida State, Florida and many others offered him). Parks will have to pay his own way at Alabama until a scholarship becomes available. We don't recall another similarly-rated prospect doing this recently, but Nick Saban has a way of finding advantages where others didn't know to look.
—Mississippi State signed four-star JUCO DT Lee Autry.
Autry was No. 25 overall JUCO recruit in this cycle. Lee is a big body that can hold ground and help stuff the run, but can also move well for size and be an active presence in the trenches and make some plays.
—Purdue signed four-star JUCO CB T.J. Jallow.
Jallow was the school's top JUCO import and one of its best recruits of the 2017 cycle overall. Tall corners are unique to say the least, especially ones with feet and hips. Don't be surprised if he is not an immediate impact/starter once at the next level.
—Indiana signed three-star 2017 DT Juan Harris.
Harris was as fickle as they come during the 2017 cycle, thrice committing to and thrice decommitting from Iowa. He eventually did opt for the Big Ten — just not with the Hawkeyes. It remains to be seen how the Hoosiers might utilize the hulking human. He measures out at 6-foot-4, 368 pounds.
—Baylor signed four-star 2017 CB Harrison Hand.
The 5-foot-11, 183-pounder from Cherry Hill, New Jersey is very physical, but needs better footwork on his backpedal.
—Kansas State signed three-star 2017 LB Daniel Green.
Green took official visits to Utah, Kansas State and Oklahoma in January. HC Bill Snyder's pitch worked on the Portland, Oregon, native. Oregon State was also hoping to secure his signature, but that dream went unfulfilled. He is an aggressive, fast player, though that occasionally leads to some overrunning on potential tackles. Green's best attribute is his straight-ahead speeds. Lateral speed and shifting direction prove more problematic for him.
—Tennessee signed three-star ATH Princeton Fant. The 6-foot-3, 207-pounder has been committed to the Volunteers since June. He remains unrefined in areas of the game such as blocking and route-running, but the potential is there for a big career if only Tennessee can unlock it.
—NC State signed three-star 2017 WR Emeka Emezie. Emezie initially committed to NC State in October. No change off of that over the proceeding months. Emezie has the ability to gain the tough yards to move the chains. He is a strong route-runner.
—Mississippi State signed four-star 2017 DT Noah Elliss.
Elliss was also considering Colorado and Nebraska. He earned his football stripes living in Highlands Ranch, Colorado. That in and of itself was not enough to sway him over to the Buffs, though. Instead, the 6-foot-5, 330-pounder will be taking his talents to the SEC. His size is self-evident and he knows how to use it, particularly in playing the run.
—Mississippi State signed four-star LB Tyler Dunning.
Dunning was a Miami commitment this time a year ago, but he subsequently stepped off that plane near the end of February, 2016. The 6-foot, 217-pounder went on to commit to Mississippi State in mid-April and stuck by that for the remainder of the 2017 cycle. I am impressed with his sideline-to-sideline range along with instincts and effort.
—TCU signed three-star 2017 CB Noah Daniels. Daniels was also eyeing Oklahoma, as he took a visit to Norman in early December, but he committed to the Horned Frogs a week later and has not looked back since.
In addition to his natural position of corner, Daniels also has potential as a safety.
—USF signed three-star 2017 DB Naytron Culpepper. South Florida wasn't in Culpepper's thought process over the summer, but HC Charlie Strong remains an ace recruiter. The 6-foot, 175-pound Culpepper has the requisite range and ball skills to be a competitive collegiate safety.
—Bowling Green signed three-star 2017 RB Andrew Clair.
Clair had also received offers from the likes of Iowa, NIU and Ball State. To no avail for those programs, as the 5-foot-9, 170-pounder out of St. Louis committed to the Falcons in June and stuck with that pledge all the way through National Signing Day. He is a shifty all-purpose back with a solid build.
—Miami (FL) signed three-star 2017 S Amari Carter. The 6-foot-2, 180-pound safety prospect has very few physical flaws to his game. He is an excellent run supporter.
—Ole Miss signed 2017 DE Chester Graves. Graves switched over to linebacker prior to his 2016 season at Park Hill High (Missouri), but he will likely shift back to defensive end at the collegiate level. The 6-foot-4, 220-pounder has great burst off the edge.
—Arkansas signed four-star 2017 S Montaric Brown. He is the No. 1 safety prospect in the state of Arkansas. The 6-foot-1, 175-pounder has the ability to make plays all over the field and is scheme versatile. He also has a true speed aspect to his game.
—Boise State signed four-star 2017 CB Jermani Brown.
HC Bryan Harsin's Broncos aren't always able to scoop up four-star talent. They sealed the deal on Brown, though, and didn't have much issue doing so.
The 5-foot-11, 175-pounder is a versatile coverage defender, one who excels in both man and zone schemes. I like his instincts and general athleticism.
—Georgia Tech signed four-star 2017 S Gentry Bonds. Nice one here for HC Paul Johnson, as Bonds ranks as one of the top safety prospects in the state of Tennessee. He initially committed to the Yellow Jackets in August. The 6-foot-1, 193-pounder also has potential as a cornerback.
—New Mexico signed three-star 2017 S Nico Bolden. Bolden had committed to Vanderbilt in November, but HC Derek Mason was unable to hold onto his pledge when all was said and done. The 6-foot-4, 195-pounder ranks as the No. 2 safety prospect in the state of Minnesota for the current cycle. He could eventually play linebacker due to his frame.
—Miami (OH) signed three-star 2017 RB Jaylon Bester. Bester isn't the largest back in the class, measuring out at a diminutive 5-foot-8, 162 pounds.
The Belleville, Illinois, native, is considered a three-star. . He was a very productive running back at Althoff High and will try to carry that work over to the Redhawks.
—UTSA signed three-star 2017 CB Samuel Barnes.
Barnes made an official visit to Kansas State over the final pre-signing day weekend, but HC Bill Snyder was ultimately unable to bring the Richmond, Texas, native into the Wildcats' fold. The 6-foot-1, 190-pounder was also considering Colorado. He could play either safety or cornerback once he hits the field with the Roadrunners.
—Louisville signed three-star 2017 TE Kemari Averett.
The Cardinals received Averett's commitment in late June. He never budged off it. Depending on how Louisville would like to utilize him, the 6-foot-7, 230-pounder has potential as both a tight end and a defensive lineman. He displays good wiry strength which should only improve as he adds more size.
—Notre Dame signed three-star 2017 WR Jafar Armstrong.
Nice work by HC Brian Kelly and company, as the Irish managed to pry Armstrong away from a Missouri commitment which had stood since June. The 6-foot-1, 185-pounder holds the Kansas state record for high school receiving touchdowns with 45.
—Michigan signed four-star 2017 WR Tarik Black.
Black is one of a number of high-profile wideouts who opted to sign with Michigan during this cycle as HC Jim Harbaugh looks to add a little juice to the passing game. At 6-foot-3, 201 pounds, he already has the requisite size for collegiate play.
—Oregon signed four-star 2017 CB Deommodore Lenoir.
Lenoir was also considering Nebraska and UCLA. He had actually been committed to the Ducks up until he reopened his recruitment in November. HC Willie Taggart managed to seal the deal despite the competition. The 5-foot-10, 180-pound corner should start out on special teams before working his way into the secondary proper.
—Tennessee signed three-star 2017 DE Deandre Johnson.
Johnson's story is a remarkable one, as he was stabbed three times in the chest during his sophomore season at Miami Southridge. The 6-foot-4, 236-pounder underwent surgery to repair his injuries and subsequently made a full recovery. He will be suiting up in spring practice as an early-enrollee with the Volunteers.
—Ole Miss signed three-star 2017 ATH Kam White.
The Rebels flipped White from Iowa State. Classified as an athlete but expected to play safety in college, White received some interest as a receiver on the recruiting trail. The 6-foot-2, 202-pounder held offers from Alabama, Arkansas, Auburn, Florida, Mississippi State and Tennessee. White played safety in high school, meaning he could end up contributing at either traditional safety position or the Husky role recently vacated by Tony Conner. I think he'll end up at linebacker and a redshirt year to build onto his slight frame could be in the cards. Still, Ole Miss' struggles to find warm bodies to stop the run could thrust him into early playing time.
—Georgia signed four-star 2017 CB Latavious Brini.
The 6-foot-2, 184-pound Brini is the nation's No. 39 cornerback. Brini decommitted from Georgia in October, but he ultimately decided to become a Bulldog over offers from FIU, Miami, USF, Oklahoma and Virginia Tech. He is a solid tackler for a long corner.
—Florida State signed five-star 2017 DT Marvin Wilson.
LSU was really hoping to connect on this one, but when Wilson unzipped his windbreaker to reveal a Florida State shirt in a ceremony at his Houston high school, that dream died for the Tigers. The 6-foot-4, 320-pounder was the highest-ranked uncommitted prospect left in this class. Wilson possesses prototypical size, excellent strength and sneaky athleticism. This is a monster signing for HC Jimbo Fisher.
—Nebraska signed four-star 2017 CB Elijah Blades. Blades decommitted from Florida in January. Nebraska, which has signed a top-20 class, swooped in immediately. The 6-foot-2, 170-pounder may play immediately. Blades is a very good athlete with great length and speed you cannot coach. He has intangibles as well and his range, athleticism, and ball skills could get him recruited on either side of the football.
—Georgia signed three-star ATH Eric Stokes.
Florida and Ole Miss were also hoping to land Stokes, to no avail. The 6-foot, 172-pounder is among the fastest players in this cycle, having run the 100-yard dash in 10.4 seconds.
—Rutgers signed three-star RB Raheem Blackshear. The Scarlet Knights successfully completed the flip of the one-time commit to Temple and Michigan State. The 5-foot-10, 170-pound Blackshear gives Rutgers another much-needed play-maker.
—Wisconsin signed four-star WR Danny Davis. Davis picked the Badgers over Kentucky and West Virginia.
—Florida signed four-star 2017 WR James Robinson. All was well with Robinson's recruitment up until he took an official visit to Ohio State near the end of January. The 6-foot-3, 198-pounder was cited for marijuana while on that visit. Initial reports earlier this week had Florida pulling their offer for Robinson due to that citation, but apparently, there was a late about-face on that front. The Gators' gain so long as Robinson can keep his nose clean. He is an explosive prospect with the ball in his hands and should pair well with Antonio Callaway. Florida is building an interesting receiving corp even beyond those two, but they really, really, really need a quarterback. All eyes turn to redshirt freshman QB Feleipe Franks, who will compete for the starting gig starting in the spring.
—USC just added the nation's top wide receiver, Joseph Lewis as well as his teammate Greg Johnson who is an outstanding athlete can play a variety of spots.
—Kansas signed three-star WR Quan Hampton. Hampton, originally committed to Sam Houston State, reportedly has a vertical jump of 40 inches. At 5-foot-8, 165 pounds, Hampton likely projects to the slot in Kansas' Air Raid attack.
—Washington State signed four-star 2017 WR Jamire Calvin.
Thus ends an incredibly bouncy final month of recruitment for Calvin. In January, he committed to Oregon State, then committed to Nebraska, then decommitted from Nebraska in order to sign with Washington State. This is a major get for the Cougars, who were losing Pac-12 all-time leading receiver Gabe Marks to the 2017 NFL Draft. On the field, the 5-foot-10, 165-pound Calvin is an ideal weapon for the spread offense with potential in the return game. There are size questions, here, but we like Calvin as a pretty nice fit in HC Mike Leach's high-flying offense.
—Oregon signed three-star G Cody Shear. The Ducks flipped Shear from Arizona, just like they flipped quarterback Braxton Burmeister and athlete Darrian McNeal from the Wildcats. Oh, and the Ducks also signed defensive tackle Austin Faoliu after he decommitted from Arizona. Willie Taggart likely won't be invited to Rich Rodriguez's next barbecue.
—Michigan signed four-star 2017 WR Nico Collins. Michigan's passing offense was decidedly sketchy at times this past season, but if matters shake out the way they are hoping in the coming years, that won't be the case for long. In addition to Collins, UM has also netted signatures from four-star wideouts Oliver Martin, Brad Hawkins and Tarik Black. Oh, and five-star wideout Donovan Peoples-Jones is also a baby Wolverine. Throw in four-star QB Dylan McCaffrey and you have a recipe for an explosive Michigan offense down the road. Collins is a big wide receiver who can high point the ball.
—Alabama signed four-star 2017 WR Devonta Smith.
Smith was looking somewhat somewhat smitten with Miami late in the process, having taken an official visit to the Hurricanes near the end of January. Whether the 6-foot-1, 160-pound wideout has the necessary strength to make an immediate impact with the Tide remains to be seen — he will certainly need to pack on some pounds — but his ceiling is terrifying.
—Arizona State signed three-star CB Langston Frederick.
The Sun Devils beat out Houston, Michigan State and Indiana to get him.
—Auburn signed three-star 2017 ATH JaTarvious Whitlow.
The 5-foot-11, 175-pounder has potential as a running back despite the fact that he lacks ideal speed.
—Florida Atlantic signed three-star JUCO junior WR TE DeAndre McNeal.
The former four-star recruit in the class of 2015 left Texas in August after getting suspended by Charlie Strong. McNeal spent last season at Fullerton Community College in California. McNeal may start across from Kalib Woods next year.
—USC signed four-star 2017 TE Josh Falo. Falo had been looking at schools from around the country and was seriously considering the likes of Oregon, Ohio State, Alabama and Colorado before he inked it up with the Trojans. The 6-foot-5, 230-pound Sacramento native is a fluid athlete who maintains speed in transition. He has enough defensive end qualities to get a look on that side of the ball as well.
—Penn State signed four-star 2017 S Tariq Castro-Fields.
Some though that Maryland might be closing in on Castro-Fields, but the Upper Marlboro, Maryland, native has spurned his home state. The 6-foot-2, 173-pound safety prospect has shown the ability to handle smaller receivers, but will need to bulk up in order to truly be able to tango with larger wideouts.
—South Carolina signed four-star 2017 ATH Jamyest Williams.
Sighs of relief for HC Will Muschamp, no doubt, as Williams took an official visit to Georgia in late January. He has potential on both offense and defense, but will likely join Muschamp's crew on the defensive side of the ball.
—A big get for Wisconsin as they get a commitment from four star WR Danny Davis.
—Idaho signed three-star ATH Dylan Lemle. Boston College and Utah were also hoping to bring in the Los Angeles native. The 6-foot, 170-pounder is listed as an athlete, but his most interesting possibility might come as a dual-threat quarterback.
—Ole Miss signed four-star 2017 T Tony Gray. The Rebels have languished along the recruiting trail this cycle, so this development is a big win. Gray is a good athlete on the offensive line with upside. He has the frame and athleticism for the next level, but he will need to add bulk and strength before he can make a difference on the field.
—Penn State signed three-star DT Corey Bolds. Bolds spurned Rutgers in order to join the reigning Big Ten champs. His first step quickness is very good, but he needs to add some flexibility to help with his lateral quickness and his ability to chase plays down from behind.
—Maryland flipped four-star 2017 ATH Tajh Capehart from Virginia Tech.
Maryland has been doing work throughout the recruiting cycle. That work has continued into National Signing Day. No good for the Hokies, in this case. The 5-foot-10, 185-pound Capehart has potential as either a corner or a wide receiver, though he might find his best fit on offense. He is one of the best wideouts in the country.
—Indiana signed three-star RB Morgan Ellison. Ellison was also considering Toledo and Ohio. The 6-foot-1, 220-pounder is an outstanding pass-catcher out of the backfield. Injuries during his sophomore and junior years might have cooled Ellison's recruitment by degrees.
—Texas flipped three-star 2017 DT Jamari Chisholm from UCF.
Chisholm's recruitment saw a flurry of developments in the final days. Following an official visit to UCF in late January, he committed to the Knights. However, just days later, the 6-foot-5, 280-pounder has opted for HC Tom Herman and the Longhorns. He comes with an imposing physical profile, but could probably stand to add a few more pounds.
—TCU signed three-star 2017 G Quazzel White.
Looks like the Tacoma, Washington, native will be traveling a fair distance for his college career. The 6-foot-2, 285-pounder is a gritty, grinding offensive lineman who houses an ever-running motor.
—Notre Dame signed three-star OLB Jeremiah Owusu.
Owusu picked the Fighting Irish over Michigan State. Apparently, he liked the direction Notre Dame is taking its defense after a turnover-heavy offseason, specifically citing new DC Mike Elko. "With their new defensive coordinator, it's going to be a whole new defense," Owusu said. "When it comes to their depth chart, nobody has a spot right now. They're changing to the 4-2-5 so every position is up for grabs. My position will be rover or outside linebacker."
—Iowa State signed three-star 2017 WR Tarique Milton.
Milton had also received offers from programs such as Bowling Green, Louisville and Michigan State. At 5-foot-11, 156 pounds, adding weight will be critical for the three-star prospect. Unless he makes his mark in August camp, he could well be in for a redshirt for the coming season.
—BYU signed four-star 2017 S Chaz Ah You.
Ah You opted for the Cougars over Utah, Washington, UCLA and Stanford. BYU got the last word in during the 6-foot-2, 199-pounder's official visit this past weekend. He is a prototype safety, with a terrific blend of size, range, physicality and athleticism.
—Colorado signed three-star TE Jared Poplawski. The Buffaloes raided Arizona State's commitment list to land Poplawski. A big tight end, Poplawski is a strong blocker with soft hands.
—Kansas signed three-star 2017 WR Travis Jordan.
The Jayhawks return four of their top five wideouts from 2016, but they've added five wide receivers in this class anyway to stock the depth chart for Doug Meacham's Air Raid offense. To land Jordan, Kansas beat out Nebraska, Arkansas State, Colorado State, Louisiana-Monroe and UTSA.
—Ohio State signed three-star 2017 T Thayer Munford.
A native of Cincinnati, Munford will stay in-state for his collegiate career. The 6-foot-6, 325-pounder is a big boy that can move defenders out of the way and present a large obstacle to work around. He needs to continue to develop athletically and technically to maximize strengths.
—Arizona State signed four-star S Evan Fields. The 6-foot-2, 190-pounder chose the Sun Devils over Kansas State, Notre Dame, Oregon, TCU and UCLA.
—Baylor signed three-star DE Justin Harris. Harris hails from Gonzales, Louisiana, but spurned HC Ed Orgeron in favor of Matt Rhule and the rebuilding Baylor Bears. The 6-foot-6, 250-pounder is raw in both the run and pass but also makes plays and shows athletic ability. Unless he is able to acclimate quickly to the collegiate game, a redshirt could be in his future.
—Arizona signed three-star RB Gary Brightwell. He flipped from Temple. The Wildcats sure needed the depth after what happened last year. Orlando Bradford was dismissed, Nick Wilson battled injuries again, and J.J. Taylor broke his ankle. Brightwell figures to redshirt with Wilson, Taylor and four-star recruit Nathan Tilford above him on the depth chart.
—Alabama signed four-star 2017 DE LaBryan Ray. Tennessee and Florida were also hoping to reel Ray into the fold. The 6-foot-4, 260-pounder is not yet the sharpest pass-rusher, he possesses a constantly running motor. He also plays his keys, plays disciplined football, and does his job.
—Pitt signed four-star 2017 RB A.J. Davis. Davis opted for Pitt over fellow finalists North Carolina and Louisville. The 5-foot-11, 193-pounder ranks as a TOP 150 overall prospect in the 2017 cycle. He is a scrappy runner one who is a smooth, fluid athlete that can be tough to corral in space.
—North Carolina signed three-star ATH Dazz Newsome. Newsome originally committed to playing at Maryland before flipping. The Tar Heels also beat out Virginia Tech for Newsome's services. It looks like Newsome will play corner at the next level.
—Miami signed four-star 2017 WR Mike Harley.
The Hurricanes flipped Harley from West Virginia. Thomas is very fast, and can get to top speed in just a few steps. Harley can easily blow past DBs in man-to-man situations, even if the DB gives Harley a cushion.
—Florida State signed three-star 2017 RB Deonte Sheffield.
Florida State already has two stud running backs in the corner in Cam Akers and Khalan Laborn. Add Sheffield to that crew.
—Miami signed four-star JUCO junior CB Jhavonte Dean. The Hurricanes flipped Dean from Alabama and Nick Saban. Dean is a consensus top 10 JUCO prospect. The 6-foot-2, 180-pounder is an exciting size/speed prospect.
—Pittsburgh signed four-star DT Jaylen Twyman.
This is a key signing for the Panthers, who needed a top-shelf defensive tackle in the worst way. Big, stout interior lineman with deceptive quickness and athleticism. Needs to continue adding functional strength to his massive frame but has a boat load of upside.
—Kansas signed four-star JUCO RB Octavius Matthews.
Matthews is considered amongst top 10 JUCO recruits in the country. The 6-foot-2, 200-pounder took a winding rode to Lawrence. He committed to the Louisville Cardinals last April and then flipped to the Auburn Tigers in June. Matthews only reopened his recruitment last week. Matthews will compete for a starting job in Doug Meacham's offense immediately.
—LSU signed four-star 2017 DE K'lavon Chaisson.
Texas and Florida were also hoping for Chaisson's pledge, to no avail. LSU was actually the first school to make an offer to the 6-foot-4, 220-pound native of Galena Park, Texas. Scout.com's No. 33 overall prospect, Chaisson has the chops to get to the quarterback as a speed rusher while also possesses the requisite toughness to go to battle against the run.
—Nebraska signed four-star DT Damion Daniels.
Nebraska beat out Colorado and UTSA for the Texan's services. The 6-foot-3, 325-pound Daniels is a key building block in new Nebraska defensive coordinator Bob Diaco's first unit.
—Florida signed four-star 2017 CB Christopher Henderson.
A direct blow across the bow of Miami, as the Hurricanes had been considered a strong bet to ink Henderson — he had previously been committed to the Canes before he reopened his recruitment in October. At 6-foot-1, 179 pounds, Henderson has the desired height for the position, though he will need to put on a bit more playing weight once he joins the Gators. Henderson has more upside as a defender, he is more college-ready as a receiver. Expect Henderson to stick at corner, but there is wiggle room here if HC Jim McElwain wants to experiment.
—USC signed four-star 2017 DT Jay Tufele.
The Trojans continue to have a monster day. Tufele picked the Trojans over BYU, Michigan, Ohio State and Utah. he 6-foot-2, 306-pounder is a "relentless player with a non-stop motor,".
—USC signed four-star 2017 T Austin Jackson.
Arizona State and Washington end up as the two schools left out in the cold by Jackson. He spurned the Sun Devils despite the fact that he grew up in Arizona. He does have California roots, though, having moved to the state at the beginning of his high school career. His grandfather also played ball for the Trojans in the 70's.
—South Carolina signed four-star 2017 DT Aaron Sterling.
The 6-foot-2, 260-pound Sterling is listed as the No. 14 defensive tackle in the country by most. "They want to treat me like Dominique Easley and play that three-technique," Sterling said of South Carolina's pitch. "Anything on the defensive line, because Dominique Easley really players everywhere — defensive end, defensive tackle, outside linebacker – really everything." He is a bit [of a] 'tweener in size and skill set at this stage."
—Louisville signed four-star 2017 T Mekhi Becton.
The 6-foot-7, 345-pounder chose the high-flying Cards over Virginia Tech, Michigan and Oregon. Becton is "very mobile and is an effective run and pass blocker." Lamar Jackson will appreciate the help. Bobby Petrino has put together a consensus top-30 recruiting class.
—Ole Miss signed four-star 2017 LB Mohamed Sanogo.
Ole Miss has absolutely cratered out in recruiting during this cycle, making Sanogo's addition a small balm following a fall off the cliff. Sanogo is a tremendous downhill player who is always tough against the run.
—Georgia signed three-star CB Ameer Speed.
The Bulldogs scored his pledge over Virginia Tech, Michigan State and North Carolina. The 6-foot-3 Speed is a rangy corner rated as a TOP 40 prospect at his position.
—Maryland signed four-star 2017 RB Cordarrian Richardson.
Richardson was a longtime Clemson commit, but reopened his recruitment just before Christmas. He is the second four-star back to opt in with HC D.J. Durkin at Maryland, joining Anthony McFarland in what's shaping up to be a nice backfield for the coming years. The 5-foot-11, 222-pound Richardson is "how you draw running backs up if you want to beat up defenses, wear them down, and take it to them in the fourth quarter." He is a "true power back." Maryland is looking to shore up a top 20 class and this signing certainly aids them in that cause.
—LSU signed four-star 2017 LB Tyler Taylor. The 6-foot-3, 230-pound linebacker picked the Tigers over Auburn, he said, because of his relationship with head coach Ed Orgeron and defensive coordinator Dave Aranda. Those two pitched Taylor on the idea that he could be the next Kendell Beckwith. "The conversations that I had with Coach O and Coach Aranda and the early playing time, I think I really have a shot," Taylor said. "They're not going to give me anything but they told me that they're going to give me a chance to play early this year. … They kind of want me to play inside linebacker. They want me to be kind of like Kendell Beckwith."
—Arkansas signed four-star 2017 CB Chevin Calloway.
HC Bret Bielema said Calloway was the No. 1 corner on Arkansas' board. Calloway picked the Hogs over Texas and Nebraska. Ranked by the 247Sports Composite as the No. 17 cornerback and No. 143 player in the class, Calloway is a 5-foot-10, 180-pounder with a 4.45-second 40-yard dash time. "He closes on the ball quickly, and his high school film is littered with examples of him acting as a centerfielder and chasing down passes that receivers couldn't even get near.
He can play in press coverage or as a de-facto safety in cover-2, cover-3, or cover-4 looks.
—Alabama signed four-star WR Henry Ruggs III.
The 6-foot, 175-pound Ruggs, a U.S. Army All-American, picked the Tide over Auburn, Florida, Florida State, Penn State and a host of others. Ruggs is a standout basketball player who has outstanding athleticism. He's the No. 11 wide receiver in the 2017 class. Ruggs will step into a WR group at Alabama that just lost ArDarius Stewart and Gehrig Deiter. Ruggs is a field-stretching receiver who can also make defenders miss in tight quarters.
—Auburn signed four-star 2017 DE Markaviest "Big Cat" Bryant.
Auburn fended off rivals Georgia and LSU for Bryant's services. The 6-foot-2, 230-pound defensive end is obviously eying that vacant Buck defensive line role left by Carl Lawson. "I think Auburn (is the best place to start early)," Bryant said at the Under Armour All-America Game. "With Carl Lawson leaving, and they have a couple guys behind him. But coach has said he's not sure if they can be as good as I can be."
—South Carolina signed JUCO sophomore DL Javon Kinlaw.
Will Muschamp mentioned that Kinlaw added much-needed beef to South Carolina's line. Kinlaw is the No. 11-ranked junior college prospect in the country and a former Army All-American. The 6-foot-6, 305-pound defensive lineman chose the Gamecocks over Alabama, Tennessee, Louisville and Maryland.
—Florida signed five-star 2017 OL/DL Tedarrell "T.J." Slaton.
Huge signing for the Gators, who not only added a much-needed starting-caliber lineman but beat out SEC East rival Georgia for his services. Slaton wants to play defense in college, and Florida has at least been open to that idea, but all the major recruiting services project him to OL. Florida lost Caleb Brantley, Joey Ivie and Bryan Cox Jr. along the defensive line since the season ended. He is extremely strong in his lower body and upper body. He just overpowers his opponent much of the time. His punch is impressive and he really shoots his hands well. Plays tackle and could be a right tackle, but projects as an elite guard on the next level.
—Miami signed four-star 2017 WR Jeff Thomas.
Thomas, a native of St. Louis, chose the Hurricanes over Oregon, Louisville and Miami. The 5-foot-10, 170-pounder starred in last month's Under Armour All-America Game, setting a record with 148 receiving yards. In Miami, Thomas will team up with second-team All-ACC wideout Ahmmon Richards, a four-star recruit last year. He is a fast, explosive athlete who has outstanding burst, acceleration and ability to cut while moving full speed. Creates a lot of separation with that and is not only a deep threat, but a guy who can take short passes and go the distance at any time. Thomas is also an ace kick returner.
—LSU signed four-star 2017 S Todd Harris. The Tigers add another top-flight defensive back to a class that already included four-star safety Grant Delpit and five-star safety Jacoby Stevens and CBs Jontre Kirklin and Kary Vincent, Jr. Harris can play CB or S. Harris has what you want in an elite defensive back. He is a versatile kid with the potential to play corner or safety on the next level. He has that size you like at corner now who can play with those bigger wideouts in college. As a safety, he can come downhill and deliver the hit in run support and make a play on the ball in coverage.
—Michigan signed five-star 2017 DT Aubrey Solomon.
The Wolverines beat out a host of big league suitors that included Alabama, Georgia and USC. Thomas is Michigan's 17th commitment from the last. Solomon was Michigan's No. 1 target this year because he's a perfect fit next to Rashan Gary, last year's top recruit. The duo is going to harass Big 10 interior lines for at least the next two seasons.
—Mississippi State signed four-star 2017 LB Willie Gay. Gay chose the Bulldogs over LSU, Ole Miss and Michigan. In so doing, he became the school's highest-rated incoming recruit. Gay decommitted from Ole Miss in October and eventually decided to stay in Starkville, his hometown. He was no doubt enticed by the prospect of playing for havoc-loving new defensive coordinator Todd Grantham. In a scheme that uses outside linebackers frequently in coverage, he'll thrive. He's a good, edge-setting run defender, and he's got some old-fashioned pass-rushing shops, too.
—Georgia Tech signed three-star 2017 RB Jordan Ponchez-Mason.
The Yellow Jackets beat out Ball State, Iowa State and Navy for Ponchez-Mason's pledge. A 6-foot-1, 205-pound back, Ponchez-Mason is listed as an a-back and b-back by Georgia Tech.
—UCLA signed four-star 2017 T Stephan Zabie. He picked the Bruins over Ole Miss and Texas. This is a particularly cruel twist for the Longhorns, who were unable to keep the Westlake High School (Austin, Texas) product in town. Texas also missed out on Zabie's prep teammate LB Levi Jones. The 6-foot-5, 290-pound Zabie was a critical signee for the Bruins, who have struggled mightily along the offensive line for the past few years.
—Florida State signed four-star 2017 LB Leonard Warner.
The second-ranked inside linebacker in the country chose the Seminoles over Georgia and Stanford. Warner Possesses prototypical size for a linebacker. Long strider with deceptive speed and flashes an explosive first step. He has the agility and balance to play in space. Displays some feel for rushing the passer." Warner will need to bulk up and improve his technique at the next level.
—USC signed four-star 2017 LB Levi Jones. The 6-foot-4, 215-pound linebacker chose the Trojans over Florida State, Florida and UCLA. Jones was recently leaning towards the Gators, but USC swayed him with a visit late in the process. USC has nine TOP 300 commitments or signees as of Wednesday morning. Levi is a very skilled player with good athleticism and speed. Aside from his athletic talents he is very cerebral player who possesses a lot of the intangibles you are looking for in a player.
—Georgia signed four-star 2017 WR Jeremiah Hollomon.
Hollomon has enrolled early with the Bulldogs and will be strutting his stuff for HC Kirby Smart and company come the start of spring practice in a month or thereabouts. Auburn had been weighing heavily in his thought process as he sorted out his options over the summer, but the Tigers weren't ever able to climb the mountain for his pledge. The 6-foot-3, 190-pounder is a huge threat on the fade and vertical routes.