Want to know what's really going on inside the Walls of COLLEGE FOOTBALL programs? as well as school NFL Pro Days. Find out all the latest INSIDE news, notes, analysis, strategy and internal team discussions taking place around the country on teams, the recruiting scene as well as schools draft prospects.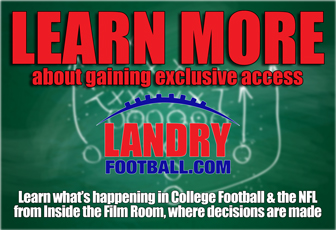 By joining today, you get a 50% discount on the first month by using the code = LandryFootball. To get 25% off for a year, use the code = WarRoom.
THE LATEST COLLEGE NEWS OF THE DAY
—Toledo TE Michael Roberts will work out for the Tampa Bay Bucs, Arizona Cardinals and Philadelphia Eagles in the coming days. Roberts' pro day event was Monday, and the tight end coaches of the Detroit Lions and Pittsburgh Steelers were on hand to check him out. He slightly improved upon his NFL Combine 40 showing by running in times that ranged from 4.78s to 4.82s. Roberts (6-foot-4, 270 pounds) is a big TE prospect who broke out for a 43-514-15 line last year. That touchdown total led the nation.
—Texas A&M S Justin Evans delivers some big hits but also has quite a few misses.
He is similar to Karl Joseph in that he is a little undersized, but has plus speed, is an extremely physical hitter and can play deep or near the line of scrimmage.
—Tennessee head coach Butch Jones ruled eight players out for the spring.
Jones said safety Micah Abernathy, defensive back Rashaan Gaulden, defensive lineman Kyle Phillips, defensive tackle Shy Tuttle, receiver Josh Smith, defensive tackle Kendal Vickers, receiver Brandon Johnson and offensive lineman Brett Kendrick wouldn't take part in spring practices. No reason was given, though Jones did imply that the eight might not be in shape. "We need to get them back at full strength," Jones said. "I do think there will be competition (regardless of the injuries)."
—Air Force WR Jalen Robinette is a tall, imposing target that didn't receive many chances in Air Force's option offense. Yet even when the pass is thrown in his direction, Robinette did not always come away with the reception. On film he did a lot of standing around and losing out for contested or tough receptions. His size and yards per catch average are impressive.
—Toledo RB Kareem Hunt will hold a private workout for the Tampa Bay Bucs on Tuesday.
Toledo held its pro day on Monday, with Hunt running a forty in 4.57s. The RB coaches of the New Orleans Saints, Detroit Lions and Cleveland Browns were all on hand for the festivities. Hunt has an upcoming official pre-Draft visit with the Vikings.
—Alabama LB Reuben Foster is visiting the Chicago Bears on Monday.
Foster had dinner with members of the Bears' staff on Sunday and is getting his official visit a day later. He's currently attempting to fend off Haason Reddick to be the No. 1 ILB off the board next month. Foster is coming off a huge season in which he made 115 stops with 13 TFL and five sacks. He visited the Eagles last week.
—Syracuse WR Amba Etta-Tawo came out of nowhere as a grad transfer last season to post a monster 94-1,482-14 line. He wasn't even on our radar to start the season so I still have to find out who he is. He's a vertical receiver who has the potential to become more than that with additional work, but he looks like a developmental backup at this point.
—Alabama T Cam Robinson is visiting the Carolina Panthers on Monday.
Robinson was in Buffalo last week to meet with the Bills, and he'll next head to Jacksonville to confab with the Jaguars. All three teams — the Panthers, Bills and Jaguars — have needs along the offensive line. He's not without faults on tape (he overextends too much and his balance is an issue at times) but he has outstanding size, length and power.
—Louisville junior WR Jaylen Smith (foot) has been ruled out for the spring.
In addition, head coach Bobby Petrino also announced on Monday that fellow WR Jonathan Greenard will miss spring practices with an injury. Following the season, Smith underwent surgery for a stress fracture in his foot. As a sophomore, Smith snagged 27 passes for 599 yards and six touchdowns. With James Quick and Jamari Staples having graduated, Smith could be in line for a breakout season working with 2016 Heisman Trophy winner Lamar Jackson.
—Colorado State T Nick Callender will make an NFL team's practice squad in the fall.
He possesses nice size and solid footwork in pass protection. He needs to improve his strength and learn to finish blocks, but at the very least I see him making a practice squad this fall. Callender was an honorable mention All-Mountain West pick in 2016 after starting 10 games at left tackle. The Rams' offensive line allowed merely 1.0 sacks per game, good for No. 8 in the country.
—Louisville edge rusher Devonte Fields flashes impressive athletic gifts but takes too many plays off and with his off-field character, I would stay away from him. It's worth noting that Fields' production dropped in 2016 (nine TFL and six sacks).
—Toledo redshirt senior CB Jordan Martin transferred to Syracuse football as a graduate.
The 6-foot-3, 205-pound Martin is immediately eligible for his final season of eligibility in 2017. In three years as a contributor for the Rockets, Martin totaled 74 tackles, 4.5 TFL, 11 pass deflections, two forced fumbles and an interception. He missed his junior year in 2015 with a torn ACL. Martin will likely battle a host of in-house options for the right to start across from fellow graduate transfer Devin Butler (formerly of Notre Dame).
—New Mexico OL Reno Henderson played left tackle for the Lobos but is likely to kick inside at the next level. Henderson is an explosive blocker effective at the line of scrimmage or on the second level. I graded Henderson the past two seasons and believe he's a terrific developmental prospect as a zone blocking guard.
—Texas A&M G Jermaine Eluemunor is a really powerful guy and he moves way better than I expected. Despite his weight, he is light on his feet and can handle zone blocking responsibilities or can pull for teams looking to utilize him in power. Eluemunor is still considered a developmental prospect, but his size and strength could make him an eventual starter in time. Eluemunor grew up in London, giving him a late start to football.
—Washington State senior LS Lucas Gravelle transferred to TCU as a graduate.
As a graduate transfer, he's eligible to play immediately. Gravelle was Wazzu's starting longsnapper over the past two years.
—Arkansas LB Brooks Ellis is a good college player who led the Razorbacks with 102 tackles in 2015 and did so again last season with 83 (and seven TFL). He is 6-foot-2, 245-pounds, smart, and instinctive. He is a backup only guy due to limited athleticism and will have to bea special teams demon.
—Boise State RB Jeremy McNichols is going to be a very good rotational back at the next level.
He's a multi-cut ball carrier with the quickness and footwork to create yardage and is also a terrific pass catcher out of the backfield. McNichols will likely be selected on the final day of the draft and develop into a productive third-down back. McNichols entered the process with big questions regarding his size, athleticism and durability. He answered the athleticism bit at the NFL Combine by posting a 4.49-second 40-yard dash and leaps of 35.5 inches (vertical) and 121 inches (broad). He checked into Indy at a modest 5-foot-9, 214 pounds.
—Miami CB Corn Elder is so instinctive with great reaction quickness yo find his way to the football. I like his two way quickness to cover the slot. Elder's lack of size could hurt his draft stock, but his talent and toughness is NFL worthy.
—Toledo RB Kareem Hunt will visit the Vikings ahead of the 2017 NFL Draft.
The Vikings will be in the market for a running back at some point during the draft after not bringing Adrian Peterson back. Latavius Murray was added to a position group that includes Jerick McKinnon, but neither are top options. Hunt did not complete a full workout at the NFL Combine, but is an intriguing option in the third round or later.
—The Texans put Villanova T Brad Seaton through a private workout.
Seaton attended the College Gridiron Showcase but was not invited to the NFL Combine. As a whole, the offensive line group in Indianapolis was not athletic, so teams might be looking for a gem during the third day of the draft.
—Oregon State OL Sean Harlow is visiting the Saints and Browns this week.
Harlow attended the NFL Combine and tested in the 32nd percentile. Harlow played left tackle this season and missed a number of games to open the season due to an ankle injury. Harlow gained around 20 pounds in the last few seasons and might be viewed as a utility lineman in the NFL.
—Colorado CB Chidobe Awuzie is a plug and play slot corner. Calling a prospect a slot corner is no longer a criticism, since that position and role is on the field 60 percent of the time. Awuzie has plenty of experience inside working through trash, something that can be difficult to find out of college since many prospects strictly play on the outside. Awuzie dealt with a significant turf toe injury during the school's bowl game, which contributed to a poor performance.
—Purdue WR DeAngelo Yancey is scheduled to visit the Packers in April.
Yancey has or will visit the Chargers, Titans, Seahawks and now Packers. That is a good list for a non-Combine receiver. Yancey impressed at the East-West Shrine game, displayed great athleticism at the school's pro day and has a strong chance of being drafted in the later rounds.