Whether you are just a hardcore college football fan, Recruiting fan, NFL draft fan, or just want to get a fantasy edge, a WAR ROOM membership is a must.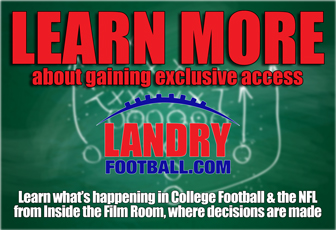 Want to know what's really going on inside the Walls of COLLEGE FOOTBALL programs? Find out all the latest INSIDE news, notes, analysis, strategy and internal team discussions taking place around the country.
GET THE LATEST SCOOP AND FILM ROOM NUGGETS ON DRAFT PROSPECTS, COLLEGE PLAYERS, AS WELL AS RECRUITING.
Become the smartest and most informed person in the room and get a leg up on your Fantasy Football opponents by joining Chris Landry inside the WAR ROOM.
By joining today, you get a 50% discount on the first month by using the code = LandryFootball. To get 25% off for a year, use the code = WarRoom.
CHECK BACK THROUGHOUT THE DAY FOR UPDATES
—Wisconsin T Ryan Ramczyk (hip) will attend the NFL Combine to take part in the interview and measurement processes. He won't, however, be on the field after undergoing surgery on Jan. 5 to repair a damaged right hip. "The surgeon said there was less damage than he expected and it went well," Ramczyk said. "I won't be able to test (physically) at the (NFL) combine, but I'll be there for all the interviews and test and measurements." Ramczyk earned First Team All-Big Ten honors and consensus All-American honors last year. He also received a first-round grade from the NFL Advisory Committee.
—LSU senior QB Brandon Harris announced Monday that he will transfer.
Once a celebrated recruit as a top-five dual-threat QB in the 2014 cycle, the 6-foot-3, 215-pounder lost his job to Purdue transfer QB Danny Etling last season and wasn't heard from again. In two games as a junior in 2016, Harris went 13-of-25 for 139 yards and a 1/2 TD/INT rate.
—Kansas State co-offensive coordinator Del Miller has retired.
Miller was the first assistant coaching hire made by Bill Snyder at KSU. He ended up coaching under Snyder for 20 years. "I am very grateful to Del for staying with us as long as he has. He is a major contributor to the foundation of Kansas State Football as we know it today," Snyder said. "Having been the very first assistant coach hired for us in 1988 and still with us today, speaks volumes."
TO GET THE REMAINING INSIDE SCOOP FROM AROUND COLLEGE FOOTBALL, JOIN THE WAR ROOM TODAY