Mini Camps are underway. Teams are assessing their post draft roster, and making some roster assessments and minor moves. We provide you all the latest from inside team buildings.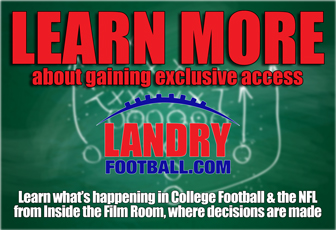 Get REAL information from a Veteran NFL Scout that NFL teams hire as a consultant. It's like having your own NFL Scouting Department for less than a magazine subscription. NFL Teams and Major College Football Programs are members, you can be also.
Here is the latest team by team news recapped. FOR OUR LandryFootball.com MEMBERS, WE OFFER THE LATEST FROM INSIDE THE TEAM'S ORGANIZATIONS.
Arizona Cardinals
The Cardinals signed three of their seven draft choices, the team announced on Saturday. Tackle Will Holden (fifth round), running back T.J. Logan (fifth) and cornerback Rudy Ford (sixth) signed four-year deals. NFL rookie deals have been slotted since 2011, making deals simple to reach. The team's other picks are expected to sign soon. . . .
Chicago Bears
Defensive coordinator Vic Fangio seems prepared for the likelihood that inside linebacker Danny Trevathan won't be ready to start training camp after he ruptured his patellar tendon in November. . . . "That's in question, whether he'll be ready at that point," Fangio said Saturday after the Bears' second rookie minicamp practice. . . . Trevathan is the furthest behind among Bears defenders seeking improved health. Outside linebacker Pernell McPhee is recovering from offseason shoulder surgery. . . .
Dallas Cowboys
The Cowboys have submitted a bid to host next year's NFL draft with a plan that would split the proceedings between AT&T Stadium in Arlington and The Star in Frisco. . . . Stephen Jones, the Cowboys executive vice president, said the club made it clear in its bid that both facilities would be available to use however the league sees fit during the three-day event. . . .
Los Angeles Rams
Tavon Austin's recovery from wrist surgery will keep him sidelined during organized team activities but will not affect plans for the offense, Sean McVay said. . . .
New Orleans Saints
Saints rookie offensive tackle Ryan Ramczyk's participation two days into rookie minicamp is limited to classroom instruction, individual drills and mental repetitions, as expected. . . . Ramczyk continues to rehabilitate from a January hip surgery to repair a labrum tear and won't participate in team-related drills during the install period of camp workouts. . . .
New York Giants
The Giants on Saturday signed running back Khalid Abdullah, cornerback SaQwan Edwards and safety Trey Robinson. They waived cornerback Nigel Tribune, wide receiver Robert Wheelwright and running back Daryl Virgies to make room on the roster. . . .
Seattle Seahawks
Free-agent receiver Cyril Grayson missed the first day of minicamp Friday to attend his graduation ceremony at LSU, where he was a track and field standout. Grayson made his Seahawks debut Saturday. . . .
Washington Redskins
Third-round cornerback Fabian Moreau and fourth-round safety Montae Nicholson both watched from the sidelines, unable to participate because they are recovering from injuries. Moreau tore a pectoral muscle at his pro day, and Nicholson had surgery to repair a torn labrum in March. . . . An optimistic timeline for both Moreau and Nicholson would have them ready to participate around the start of training camp in late July. Their focus this week will be on meetings, where they'll start picking up the Redskins system for the secondary. . . .
Cleveland Browns
Browns coach Hue Jackson confirmed Cody Kessler is the early favorite to start the regular-season opener Sept. 10 against the Pittsburgh Steelers in Cleveland. . . . Cornerback Howard Wilson, a fourth-round pick from the University of Houston, suffered a fractured kneecap Friday during the first practice of rookie minicamp and will undergo surgery, the team announced Saturday. . . . Jabrill Peppers' sat out the first day of camp on Friday because he had been advised by his agents not to sign his participation agreement, signed it Saturday morning and will be on the field this afternoon for day two. . . .
Denver Broncos
Jake Butt was the only player limited Saturday as he recovers from his torn anterior cruciate ligament, which he had surgery on in January. The former Michigan tight end participated in walk-through drills with tight end coach Geep Chryst. Butt has a noticeable limp, but he's able to get down in a three-point stance. . . . The Broncos are hoping for an August or September return, but that timetable is still tentative given its his second torn right ACL. Vance Joseph still has seen a lot of positives from Butt this weekend. . . . Quarterback Chad Kelly was the only rookie not in attendance. He was excused from Saturday's practice to attend his graduation. . . .
Houston Texans
Texans rookie cornerback Treston Decoud is expected to miss the remainder of spring practices and workouts due to an NFL academic rule that impacts many players from Pac-12 Conference schools. . . .
Kansas City Chiefs
Derrick Johnson's recovery from his torn Achilles tendon is on schedule, the Chiefs linebacker said Saturday. Johnson suffered the torn Achilles, the second such injury in his Chiefs career, in an early December game against the Raiders. . . .
Tennessee Titans
Marcus Mariota and Corey Davis remain sidelined after offseason surgeries. The 6-foot-3, 209-pound Davis, who had ankle tendons repaired in January, was a limited participant in individual drills and sat out the team portion of this weekend's minicamp. Mariota is not yet running full-speed after fracturing his right fibula in a loss to the Jaguars on Christmas Eve. . . . But the Titans' coaching staff is figuring out how to get them on the field together sooner than later. Perhaps much sooner than expected. Perhaps as early as next week. Organized team activities run from May 23 to June 8. . . . Mariota is not expected to be a full practice participant until training camp starts in late July, but taking part in 7-on-7 drills during OTAs is a natural progression and excellent way to begin growing accustomed to his rookie receivers. . . . . . .
Hear is the latest INSIDE SCOOP for our LandryFootball.com members.