We provide you with an overview of this past week's performance with a look ahead to this week. For our LandryFootball.com members, we provide you detailed FILM ROOM analysis including evaluations of all units.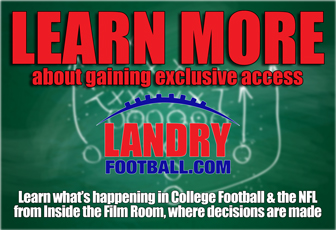 The New Orleans Saints return from their bye week to play in the Mercedes-Benz Superdome for the first time in four weeks.
They should be better rested and healthier as they try to build on the momentum of consecutive victories since they last played at home. The game against Detroit (3-2) on Sunday starts a stretch of three home games in four weeks that is comprised exclusively of NFC opponents. New Orleans plays at Green Bay (4-1) before hosting Chicago (1-3) and Tampa Bay (2-2).
NFL coaches often divide the regular season into four four-game mini-seasons. The Saints showed improvement in the first mini-season compared to their poor starts each of the last three seasons. Now they have a chance to establish themselves as playoff contenders if they are successful in completing the first half of the season.
"There is a lot of football left to be played," guard Larry Warford said, "but (the two-game win streak) is a testament to what it can be. It really puts in focus how important the small details are of this game and how much it means to winning. I think it's more of an eye opener more than anything. I think we're on the right track."
New Orleans showed defensive improvement in beating Carolina and Miami compared to how it defended Minnesota and New England in starting the season with consecutive losses.
But there are two primary areas where the defense is still lagging. New Orleans is last in the NFL in third-down defense (48 percent) and 28th in pass defense (265.2 yards per game). The Saints are allowing too many first- and second-down pass completions, which are making third downs too manageable for opponents.
The offense has been pretty much what it has always been under head coach Sean Payton and quarterback Drew Brees — one of the best passing units in the NFL and one that would like to be a little better balanced.
New Orleans ranks fourth in passing (276.5) and 21st in rushing (94.0), having rushed for 100 yards just once in four games.
Though there's good enough balance to rank eighth in total offense, it has translated into just the 12th-best scoring average (23.2).
HERE IS THE DETAILED FILM ROOM ANALYSIS FOR OUR LANDRYFOOTBALL.COM MEMBERS. SEE HOW EACH UNIT GRADED OUT.
You need to be logged into LandryFootball.com to see or hear this premium content. Please
Login
to access.
If you aren't a member, you can register below.