We provide you with an overview of this past week's performance with a look ahead to this week. For our LandryFootball.com members, we provide you detailed FILM ROOM analysis including evaluations of all units.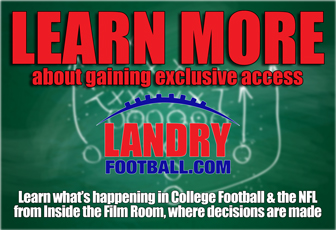 Matthew Stafford has taken a pounding this year.
Stafford has been sacked 18 times in the first five games, tied for third most in the league, and 12 of those sacks have come in the last two weeks.
Stafford finished Sunday's loss in obvious pain after he rolled his right ankle awkwardly on a fourth-quarter sack. He also received medical attention on his right leg earlier in the game for what ESPN reported was a hamstring injury.
Lions head coach Jim Caldwell declined to reveal the extent of Stafford's injuries, but Caldwell made it clear his team needs to get better in pass protection.
"It's our job to protect him no matter what," Caldwell said. "I don't care if they're blitzing, not blitzing, four-man rush, whatever it might be. We didn't do a good enough job with that, but there are a lot of moving parts that deal with protection. It's routes being run properly, guys getting open, ball's delivered on time. Offensive linemen blocking, tight ends blocking, backs blocking. So there's a lot of different things that go into it."
Sunday's protection issues weren't entirely to blame on the offensive line as the Panthers won with a number of blitzes and the Lions struggled to get open downfield. Still, the Lions' offensive line has been a disappointment this year considering the resources the team invested up front.
In the past two seasons, the Lions spent first- and third-round picks on Taylor Decker and Graham Glasgow, and handed big money to Rick Wagner and T.J. Lang in free agency.
Decker remains on the mend from a June shoulder injury and his replacement, Greg Robinson, has struggled mightily at left tackle – but Wagner has underperformed at right tackle and the Lions are averaging just 3.5 yards per carry rushing as a team.
Stafford said he needs to "get the ball out quicker" to help his offensive line, and Caldwell said he and his coaches need to put the offense in better positions, too.
"Obviously, anytime that you get disrupted it's a factor, and we just got to be better," Caldwell said. "We got to run the ball better, we got to throw the ball better, we got to catch the ball better. And that's really it."
NOTES, QUOTES
–Tight end Eric Ebron said he wasn't bothered by the repeated boos he got from the home crowd during Sunday's 27-24 loss to the Carolina Panthers.
Ebron dropped a would-be touchdown pass in the end zone on the Lions' opening drive, then had the ball jarred loose by safety Mike Adams early in the fourth quarter on a play that was nullified by penalty. He was booed heavily after both plays, plus another time when his image appeared on the Ford Field video board.
"That's fine. The crowd doesn't affect me none," Ebron said. "The only thing that affects me is if there was a situation where I let my team down and I feel like I should have caught that pass over the middle (in the fourth quarter). Yeah, blame that on me, but then again, Mike Adams been in this league 14 years. He's seen plenty of tight ends try to come across the middle, so he made a great play to break it up. So I kick myself in the butt for that one, but every other one, they made a great play on."
HERE IS THE DETAILED FILM ROOM ANALYSIS FOR OUR LANDRYFOOTBALL.COM MEMBERS. SEE HOW EACH UNIT GRADED OUT.
You need to be logged into LandryFootball.com to see or hear this premium content. Please
Login
to access.
If you aren't a member, you can register below.