Get caught up on the latest team by team news and official transactions from around the NFL in today's NFL Notebook.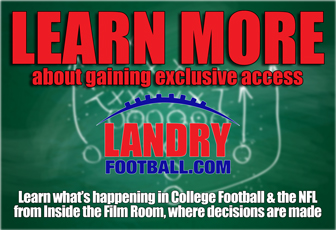 Whether you are just a hardcore fan or just want to get a fantasy edge, a WAR ROOM membership is a must.
Have your own NFL Scouting Department for less than a magazine subscription.
By joining today, you get a 50% discount on the first month by using the code = LandryFootball. To get 25% off for a year, use the code = WarRoom

Arizona Cardinals
Bruce Arians and President Michael Bidwill, have said the team would use the tag on outside linebacker Chandler Jones if the two sides can't agree to a long-term deal within the next few weeks. . . . The franchise number for Jones is expected to be in excess of $15 million, which would count immediately against the cap, even if Jones doesn't sign it. . . .
Chicago Bears
The Bears have finalized a two-year contract extension with offensive lineman Eric Kush, fortifying their depth up front. The team announced the deal with the fifth-year veteran Wednesday morning, a move that comes before the opening of free agency March 9. . . .
New York Giants
The Giants have re-signed Will Tye, according to a person familiar with the situation. Re-signing Tye was simply a formality because he was an exclusive rights free agent. . . .
San Francisco 49ers
Niners running back Carlos Hyde is among six NFL players who pulled out of a trip to Israel "aimed at improving the country's image. . . . The all-expenses paid trip came under scrutiny last week when the Israeli tourism minister said that the participating players would be "ambassadors of goodwill for Israel. . . . Israeli minister for strategic affairs and public diplomacy Gilad Erdan also added that the players would fight "negative and false characterizations of Israel. . . . In response to the planned trip, an open letter signed by Harry Belafonte, Dr. John Carlos and Alice Walker, among others, ran in The Nation last week asking the players to reconsider. . . . "These trips bringing celebrities to Israel are part of a larger 'Brand Israel' campaign to help the Israeli government normalize and whitewash its ongoing denial of Palestinian rights," the letter reads. . . . Seahawks defensive end Michael Bennett was the first to quit the trip, posting on social media that he would "not be used in such a manner. . . .
Houston Texans
Although the Texans ideally would like to retain free agent cornerback A.J. Bouye and hammer out a contract extension, a relatively tight salary-cap situation is expected to preclude them from designating him as their franchise player. . . . The Texans have roughly $25 million in projected salary-cap space and it would cost just over $14 million to retain Bouye under a one-year franchise tender, all of which would count against the salary cap for the 2017 fiscal year. . . .
Jacksonville Jaguars
The Jaguars conducted their first three pieces of 2017 business Wednesday, re-signing defensive tackle Abry Jones and receiver Arrelious Benn and restructuring the contract of quarterback Chad Henne. . . . The Jaguars and Jones were finalizing a contract, and the team announced the signing. Per a league source, the deal is for four years and $16 million, including a guaranteed $6.5 million. . . .
Kansas City Chiefs
When Nick Foles signed with the Chiefs in early August, he joined the team to reunite with coach Andy Reid, whom he trusted to help him develop as a quarterback. . . . It now appears that Foles could move to another team, as a source confirmed to The Star on Wednesday that the Chiefs will likely pass on Foles' contract option for the 2017 season. . . .
New York Jets
The Jets have cut ties (at least for now) with left tackle Ryan Clady, whose 2017 salary cap number was prohibitively high. . . . The Jets on Wednesday did not pick up Clady's contract option for 2017, a league source confirmed. gent. . . . Another league source said the Jets are interested, to at least some degree, in re-signing Clady on a lower-priced contract for 2017. . . .
Pittsburgh Steelers
The Steelers re-signed their second unrestricted free agent, backup linebacker and special teams player Steven Johnson, to a one-year contract. . . . Johnson, a five-year veteran, earned $760,000 in base salary last season, the NFL minimum. The minimum this season for a player with Johnson's experience is $775,000. . . . . . .
NFL Daily Transactions
GB 2/15 Bene' Benwikere CB Free Agent Signing