We provide you with an overview of this past week's performance with a look ahead to this week. For our LandryFootball.com members, we provide you detailed FILM ROOM analysis including evaluations of all units.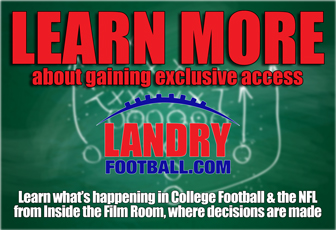 The Kansas City Chiefs continue rolling through the AFC, moving to 5-0 on the season thanks to a 42-34 win over the Houston Texans, despite piling up more injuries which is knocking key players from the starting lineup.
The team believes wide receiver Chris Conley sustained a torn Achilles tendon, a diagnosis that would end his season. Travis Kelce entered the league's concussion protocol during the game, but head coach Andy Reid appeared optimistic about his All-Pro tight end's prognosis on Monday.
"Kelce was feeling OK after the game," Reid said. "I'm not telling you Kelce's out, I don't want it to come off that way. He's got to go through the whole protocol part of it."
Kelce caught eight passes for 98 yards in the first half against Houston before sustaining a helmet-to-helmet hit late in the first half. Reid said the unaffiliated neurological consultant on the field initially cleared Kelce to return to the game.
During halftime, however, Kelce experienced memory issues.
"He was cleared by the U.N.C. in the tent, and they came in at halftime and just said he couldn't quite remember," Reid said after the game. "He remembered on the field, but he couldn't quite remember things when he came off, so we just held him out from there."
Despite the rash of injuries, Reid remains optimistic his team can weather the storm thanks to the depth put together by former general manager John Dorsey and current general manager Brett Veach.
"Our personnel department does a nice job of bringing in good football players so that if something happens where you're hurt, you let us know and let's get the other guys in and you get yourself ready," Reid said. "And when you're ready, then you come back. Until then, the others will pick up the slack and go."
The injury bug started biting the Chiefs in the preseason. Starting running back Spencer Ware saw his season end prematurely with a devastating knee injury in the team's third preseason game. All-Pro safety Eric Berry was the next to go down, his season coming to an end with a torn Achilles tendon in Week 1 against New England.
The club's ability to identify talent in an emergency paid off when kicker Cairo Santos suffered a pulled groin muscle in Week 3 against the Los Angeles Chargers. The Chiefs quickly signed rookie kicker Harrison Butker from the practice squad of the Carolina Panthers. Butker hit a game-winning field goal last week against Washington, and was perfect against Houston Sunday night, connecting on five field goals.
The Chiefs entered the game against Houston without three starters: linebacker Dee Ford, center Mitch Morse and right guard Laurent Duvernay-Tardif. There's no immediate timetable for the return of all three players.
Offensive lineman Cameron Erving, acquired from Cleveland in a trade near the end of the preseason, started in Duvernay-Tardif's absence at right guard. The team believes tackle remains Erving's best position, but he gained enough experience with the Browns that Reid felt comfortable giving the former first-round draft pick a chance.
"He brought great energy in there and he battled," Reid said. "It wasn't all pretty but he battled his tail off."
HERE IS THE DETAILED FILM ROOM ANALYSIS FOR OUR LANDRYFOOTBALL.COM MEMBERS. SEE HOW EACH UNIT GRADED OUT.
You need to be logged into LandryFootball.com to see or hear this premium content. Please
Login
to access.
If you aren't a member, you can register below.