We provide you with an overview of this past week's performance with a look ahead to this week. For our LandryFootball.com members, we provide you detailed FILM ROOM analysis including evaluations of all units.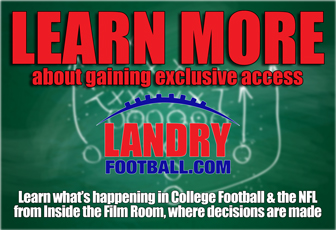 Even after one of the team's most impressive wins in the last 10 years, the Jacksonville Jaguars should feel some trepidation about Sunday's encounter with the Los Angeles Rams.
Last week's 30-9 win over Pittsburgh was both gratifying and satisfying in many aspects. The offensive line, even without their leader – center Brandon Linder, played a near-perfect game, opening holes for Leonard Fournette and Chris Ivory who responded with over 200 yards on the ground. Then there's the defense. How can you not feel good about their effort that included a franchise-record five interceptions and held elite running back Le'Veon Bell to 47 yards in 15 carries and another 46 in 10 pass receptions.
So why the concern? Because the Jaguars have not shown they can win on a consistent basis. The three wins this season have been impressive, coming in Weeks 1, 3 and 5 against three quality teams and have produced winning margins of 22, 37 and 21 points, all of whom were favored to beat the Jaguars.
But the two losses were against a pair of teams who have a combined 5-5 record and who were underdogs to the Jaguars. All of which means if the Jaguars follow their pattern of losses in even weeks, they're doomed for another setback in Week 6. It's the inconsistency
of looking good, bad, good, bad and good that the Jaguars are trying to evolve into a series of good, good, good.
"That goes back to the consistency," head coach Doug Marrone said on Monday when talking about the team being able to put together a series of wins. "That's what we're going to have to do week-in and week-out. We're talking about on Sunday. I think those things go hand-in-hand. We want to be a consistent football team. We want to be a winning football team. A lot of that is going to depend on what we're doing during the week. A lot of that is going to depend upon our performance when we get out there on Sunday."
If the Jaguars play like they did against Pittsburgh, the consistency factor will kick in and there will be a series of wins. As impressive as Jacksonville was in its wins over Houston and Baltimore, the performance against the Steelers was off the charts. The Jaguars had never had five interceptions in a game before. They had never returned two picks for scores in the same game. Only two other running backs – Fred Taylor (four times) and Maurice Jones-Drew – had ever rushed for at least 181 yards like Fournette did against the Steelers.
The one concern that the Jaguars have, is that they do not want to become one-dimensional. Certainly, the running game is operating at a high level right now, so good that it's the No. 1 ranked rushing attack in the NFL. But the Jaguars' passing attack is near the bottom of the league and if it doesn't get better, teams will bring 7, 8, 9 players up to the line of scrimmage to stop the running game. Blake Bortles will need to improve his game as must the receivers who sorely miss Allen Robinson. Help is coming down the road when rookie wide receiver Dede Westbrook can come off injured reserve after three more games. He had a strong training camp and played well in the preseason before he was injured.
If the defense continues to play at such a high level, they may not need great production from the passing game. Jacksonville came into the game leading the league in pass defense. They took a hit with Ben Roethlisberger throwing for over 300 yards, though once the Steelers got into the red zone, the Jaguars were particularly effective in shutting him down.
What has really lifted the defense to its lofty status is its ability to excel in the turnover department. The Jaguars lead the NFL with 15 takeaways and have scored 74 points off turnovers this season. Detroit ranks second in the league with 47 points off turnovers while Detroit and Baltimore are tied for second in the league with 11 takeaways. The Jaguars lead the NFL both with 10 interceptions and five fumble recoveries. Marrone said it's been a combination of factors that has led to the high turnover numbers.
"I always talk about a combination of being able to get a rush, being able to get your hand on a ball, being able to look at the opportunities that you're having from a standpoint of turnovers, that's something that we track how many opportunities per game that we're trying to get," Marrone said. "So I think it's a combination of all those things. I think when you put all those things together, you have a chance because when you're saying it is that combination of what's happening and I think obviously in the back end we're creating sacks because people are covered.
"I think we're getting interceptions because we're throwing the quarterback off rhythm or making a move or putting a hand on that face or getting a hand on that ball. I think those are the things going on there and then it's the same thing, offensively we got to keep protecting the football."
HERE IS THE DETAILED FILM ROOM ANALYSIS FOR OUR LANDRYFOOTBALL.COM MEMBERS. SEE HOW EACH UNIT GRADED OUT.
You need to be logged into LandryFootball.com to see or hear this premium content. Please
Login
to access.
If you aren't a member, you can register below.