Want to know what's really going on inside the Walls of COLLEGE FOOTBALL programs? Find out all the latest INSIDE news, notes, analysis, strategy and internal team discussions taking place around the country.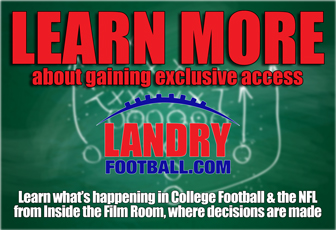 Have your own NFL Scouting Department for less than a yearly magazine subscription. By joining today, you get a 50% discount on the first month by using the code = LandryFootball. To get 25% off for a year, use the code = WarRoom
LSU officially fired wide receivers coach Dameyune Craig and re-assigned running backs coach Jabbar Juluke to another position within the LSU athletic department on Thursday.
The move was expected from within the coaching staff but the move was delayed until after signing day.
Juluke was hired on Feb. 13 of last year as the running backs coach and Craig was hired the following day as the wide receivers coach.
Craig served as the FSU quarterbacks coach from 2010-12 where he was mainly responsible for the recruitment of among others Jameis Winston. He was co-offensive coordinator at Auburn, his alma mater, from 2013-15.
Craig, a former Auburn quarterback, got his coaching start with Nick Saban as a graduate assistant at LSU. He spent one season with the Miami Dolphins staff in 2005 before spending two years at Tuskegee (2006-07) and South Alabama (2008-09).
When Matt Canada was hired as offensive coordinator, he made it clear to Orgeron in his interview that he wanted to evaluate the offensive staff and make any recommendations, including possible staff changes.
Craig's strength has been more of a recruiter and Canada preferred to go with someone with a stronger feel for the offense he runs. Under Les Miles staff, recruiting ability ranked higher than on-field coaching in his coaching hires. Especially on offense.
Since Orgeron took over the head job permanently, I was told that there were some "personality frictions" between Orgeron and Craig over the recruitment of some members of this year's signing class. From personal experience on staffs that I have been on, this tends to occur when an assistant feels like he is not on safe ground.
It became clear several weeks back that something was brewing with regards to Craig's future on the LSU staff. I actually took a call from the Oregon football staff where Craig was pursuing a position. Craig was scheduled to make $575,000 in 2017 at LSU and his contract was originally slated to run out on May 31, 2018.
Juluke is slated to make $275,000 in 2017 and his contract also runs out on May 31, 2018. Juluke was hired at LSU after his first college coaching job when he was the running backs coach at Louisiana Tech from 2013-15. He was briefly the RB coach at Texas Tech but left that job to take the position at LSU.
Juluke had been the head coach at Edna Karr from 2003-12 and led the Cougars to a state championship in his final season at the helm. He has strong recruiting ties in the New Orleans area and was the main reason for his hiring a year ago.
While Canada will vet a number of candidates, keep an eye on North Carolina State receiver coach George McDonald. I scouted George when he was a receiver at Illinois (1995-98). He has a background in Canada's offense and is an outstanding recruiter. In his 16 years as a coach, his stops include Northern Illinois, Stanford, Western Michigan, U. Minnesota, U. Miami, Arkansas, Syracuse and North Carolina State as well as the Cleveland Browns.
Among the players that he has coached and developed that I have scouted are
Travis Benjamin (Browns), LaRon Byrd (Dolphins), Eric Decker (Jets), Allen Hurns (Jaquars), Greg Jennings (Vikings), Alex Smith (Bengals), and Tommy Streeter (Jaguars).
All total, he has mentored 17 players who have gone on to play in the NFL.
As young as he is, McDonald is old enough to have coached new Minnesota head coach P.J. Fleck at Northern Illinois. He also did a nice job with Stanford TE Alex Smith and TE Tony Scheffler at Western Michigan. While passing game coordinator and receiver coach at Miami, he really did a nice job with Phillip Dorsett as well.
Memphis assistant coach David Johnson is someone else to keep an eye on. He has experience coaching running backs at Tulane and was offensive coordinator at St. Augustine high school in New Orleans.