We provide you with an overview of this past week's performance with a look ahead to this week. For our LandryFootball.com members, we provide you detailed FILM ROOM analysis including evaluations of all units.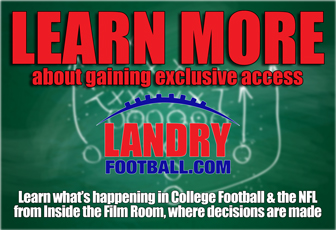 The ultra-dangerous pass-rushing trio the Houston Texans had envisioned has been transformed into a solo act in the wake of season-ending injuries suffered by defensive end J.J. Watt and outside linebacker Whitney Mercilus.
A broken leg for Watt and a torn pectoral for Merclius ended their respective seasons, leaving the Texans heavily dependent on Pro-Bowl outside linebacker-defensive end Jadeveon Clowney to provide a disruptive presence at the line of scrimmage.
Clowney emerged as a stout defender a year ago during Watt's absence forced by a pair of back surgeries.
As the Texans' defense shifts gears following the devastating loss of two of the top defenders in the league, Clowney looms large in their plans to maintain a high standard.
"It hurts, it's a big blow to the team," Clowney said. "A lot of our game plan was around those two. We have to find a way to regroup.
"We have a lot of season left. I'm going to have to pick my game up. We're missing some leaders, so guys have to step up."
Clowney has proven to be up to the task ever since he overcame a myriad of injuries that dogged him at the launch of his career, including undergoing microfracture knee surgery.
Clowney recorded a career-high six sacks and 52 tackles last season and was named to the Pro Bowl for the first time. This year, he leads the Texans with three sacks and has returned one fumble for a touchdown among his pair of recoveries.
Clowney will likely play a lot of left defensive end with Watt out. The Texans like to shift him around to make it difficult for offenses to get a bead on him. When Watt got hurt, Clowney primarily operated with his hand in the ground as a traditional defensive end.
"There's no doubt that JD will be a guy that we count on to play real well for us," Texans head coach Bill O'Brien said. "He plays very hard, he's been practicing well and obviously he's a guy that, whether J.J. and Whitney were there or not, he's a guy that we really rely on to play at a high level and that's not going to change."
Without Watt, the Texans finished first in total defense last season and won their second consecutive AFC South division title. Now, they're 2-3 and having to regroup on the fly.
"I think we can be OK if we just come to play," Clowney said. "We've still got to play regardless of who's up there or not. A lot of guys need to step in and step up."
Watt recorded no sacks in four games and one quarter this season as he consistently commanded double-team blocking attention from opponents, who are expected to now turn their eyes toward containing Clowney.
Watt finished the season with 13 tackles, three for losses, two passes defended and five quarterback hits.
When Watt left the game, the Texans inserted Brennan Scarlett at outside linebacker. Christian Covington played defensive end on the other side opposite Clowney.
"Those guys are amazing," Scarlett said of Watt and Mercilus. "My job backing them up is to make sure there's no fall-off. It's my job to make sure that I prepare every day to fill those shoes."
The Texans will rely heavily on Clowney and inside linebacker Benardrick McKinney to provide a pass rush. At 6-foot-4, 260 pounds, McKinney is fast and a good blitzer who is capable of playing outside linebacker in a pinch.
"It's going to hurt, it's going to be challenging," Covington said. "At the end of the day, it's J.J. Watt and Whitney Mercilus. Those are two of the best defenders in the NFL. You can't really dwell on the caliber of player."
It was an emotional drain for the Texans inside their locker room with the loss of Watt and Mercilus. There was a sense, too, that they were working on turning the page.
"It will be tough, but somebody has to step up and play," nose tackle D.J. Reader said. "We can't get down on ourselves. (Clowney) has been a leader all season. He's going to do his thing. The rest of us have to raise our game."
Because of Watt and Mercilus' physical prowess, skill and experience, replacing them involves a lot of moving parts.
They can mix and match personnel. For instance, Reader is capable of lining up at defensive end and Clowney is comfortable at both outside linebacker and defensive end.
"It's not going to be one guy, it'll be multiple guys, it'll be schematic, it'll be all different things that go into it, from a coaching perspective and a playing perspective," O'Brien said. "Everybody has a different skill set up front. You have guys that can do different things, they can play inside, they can play on the edge, they can help you on special teams."
A lot of the burden, though, will fall on Clowney's shoulders. At 6-foot-5, 270 pounds, the former top overall pick from South Carolina has rare explosiveness and relentlessly chases the football.
"I don't have any pressure," Clowney said. "I just have to keep playing my game. There's a lot of season left. We have a lot of improving to do."
HERE IS THE DETAILED FILM ROOM ANALYSIS FOR OUR LANDRYFOOTBALL.COM MEMBERS. SEE HOW EACH UNIT GRADED OUT.
You need to be logged into LandryFootball.com to see or hear this premium content. Please
Login
to access.
If you aren't a member, you can register below.