Whether you are just a hardcore college football fan, Recruiting fan, NFL draft fan, or just want to get a fantasy edge, a WAR ROOM membership is a must.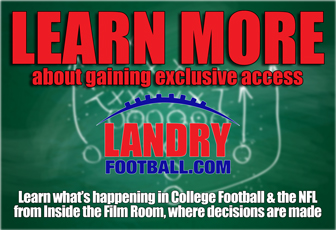 Want to know what's really going on inside the Walls of COLLEGE FOOTBALL programs? Find out all the latest INSIDE news, notes, analysis, strategy and internal team discussions taking place around the country.
GET THE LATEST SCOOP AND FILM ROOM NUGGETS ON DRAFT PROSPECTS, COLLEGE PLAYERS, AS WELL AS RECRUITING.
Become the smartest and most informed person in the room and get a leg up on your Fantasy Football opponents by joining Chris Landry inside the WAR ROOM.
By joining today, you get a 50% discount on the first month by using the code = LandryFootball. To get 25% off for a year, use the code = WarRoom.
CHECK BACK THROUGHOUT THE DAY FOR UPDATES
—Former UC Davis HC Ron Gould has emerged as a candidate to replace the departed Tommie Robinson as USC's running backs coach. Robinson took the LSU job this week. Gould has been linked to several open RB coaching jobs this offseason. He had served as head coach at UC Davis up until November of this past season, when the Aggies fired him. Prior to working at UC Davis from 2013 to 2016, Gould served a 16-season stint as running backs coach on staff with Cal.
—Tennessee signed four-star 2017 DE LaTrell Bumphus. Bumphus, a native of Savannah, Tennessee, initially threw his lot in with the Volunteers this past June. The 6-foot-4, 230-pounder weakside defensive end prospect has untapped potential as a tight end should Tennessee opt to shift him off of the defensive side of the ball at some point in his collegiate career.
—The Kansas City Star has reported that Kansas State HC Bill Snyder is undergoing treatment at a Kansas City hospital for an undisclosed health issue.
There's not much information available at this juncture regarding the nature of Snyder's health concern. The Star reports that while the severity of the ailment is unknown, Snyder is responding to treatment and is hopeful that he will be able to coach spring practice. The 77-year-old is fresh off leading Kansas State to an 8-4 regular season campaign in 2016, capped off by a victory over Texas A&M in the AdvoCare V100 Texas Bowl at the end of December. Snyder announced that he would return for the 2017 season last month. Expect more on this story as details become available.
—Louisiana Tech junior RB Jaqwis Dancy said that he is now cancer-free.
Dancy was diagnosed with Stage 3 Hodgkin lymphoma in mid-October. He has been going through chemotherapy treatments at St. Jude's Research Hospital and on Thursday announced that he has rid his body of cancer. He will continue to undergo treatment to ensure that his future health is set.

TO GET THE REMAINING INSIDE SCOOP FROM AROUND COLLEGE FOOTBALL, JOIN THE WAR ROOM TODAY