Whether you are just a hardcore college football fan, Recruiting fan, NFL draft fan, or just want to get a fantasy edge, a WAR ROOM membership is a must.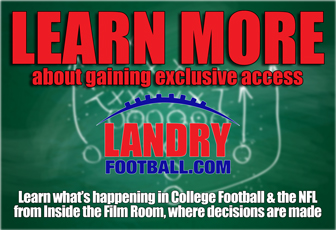 Want to know what's really going on inside the Walls of COLLEGE FOOTBALL programs? Find out all the latest INSIDE news, notes, analysis, strategy and internal team discussions taking place around the country.
Become the smartest and most informed person in the room and get a leg up on your Fantasy Football opponents by joining Chris Landry inside the WAR ROOM.
By joining today, you get a 50% discount on the first month by using the code = LandryFootball. To get 25% off for a year, use the code = WarRoom
—Kansas State signed three-star 2017 S Gervarrius Owens. Owens was the No. 3 safety prospect in the state of Oklahoma. A summertime Memphis commit, he decommitted in October and subsequently took an official visit to Houston. The Cougs were unable to pry him from Bill Snyder's iron grip in the end. Over the summer, the 6-foot-1, 188-pounder's looked like a complete player.
—Indiana will hire Houston OL coach Darren Hiller to serve in the same capacity. Hiller has been with Houston just under a month. Moving on, now. At Indiana, he will replace departed OL coach Greg Frey. This past season, Hiller acted as South Florida's co-offensive coordinator, run game coordinator and OL coach.
—Colorado signed four-star 2017 WR K.D. Nixon. Nixon took just one official visit during the cycle, that being to Colorado on the weekend of October 15. He committed to the Buffs just days later. And the rest, as they say, is history. The 5-foot-8, 182-pounder is a top 50 national wideout in the 2017 class by most recruiters account. Nixon is an explosive and versatile prospect no matter where he lines up and potentially a deadly weapon for Colorado to utilize in the return game against their Pac-12 foes.
To get the remainder of this article and more in-depth news around the College Football game, join the WAR ROOM.