Want to know what's really going on inside the Walls of NFL Organizations or College Football Programs ? Find out all the latest INSIDE news, notes, strategy and internal team discussions.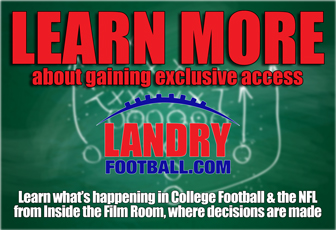 Have your own NFL Scouting Department for less than a yearly magazine subscription. By joining today, you get a 50% discount on the first month by using the code = LandryFootball. To get 25% off for a year, use the code = WarRoom
Become the smartest and most informed person in the room and get a leg up on your Fantasy Football opponents by joining Chris Landry inside the WAR ROOM.
Atlanta Falcons team officials have confirmed that Alabama offensive coordinator Steve Sarkisian has agreed to join them as their new offensive coordinator.
Sarkisian will replace Kyle Shanahan, who left after two seasons in the position to become the head coach of the San Francisco 49ers.
Atlanta led the NFL in scoring last season en route to their second Super Bowl berth in franchise history.
The Falcons also lost highly regarded QB coach Matt LaFleur who is headed to the Rams to be their offensive coordinator. LaFleur is widely credited with helping to develop Matt Ryan. Ryan has long been considered a solid starter, but this past season he put it all together and had one of the best seasons of any signal caller in the league.
Sarkisian was named the Crimson Tide's offensive coordinator and quarterbacks coach in December after spending time on the staff as an offensive analyst.
He took over for Lane Kiffin, who left before the national championship loss to Clemson to assume his duties as head coach of Florida Atlantic.
Sarkisian was fired in the middle of his second season at USC after troubles with his alcoholism. He also coached for five seasons at Washington and compiled a 46–35 record as head coach.
There were lots of media rumors surrounding the possibility of Chip Kelly joining the Falcons staff. I never got that impression from the Falcons.
This move started a while back with Kyle Shanahan was know to be headed to San Francisco near season's end. Falcons coach Dan Quinn consulted among others his good friend Pete Caroll and that is when the talks of Sarkasian begin to simmer and grow, leading to today's final conclusion.
Sarkasian has just one season of NFL coaching experience with the raiders as quarterbacks coach in 2004. Sarkisian did visit the Falcons' training camp after USC fired him, and he and Quinn hit it off which sparked the conversation about him with Caroll.
Sarkasian is very familiar with the West Coast offense and it's long verbage that the Falcons employ. This move was made with designs on keeping things familiar for MVP quarterback Matt Ryan.
Being involved in lots of coaching searches, head coaches are always on the look out for prospective coaches due to the amount of regular changes that occur at both the college and NFL levels.
From Alabama's end, this does not come as a surprise to head coach Nick Saban. It was a major reason he promoted Mike Locksley to co-OC recently. I know that he has vetted a number if internal and external options as he does for all positions on his staff.
Having worked with Saban, he keeps a file on potential coaching/staff candidates at each position, something that is done by many coaches and football executives at the college and pro level.
This will be the third offensive coordinator in the calendar year (2017) for Saban and Alabama.