We provide you with an overview of this past week's performance with a look ahead to this week. For our LandryFootball.com members, we provide you detailed FILM ROOM analysis including evaluations of all units.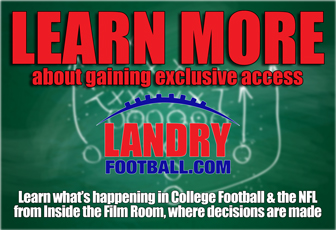 The Dallas Cowboys lost three games all of last season. They now matched that loss total through five games this season, dropping to 2-3 during this week's bye after a 35-31 near miss against the Green Bay Packers.
The Cowboys simply left too much time on the clock for Aaron Rodgers to come up with a final miracle and now time might be running out on their season.
The Cowboys are two games behind the NFC East-leading Philadelphia Eagles (4-1).
The Cowboys will most likely find out this week if running back Ezekiel Elliott will be forced to start a six-game suspension for violating the NFL's personal conduct policy.
The 5th Circuit Court of Appeals is expected to rule this week.
That the Cowboys managed only two wins with Elliott in the lineup is a setback. Facing six games without Elliott would be a tough task.
They are where they are because of Rodgers and an all too familiar ending.
In January, Rodgers converted a magical third-and-20 play to lead the Packers to a game-winning field goal in the waning seconds of a 34-31 victory in the NFC Divisional Playoffs at AT&T Stadium.
As soon as Cowboys quarterback Dak Prescott scored on an 11-yard run to put the Cowboys ahead with 1:13 to go, sending the crowd of 93,329 at AT&T Stadium into a frenzy, one daunting thought came to mind.
HERE IS THE DETAILED FILM ROOM ANALYSIS FOR OUR LANDRYFOOTBALL.COM MEMBERS. SEE HOW EACH UNIT GRADED OUT.
You need to be logged into LandryFootball.com to see or hear this premium content. Please
Login
to access.
If you aren't a member, you can register below.