We provide you with an overview of this past week's performance with a look ahead to this week. For our LandryFootball.com members, we provide you detailed FILM ROOM analysis including evaluations of all units.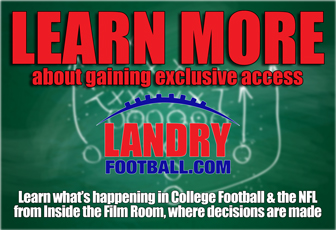 Cleveland Browns head coach Hue Jackson has made a change at starting backup quarterback Kevin Hogan against the Texans in Houston after benching rookie DeShone Kizer at halftime of the 17-14 loss to the Jets on Sunday.
Hogan put two touchdowns on the board after Kizer turned the ball over twice inside the Jets 5 in the first half.
During his press conference Monday, Jackson said he would wait until Wednesday to name a starter against Houston.
"I'm going to take time and look at the tape," he said. "I'll make a decision I think is best for our football team. I'm responsible for 53 guys. Winning is first and foremost. Development is second."
Jackson named Kizer the regular-season starter after Kizer performed well in the third preseason game. At the time he said he would stick with Kizer through the ups and downs of the season, but the 52nd pick in the 2017 draft has struggled each of the last four weeks.
"I look forward to doing whatever I can to get better so I don't have to sit out," Kizer said. "I expect to come back and learn from my mistakes from this game, do whatever I can to become a better player and let those decisions be in the head coach's hands as they always have been."
Kizer has completed 81 of 159 passes (50.9 percent) for 851 yards this season. He has thrown three touchdown passes and nine interceptions.
The Browns are heavily invested in Kizer as their quarterback of the future, but Hogan was clearly more decisive against the Jets. Jackson might decide time on the sideline might help Kizer hit the reset button. The rookie might not have been handed the starting had Brock Osweiler or Cody Kessler done anything in the preseason.
"This guy is a pro football player," Jackson said. "Sometimes young guys, it's not going as well for them and that's my job. Sometimes taking him off and letting him see and breathe a little bit is good."
If Hogan does start in Houston, it would mark 15 consecutive years in which no Browns quarterback has started all 16 games. The last one to do it was Tim Couch in 2002.
NOTES, QUOTES
–Rookie defensive lineman Myles Garrett made his NFL debut after missing four games with a sprained ankle. He sacked Jets quarterback Josh McCown on his first play when he lined up as a defensive tackle.
"It was just a great call by (defensive coordinator) Gregg (Williams) sending me inside and he jump-set me and I was able to put a move on him and make a play," Garrett said.
Garrett played only 18 snaps. He said his ankle is still sore.
–Running back Isaiah Crowell had his best game of the season with 16 carries for 60 yards, but he advanced only one yard on a fourth-and-2 from the Jets 2 in the fourth quarter.
"They stood up well and we didn't really know where to run to," Crowell said. "I just tried to get behind the linemen and just push, but we didn't get enough yardage."
It was the eighth fourth-down attempt this season and the Browns have been successful five times.
HERE IS THE DETAILED FILM ROOM ANALYSIS FOR OUR LANDRYFOOTBALL.COM MEMBERS. SEE HOW EACH UNIT GRADED OUT.
You need to be logged into LandryFootball.com to see or hear this premium content. Please
Login
to access.
If you aren't a member, you can register below.