The NFL offseason chatter is in full swing with NFL Scout Chris Landry from LandryFootball.com as he joins Pat and Aaron (filling in for the Big Dog) for his weekly segment.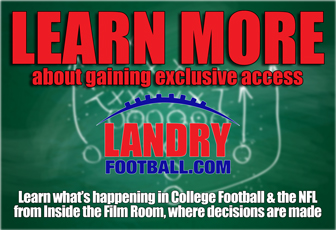 Topics include :
– What it means to be franchise tagged
– This year's predicted price tags per position
– Who's staying put & who's on the move (Pitt's Bell, NE's Hightower, & KC Stars)
– Red flag if Pats trade Garoppolo
– What teams look for behind the curtain at the combine
– Clemson's Watson is a major project for an NFL team
– Offensive Lineman hardest position to judge at combine
– Funny Keshawn Johnson Combine Story
Read more: http://620wdae.iheart.com/onair/steve-duemig-6168/landry-its-a-small-piece-of-15566243/#ixzz4YsVLLBBk
Whether you are just a hardcore fan or just want to get a fantasy edge, a WAR ROOM membership at LandryFootball.com is a must.
Have your own NFL Scouting Department for less than a magazine subscription.
By joining today, you get a 50% discount on the first month by using the code = LandryFootball. To get 25% off for a year, use the code = WarRoom