We provide you with an overview of this past week's performance with a look ahead to this week. For our LandryFootball.com members, we provide you detailed FILM ROOM analysis including evaluations of all units.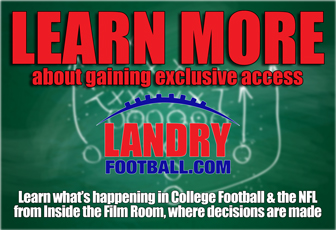 Significant strides have been made in the past two games for quarterback Cam Newton, who has had regular practice repetitions and parlayed that into huge outings against New England and Detroit.
Now comes the next part of the recovery from offseason shoulder surgery. While the Carolina Panthers went light on Newton's workload in the preseason and during the first few weeks of the season, there's no reprieve going into Thursday night's home game against the Philadelphia Eagles.
Newton will be throwing on short rest.
"I have to trust the coaches and trust the process when it comes to my arm, knowing that certain throws (are tough)," Newton said.
Yet, for the most part, Newton said it's clear to him that limitations have been lifted in terms of the passing attack.
"The strength of my arm is getting stronger and stronger," he said.
But there hasn't been such a quick turnaround this season, so that will be worth monitoring and it could factor into Carolina's offensive game plan.
Otherwise, head coach Ron Rivera said the Panthers are realizing the benefits after easing Newton back in terms of workload.
"We're getting timing down between him and his receivers," Rivera said. "We're starting to see the results of it."
One of the topics that Rivera has harped on as Newton has returned to form is the ability of his quarterback to spread the ball to numerous sources. That has helped keep defense's guessing.
"It's that ability to be able to mix who the balls are going to," Rivera said.
The matchup against the Eagles features two teams with 4-1 records. These are two of the three four-win teams in the NFC. For the Panthers, it's the fourth time in franchise history they've started with four or five victories across their first five games.
SERIES HISTORY: 10th regular-season meeting. Eagles lead series, 6-3. Carolina has won two of the three games played since 2012, with one win in Philadelphia in 2012 and a loss there in 2014. The Panthers won the only postseason matchup between the teams with a road victory in the 2003 playoffs.
NOTES, QUOTES
–The Panthers chose to put defensive end Bryan Cox on the active roster for the game against Detroit because of concerns about Julius Peppers, who has been dinged up with some ailments.
Peppers turned out to be fine and became a nuisance again with the pass rush.
Head coach Ron Rivera said it seemed to make the most sense to have Cox, a rookie, available rather than defensive tackle Vernon Butler in case Peppers had to be limited.
"We thought that was the best way to go," Rivera said.
Either way, it could be more pertinent this week in putting together the active lineup because of the short turnaround from the Sunday game to Thursday night for veterans such as Peppers and defensive end Charles Johnson.
–Head coach Ron Rivera said he has felt comfortable with tight end Ed Dickson's ability to be a first-string tight end after an injury to Greg Olsen. Now it appears that Rivera isn't alone.
Quarterback Cam Newton has shown through his actions that he believes in Dickson, too.
Dickson racked up 175 receiving yards on five catches at Detroit. That's more yards for Dickson than in any of the past three full seasons.
"What I saw Ed do a week (earlier) against New England was indicative of his abilities," Rivera said. "Cam, I think, has gotten comfortable with him."
Newton said Dickson was in the right spots and that he knew he could come up with clutch plays.
HERE IS THE DETAILED FILM ROOM ANALYSIS FOR OUR LANDRYFOOTBALL.COM MEMBERS. SEE HOW EACH UNIT GRADED OUT.
You need to be logged into LandryFootball.com to see or hear this premium content. Please
Login
to access.
If you aren't a member, you can register below.