We provide you with an overview of this past week's performance with a look ahead to this week. For our LandryFootball.com members, we provide you detailed FILM ROOM analysis including evaluations of all units.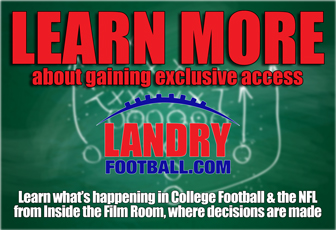 BUFFALO BILLS
INSIDE SLANT
Lost in the excitement over a 3-1 start for the Buffalo Bills was the underlying reality that the offense just isn't very good. That was obvious Sunday in Cincinnati. The Bills were brutal, and it was the primary reason for a 20-16 loss.
The Bills scored only one offensive touchdown, gained just 221 yards, and only 36 of those yards came in a dreadful second half, the third-worst total in a half for Buffalo since its playoff drought began in 2000.
"It was definitely tough," said quarterback Tyrod Taylor, who struggled through a rough day with 166 passing yards and six sacks. "We didn't make enough plays on offense, and I'll take full responsibility. It just wasn't a great offensive performance. We had a bunch of
opportunities, left some plays out on the field, got some turnovers and didn't convert. There's a sour taste in our mouths."
Taylor was not good (20 of 37, one touchdown and one interception), but this performance can't fall entirely on him. The Bills may have the worst receiving corps in the NFL, and that was before Jordan Matthews got hurt and missed this game. Sunday, the Bills started rookie Zay Jones, and veteran retreads Brandon Tate and Andre Holmes, and had Kaelin Clay in reserve. They combined to catch three passes for 34 yards, Tate providing the only highlight with a nice grab on a 12-yard touchdown strike from Taylor.
For the season, the Bills' wide receiving corps has 24 receptions for 316 yards. Cincinnati's A.J. Green, who torched the Bills for 189 yards on seven receptions, now has 32 catches for 504 yards all by himself this year.
"I've got all the confidence in the world in Tyrod Taylor," head coach Sean McDermott said Monday. As for the receivers, he said, "I'm confident in these guys. I know where you're going with that, and I'm confident in these guys. You keep working. That's what you do. You keep working and you learn from the tape."
Actually, what the Bills need to do is scour the waiver wire and line up as many tryouts as they can during their bye week. It might also be worth giving practice-squad receiver Brandon Reilly a look. They cannot succeed with a passing game this terrible because not only can't the Bills throw the ball, that ineptness has affected the running game as well. The Bills rank 25th in the NFL in points per game, 31st in yards, 29th in passing, and 27th in average yards per rush.
"I do know that we had some opportunities that we should have capitalized on," said Jones, the second-round pick who has struggled mightily to start his NFL career. "I didn't play my best game. I'm sure other guys would say the same. It's frustrating when your defense and special teams play well, but we can't find a way to capitalize. It's difficult. We're not a team to make excuses. We have all the pieces we need to win. We had opportunities but didn't finish when we had our chances. Give credit to the Bengals. They're a good team and well coached."
NOTES, QUOTES
–After leading the NFL in rushing the previous two seasons, the Bills have hit a wall in 2017. They currently rank 27th in average yards per rush at 3.4 yards, and LeSean McCoy has managed only 279 yards in five games. "It's not what we're used to," McCoy said following the loss to Cincinnati, during which he rushed for 63 yards on 19 carries.
The lack of a passing game has been a key component in this, but the Bills' offensive line has underachieved as well. Left tackle Cordy Glenn has missed four games with foot and ankle injuries; right tackle Jordan Mills is not competent enough to be a starter; and right guard John Miller, a two-year starter, was benched Sunday in favor of Vlad Ducasse, who wasn't exactly an upgrade. The line has not been able to get enough push, and it has struggled when opposing teams crowd the box because there's no fear the Bills can pass.
Head coach Sean McDermott said Monday the Bills are still searching for the right combination up front, and that will continue through the bye week. "You'd like to," he said when asked if the Bills need to find a consistent starting five. "That is the ultimate goal." Interestingly, he would not commit to the theory that the left tackle job is Glenn's when he returns. McDermott said he likes what rookie Dion Dawkins has done there.
"Whether it's myself, the reads or a lineman not getting a block or it's a holding call, all those things come to affect us in the running game," McCoy said. "It's not just one particular thing; it's a whole. It's myself and the guys up front. We've got to get it going on a high level, so all the excuses with the wide receiving corps, and this and that … I think, sure, they could help us out as far as taking shots (down the field) and making plays, but from our end, it's us up front and in the backfield. We've got to find a way to get it done."
"If you become one-dimensional, that's not good," McDermott said. "We've got to make sure we can run the football and run our style of offense."
–Welcome to the NFL, Tre'Davious White. The Bills' first-round draft pick has gotten off to a fine start, but in the loss to the Bengals, the 5-foot-11 cornerback came face-to-face with Bengals stud receiver A.J. Green and the results weren't pretty. White was burned one-on-one for a pair of big plays, a 77-yard touchdown in the first quarter, and a 47-yarder in the third that set up the Bengals go-ahead touchdown.
In between, White looked like the player he'd been the first four weeks. He played every snap, broke up three passes, and did a decent job no matter who was in front of him. But those big plays were killers. Interestingly, the affable White was already gone when the media entered the locker room, so his teammates spoke for him.
"I truly believe that Tre White is one of the best corners in the NFL," said safety Jordan Poyer. "It's A.J. Green. Those guys get paid, too. White's one of the hardest workers I've been around. As a rookie, just seeing his growth throughout OTAs, throughout training camp until now. I believe he's one of the best corners in the league. He'll learn from his mistakes. We all will."
Safety Micah Hyde added, "Tre's a competitor, man. We understand that. Obviously, a rookie and whatnot. He's played some really good competition in the past. He gave some plays up but still came up with some big plays by himself. At the end of the day, he's a competitor and he'll be fine."
–McDermott said tight end Charles Clay underwent a knee scope Monday morning and he will be out multiple weeks. This means Nick O'Leary will have to move into the starting lineup, and Logan Thomas becomes the primary backup. Also, McDermott said cornerback Leonard Johnson is day-to-day with a hamstring injury suffered in the game, while wide receiver Jordan Matthews and linebacker Ramon Humber (both had thumb surgery), and cornerback E.J. Gaines (groin) will be week-to-week.
HERE IS THE DETAILED FILM ROOM ANALYSIS FOR OUR LANDRYFOOTBALL.COM MEMBERS. SEE HOW EACH UNIT GRADED OUT.
You need to be logged into LandryFootball.com to see or hear this premium content. Please
Login
to access.
If you aren't a member, you can register below.