We provide you with an overview of this past week's performance with a look ahead to this week. For our LandryFootball.com members, we provide you detailed FILM ROOM analysis including evaluations of all units.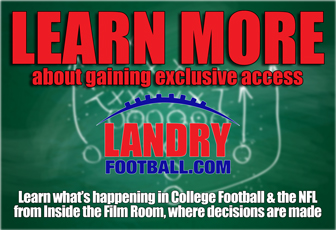 ATLANTA FALCONS
INSIDE SLANT
When the schedule was released, the Atlanta Falcons were not big fans of their early-season bye week.
But as the injuries started to mount, head coach Dan Quinn started to embrace the concept in order to get the defending NFC champions healthy.
The extra time off may allow the Falcons to have 21 of the 22 players who started the regular-season opener when they host the Miami Dolphins on Sunday at Mercedes-Benz Stadium.
"We talked about re-setting and shining the light on some of the things we wanted to improve upon," Quinn said. "We haven't felt like we've played our best ball yet and that's encouraging for us because we do feel like we can make some big strides and we plan on doing that."
Several key starters returned to practice on Monday and only one of the 22 opening-day starters – wide receiver Mohamed Sanu – appears to be a long shot to face the Dolphins.
Starting right tackle Ryan Schraeder and free safety Ricardo Allen are out of the concussion protocol and were practicing. Also, wide receiver Julio Jones (hip flexor) and defensive end Vic Beasley Jr. (hamstring) were practicing during the early open portion.
Sanu (hamstring), defensive tackle Courtney Upshaw (ankle) and linebacker LaRoy Reynolds (pectoral) were working off to the side with the training staff.
"Injury-wise, we had a lot of guys back today," Quinn said. "Man, that was good to see… you could tell how hard they worked during the off time."
The Falcons want to improve on third-down and short-yardage situations. They have run the ball well and think they can run it better.
"From a coaching standpoint we put a lot of work in not only with the scheme, but by player," Quinn said. "These are two or three things you are doing really well and this one thing I think you can emphasize that you can add to your game this week. It was a big week for us."
Defensively, the Falcons want to cut down on their missed tackles and create more turnovers.
NOTES, QUOTES
–Current plans call for the retractable roof of Mercedes-Benz Stadium to be closed for the remainder of the Falcons' games this season because of continuing work on its mechanization.
The problematic roof of the $1.5 billion stadium has been open for only one event so far — the Falcons' Sept. 17 regular-season home opener against Green Bay — and was closed despite excellent weather for the Oct. 1 game against Buffalo.
It took about two hours to open the roof Sept. 17, far longer than the 12 minutes it is ultimately supposed to take.
"Ongoing work to fully automate MBS's unique roof is progressing, and sequencing of the work will allow it to be open for the Toronto FC match," AMB Group said in a statement. "Based on the current work and events schedule for the rest of the year, including potential playoff games for Atlanta United, Atlanta Falcons home games, the SEC Championship game, the College Football Playoff Championship game in early January, as well as many other events, the Oct. 22 match will be the only public event the rest of this season that will be played with the roof open."
–Atlanta Police Chief Erika Shields met last week with The Atlanta Journal-Constitution's editorial board for a wide-ranging interview.
That led to a conversation about NFL players kneeling during the national anthem to protest inequalities in the U.S. by law enforcement and other institutions. Shields' candor is atypical of people in her position so we're sharing her comments in full:
"I understand that black people have been victimized and unfairly targeted by law enforcement for generations. And it is not just law enforcement. We are society, we are a continuum of society. I am hiring kids that are kids of your colleagues.
"So it wasn't law enforcement that necessarily brought them to the space where they have inherent or open bias. It was law enforcement, though, that made it acceptable within their law enforcement duties. I get it. And I get that you can't unfairly target people for generations and think that you're going to turn around that perception in a couple of years. We have to do better."
–Falcons wide receiver Mohamed Sanu strained a hamstring muscle in the Oct. 1 loss to the Bills and missed the second half. However, he appears to be looking at the bright side even though there are reports that he might be out for two or three weeks. He posted his Leo horoscope on his Twitter feed.
Sanu's birthday was Aug. 22 — the last day of the Leo zodiac — and then put up a horoscope that read in part: "There's no need for dramatic gestures today when expressing your heart's desire. But navigating the wild emotional swings you're feeling is tricky because suppressing them only makes them stronger."
HERE IS THE DETAILED FILM ROOM ANALYSIS FOR OUR LANDRYFOOTBALL.COM MEMBERS. SEE HOW EACH UNIT GRADED OUT.
You need to be logged into LandryFootball.com to see or hear this premium content. Please
Login
to access.
If you aren't a member, you can register below.